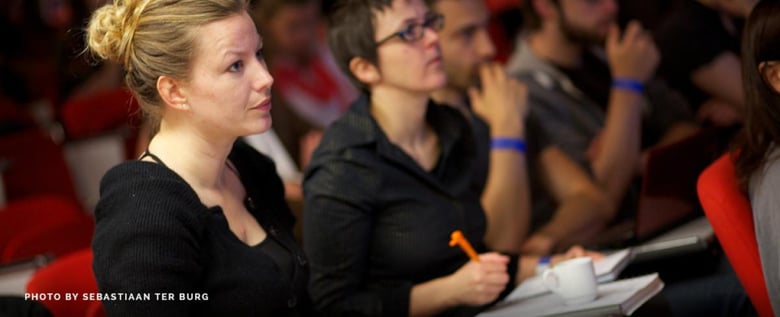 If you didn't make it to this years event, fear not: we've summarised four of the two-day events most important talks, right here.
SEO for SMEs: Competing with Big Brands
Things got off to a strong start at day one of SAScon, with Aleyda Solis opening with her presentation on how SMBs can win in competitive SEO sectors. One of the biggest challenges in many search marketing campaigns is the sheer size and strength of the competition.
When your company is competing in the same search space as large brands, you need to take advantage of the flexibility on offer. Large companies and brands tend to have so many departments involved in projects and sign-off procedures that on-site changes and even content creation can take significant time to greenlight.
Where the big company might have higher authority and resources, it can also be slow to react and rigid in a branded approach. Smaller companies might have less authority and resources, but with a smart approach, the flexibility to adapt to changes in SERPs allows for a fast, targeted approach.
The Mobile Opportunity – The Untapped Goldmine
Another highlight of day one at SAScon was a joint talk on mobile advertising by Sophie Toms from Google and Larry Kim from Wordstream.
Sophie started off the session by focusing on mobile app related tips and Google products to help promote them. She gave some interesting insights into app usage statistics:
App downloads are expected to reach 180 billion globally in 2015
86% of time on mobile phones is spent in-app
There are around 1 million apps available on Google Play and the App Store, however, 60% of them are never downloaded
95% of apps are abandoned within 1 month, 20% of apps are only ever used once
The last two points made it clear how important app promotion is to increase both, app installs and app engagement.
AdWords app advertising suite now include formats to promote your app on Google Search, Google Display network sites, Gmail, within other apps and Youtube.
Sophie also gave insight into a few new features that should become available soon and make the app promotions even easier to achieve. Google Play Store ads beta allows advertisers to promote their apps within the Play Store whilst users are looking for related apps to download. This aligns user's intent with the purpose of the ad perfectly and should be very effective in delivering downloads.
The other exciting update that has been recently announced at the Google I/O are Universal App campaigns. This campaign format will merge all the existing app promotion campaign formats into one, automatically adjusting the assets to fit every Google property (Search, Display, Youtube etc.). This will definitely be a welcome change by all advertisers which will reduce the set up time significantly.
Larry Kim's section followed, covering 5 hacks to make the most out of mobile traffic. A brief overview of them is below:
Eliminate your landing pages by PPC call ads - call extensions and call-only ads mean your landing page isn't part of the conversion funnel anymore, at the same time increasing conversion rates
Train your call centre - make sure they're ready to handle the calls coming through PPC, and do not give out the competitor's phone number to potential customers when they're calling up from competitor term PPC campaigns, as in Larry's example
Eliminate your landing pages by Facebook and Twitter call ad formats - make use of Facebook ads' Call Now button and Twitter cards
Steal all the mobile conversions - optimise your campaigns to make the most of the mobile-friendly ad formats, such as Mobile Shopping ads, Local Inventory ads, the 'Get directions' feature on location extensions
Act now - make use of the mobile traffic whilst it's still cheaper than desktop as this 'sale' won't last forever
To round up, as Sophie said, to achieve success on mobile it needs to be treated as a behaviour, not a device, and the mobile advertising techniques should be very different to those on desktop.
The evolution of SEO and SEOs
We're at an interesting period in the SEO world, we've gone from the 'blackhat' techniques of buying links to creating content and understanding Google's algorithm, as Martin Macdonald explained.
Almost a decade ago Martin discusses how big brands such as BMW, Interflora and Expedia were having massive penalties from Google for trying to trick the system in order to be at the top of their search rankings. However, in 2015 you'd have to be crazy to still be using these practices. Not only has there been a massive change within the last decade, we've become better marketers.
So what's the main trend now? We're beginning to see the role of SEOs split into two: on one hand we have technical SEOs who maintain the website and are more or less developers. On the other we've got inbound marketers creating content to engage our audiences. Neither can survive without the other and neither is useful without the other. We have technical SEO as the underlying backbone to our website to ensure that Google will index our site and index it correctly to give us a good ranking, with inbound marketing making sure the click throughs and conversions are relevant. It's all well and good ranking for key search terms, but it's what we do on those pages to engage the user.
So what's going to happen in the future? A few key points:
SEO 2015 - 2025
Gradually SEO will become what we know as technical SEO
Link building aspects of SEO become generalised marketing
Over the next decade algorithms mature, allowing much better tooling
Improved tools reduce the level of knowledge & expertise required
SEO's get paid less

SEO's 2015 - 2025
People will begin specialising in technical or creative SEO
Aspects of creative SEO (content etc) are absorbed away
SEO analytics introduced across all brand marketing channels
Those that stay in technical SEO eventually are automated out
Those who have the widest range of skills progress to corporate CMOs
Be this guy - learn everything but have a specialty
How to use social in a fun way
Yossi Erdman from AO.com shed some light on how to make social media work and deliver great results. Tasked with the rather difficult brief of 'making home appliances interesting' Yossi explained that with a little bit of creativity and some engaging content, customers will even become ambassadors of washing machines
Social media should be initially be used to educate the customer about the product about the services. Giving customers the facts about your services, such as free or next day delivery, through social media is a great way to manage their expectations and ensure your unique selling points are put across.
Social media is a great tool to trial new and innovative ways of connecting with your customers and, unlike traditional forms of advertising such as radio and TV, feedback is instant. This means its easy to judge whether or not your campaign has been successful and can be a good way of testing things before rolling them out across all media.
Content on social media doesn't have to cost a fortune – its more important to think about the customer and find ways to ensure they will want to engage with it. Simple things such as counting the number of items in a picture are, perhaps surprisingly, an excellent way to get customers involved with your product.
Finally, putting customers in control is key. In fact, customers as content creators is a key growth area for AO.com. Providing free products in exchange for a full video review is just one of the ways that AO.com is receiving high quality, genuine content from customers. This helps to build trust and places the brand as one that is very easy to relate to.