Meet Gareth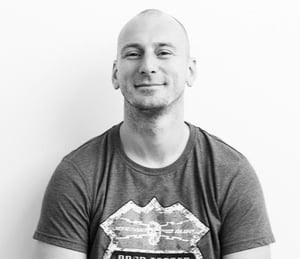 Hey, I'm Gareth. I Studied BSc Computing & Web Development at the University of Bolton which opened my eyes to the world of web development technologies, techniques and a large array of programming and scripting languages. The first year of study was certainly the hardest: coming from an automotive repair background, the shift in mindset from repairing cars to academia was a challenge within itself.
I started my academic journey with a foundation year, as I did not have the necessary qualifications to follow the standard route into higher education. This prepared me for the challenges ahead and gave an insight into programming languages, academic writing and research.
What skills have you used from Uni?
The first year of the degree provided a number of challenges, including maths and problem solving modules, along with the creation of a custom linux distro using source code. This module taught me how to use linux and the command line, which is something I use on a daily basis whilst developing for CTI. An introduction into JavaScript, PHP, HTML & CSS further fueled my interest in web development, increasing my enthusiasm to upskill.
The second and third year were the backbone to my personal development, gaining knowledge and skills using PHP frameworks, such as Laravel, Codeigniter and October CMS. The use of Git version control and Agile methodologies mimicked industry standards providing insight into commercial development.
What has your experience at CTI been like?
My interview with CTI went amazingly well, resulting in full-time employment and completing my career change. The opportunity CTI provided has led me on the path to becoming a Drupal 8 developer, with the aim to be a specialist within back-end development. This opportunity has allowed me to explore Drupal 8, a content management system I was previously unfamiliar with. The level of support and advice from the entire team has been astonishing. My next milestone will be the completion of the Acquia Developer exam, enabling me to become one of the first Acquia Certified Developers within the CTI.
Why should graduates consider an agency grad scheme?
During my final year at university, I was looking for a graduate scheme in order to become more confident in my abilities and to develop new skills. This was an important factor and the main reason I chose CTI. I personally didn't feel I could comfortably jump into a junior role and start developing quality code without a little guidance and support first.
The Graduate scheme has provided me with a safety net, allowing me to explore technologies, ask questions and undertake some meaningful work for real clients while still developing myself into a junior back-end developer. The addition of having a mentor was amazing. This allowed me to float different ideas and new ways of working with a more senior member of staff, often with instant feedback.