In 2018 we reached the 15-year milestone, reclaimed our status as an independent agency, made leaps and bounds in eCommerce, and spoke at some of the world's biggest conferences. It's been a brilliant year and we've celebrated some momentous changes. So come take a trip down memory lane with us as we look back at 2018.
The Big Changes
Independent Agency Status
One of the biggest landmarks for us in 2018 was the completion of our management buy out. To be owned by our internal senior management is to ensure that CTI is led by those with a vested interest in maintaining our long-standing culture. Now an independent agency, we are taking strides with our clients and partners to make 2019 our biggest year. Our MD David Beswick had the following to say:
CTI is built on continual investment in talented individuals, advancing technology and our clients' visions; we achieve this by investing in ourselves. In order to maximise efficiency, to perform with agility, and to be in a position to accept exciting challenges, we are proud to be an independent business once again.
£500,000 eCommerce Investment
Back in July we publicly announced the decision to invest £500,000 into extending our eCommerce offering. As we grow, the team and I have acknowledged the changing requirements of clients. This has lead us towards a 'technology agnostic' mindset, championing all technologies that we believe can deliver the capabilities our clients need. The investment is being channelled into a (now filled) Head of eCommerce role, along with expanding eCommerce Support, Devops, and Retainer Services.
15 years of CTI
It's been 15 years since I set up a Computer Telephony Integration Support Network (then known as CTISN) with a grant from Salford University. What was once a small operation from my front room, quickly grew to offer web development, and later scaled into the 70+ strong, globally trading powerhouse it is today. I'm immensely proud of how far we've come, see the highlights in our timeline here.
Project Highlights
Site Launches
This year we launched 16 brand new solutions! Many were bigger and better than ever before. This is thanks to our unique discovery process and integration with supporting teams, including: QA, Sys Admin, UX, Marketing, and our brilliant account and project managers. We greatly appreciate all of our clients and their commitment to digital. Here are a few of the highlights that you might be familiar with:
Our Evolving Services and Vision
Services
In early 2018 after launching our first site build using the Shopify+ platform for Supreme Nutrition and continuing to support Merlin Entertainments brands using Umbraco, we re-evaluated our publicly offered services. Recognising the growing complexity of client requirements we began to officially offer these frameworks as part of our evolving 'Technology Agnostic' stance.
Additionally, after increased demand and success with existing clients, we defined a core strategy team to develop our unique CTI Discovery Process. This digital strategy process is now available as a stand-alone service.
Mission and Values
Throughout the year, we conducted extensive research into where we want to go as a business and what we value in our staff, clients and choices of technology. The results were consolidated into the following statements. We intend to regularly revisit these positions to ensure we reflect our values as much as they reflect our vibrant business.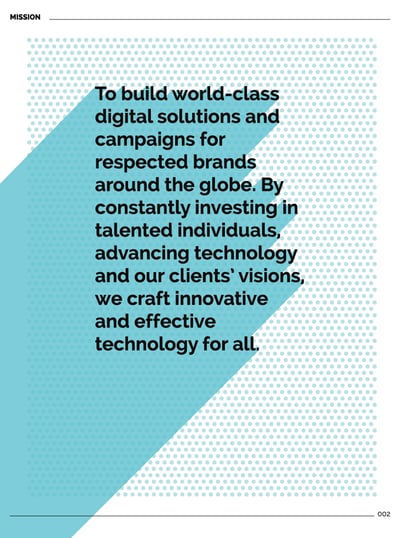 The mission we aim to achieve at CTI Digital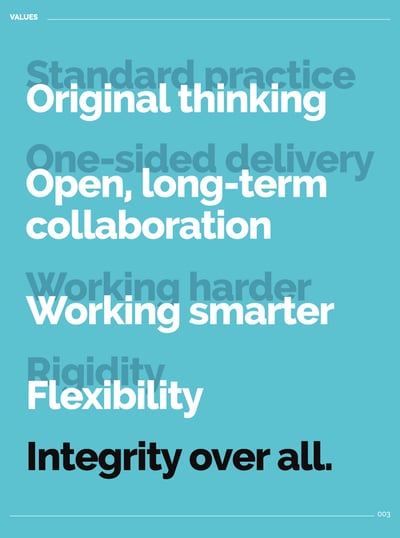 Agile-principle-inspired values we live and breath by at CTI
Accreditations, Achievements and Awards
Accreditations
We achieved a new accreditation this year for Cyber Essentials. This is a testament to the consistently high level of security we provide for clients' websites and their customer's data. A Cyber Essentials certification recognises our security at a governmental level, securing our ability to continue to provide for more Public Sector clients.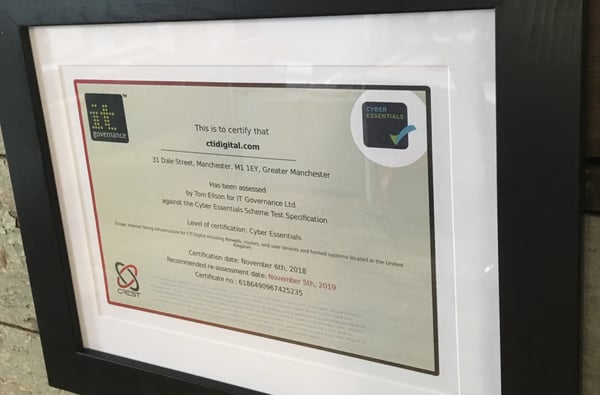 Cyber Essentials Accreditation
We also retained our ISO 9001:2015 accreditation status after CTI's yearly ISO review. This means that our continued commitment to develop and maintain process has been globally recognised twice. We are exceedingly proud of the level of service delivery we provide for clients, which led to CTI being awarded Best Service Delivery at the 2018 Recommended Agencies Register Awards, voted for by our clients.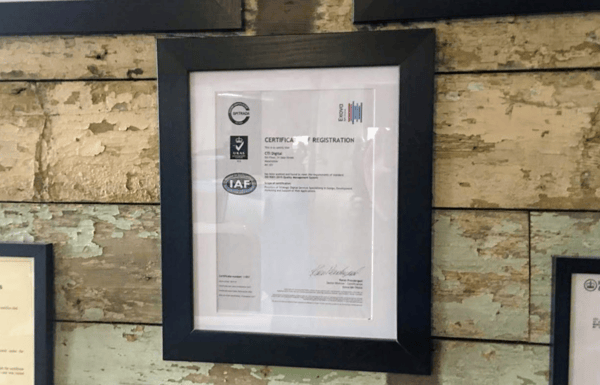 ISO 9001:2015 Accreditation
Achievements
Growing steadily over the past 15 years, we were proud to reach the size and reputation at which we were named within Econsultancy's Top 100 UK Agencies 2018. This acknowledgement sees us standing out from the crowd in everything from financial success, to company vision, and the services we offer.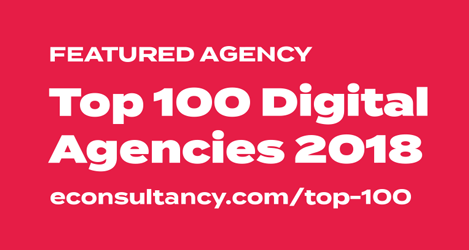 Econsultancy Top 100 Digital Agency
We were also named by Prolific North as one of the Top 50 Digital Agencies in the North of England, an award close to home as my roots have always been based in the North.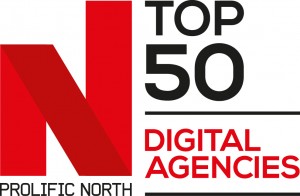 Prolific North Top 50 Digital Agencies
Awards
2018 was a big year for awards, as we achieved finalist status at the Drum Search, London eCommerce, DADI and Talk of Manchester Awards. We also enjoyed a glittering awards season, bringing home the trophies for:
Big Chip Awards and eCommerce Awards: HighStreet TV
A mammoth project, and one of our first ever Magento 2 builds we were proud to see the project pick up two different awards in 2018 for excellence in eCommerce and the results it achieved for our client.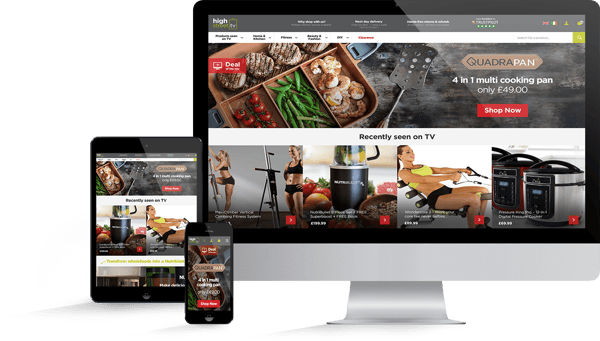 HSTV Home Page
RAR Best Web Development and Service Delivery
Taking home two awards at the Recommended Agency Awards, we were elated to win Best Web Development and Service Delivery, as voted for by our clients.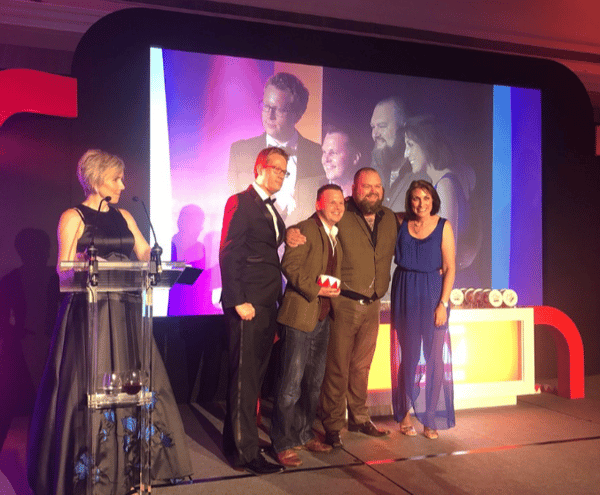 Our Sales Director, Steve Gale, and I at the RAR Awards
Finally we ended the year picking up an award for Best Agency Promotion, recognising the quality of work the marketing team, department leaders and our devs at industry events have put into becoming thought-leaders within the digital industry.
2018 Calendar
Community Engagement
We like to be where the action is and this year we certainly were. We made appearances at 12 different conferences and spoke to students at two different universities. Here are just a few:
One of our clients, Dave O'Carrol from War Child, spoke at DrupalCamp London on what he was able to achieve with the Drupal platform and the freedom it gave their staff in content and brand management.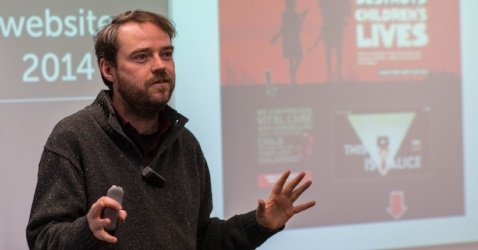 Dave o'Carroll speaking at DrupalCamp London 2018
Exhibiting at eCSN18 we met some of the top eCommerce businesses in the North. Our Director of eCommerce, Ian Cassidy, also spoke at the Magento Theatre about eCommerce platform selection and the requirements to consider.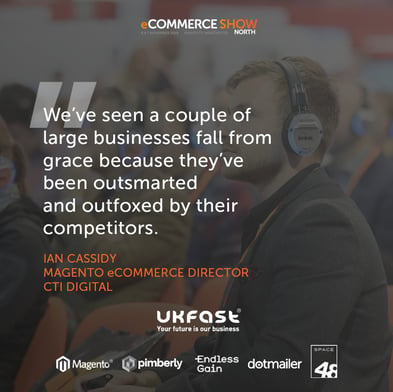 Our Drupal Director, Paul Johnson, attended the Acquia Engage conference to share insights, experiences and plans for the future of transforming the digital landscape with partners and authorities within European Commerce.
Once again we sponsored the NWDUG Unconference and our devs attended in force, sharing and listening to the latest developments in the Drupal platform.
Magento Imagine
In sunny Barcelona, I attended Magento's annual conference, Magento Imagine, where they reveal the upcoming year's biggest advancements and roadmap. We were there to make sure we could maximise the platform for our clients. The announcement of Magento 2.3 came as a fantastic surprise as we continue to upgrade clients to Magento 2.
@Adyen signed out of #MLEU2018 with some tapas with our partners & friends @iWebtweets @CTIDigitalUK @NostoSolutions @365Tickets. A truly awesome few days & event, see you next year @magento! #MLEU #magentolive @adobe #LeadTheCharge #KeepTurningUp pic.twitter.com/2jGoisDE1k

— Sam Allan (@SamAllanUK) October 11, 2018
MageTitans
Having attended and sponsored MageTitans for many years, we always look forward to this exciting time of year. A space to catch up with industry peers and share the latest eCommerce innovations, it was a great success once again. What's more, we were finalists in the Best Innovation category for our Magento 2 configurator.
UKFast Round Table
Two of our experts attended UKFast Round Tables in 2018: Ian Cassidy, Director of eCommerce, and Jonathan Ward, Business Development Manager.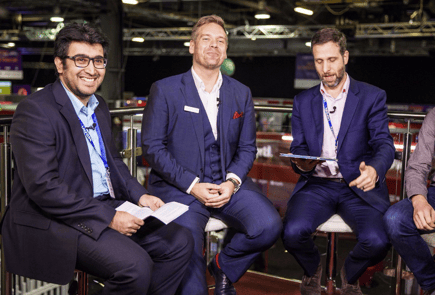 Jonathan Ward at the eCSN UKFast Round Table
BIMA Agency Growth Panel
In October I head the pleasure of speaking on the Agency Growth Panel for BIMA. Having grown CTI from day one into a 70+ strong agency, I had plenty of hard truths as well as highs to share with budding agency owners.
We had a brilliant morning at the @BIMA #BIMABreakfast talking about agency growth. Each pannelist brought a truly unique view to the room. Well done everyone! @SupaReal @4and20million @MandoAgency @bekagool pic.twitter.com/eRWYr2cvln

— CTI Digital (@CTIDigitalUK) October 4, 2018
Our clients BASF and Chatham House made the journey to Germany to talk at this volunteer organised event with Paul Johnson. Discussing digital and organisational transformations through Drupal they pulled in large crowds and from what I heard, definitely left their mark on the community.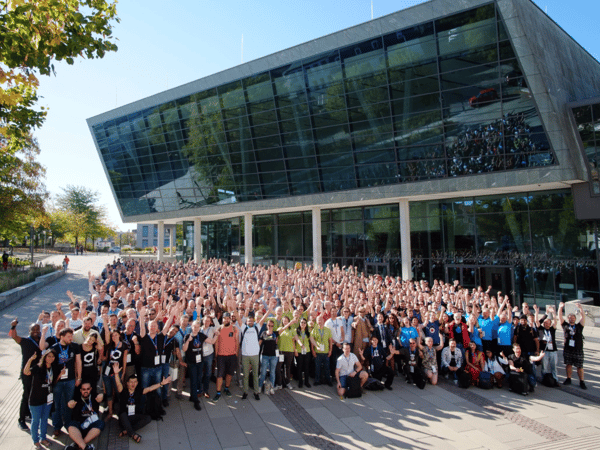 Drupal Europe 2018
Chester and Salford Universities
Finally, a few members of the team including Matt Smith and Gareth Weston lectured at Chester and Salford Unis in 2018. The talent pool in digital is growing alarmingly slowly compared to the rate at which the industry is scaling. We decided to go right to the source of the issue and inspire students to keep going with their studies. This also gave us a chance to explain why agency life can be a rewarding exciting experience for any fledgeling developer.
Hosted Events
We also hosted a few of our own events:
Supercharged Commerce took hold of UKFast's event space in February of 2018. A hybrid conference-seminar, we brought together some of the best software providers to reveal their industry secrets to 80 eCommerce providers. Our eCommerce Director, Ian Cassidy, and Advertising Manager, June Gil-Fernandez were both amongst the lineup of speakers.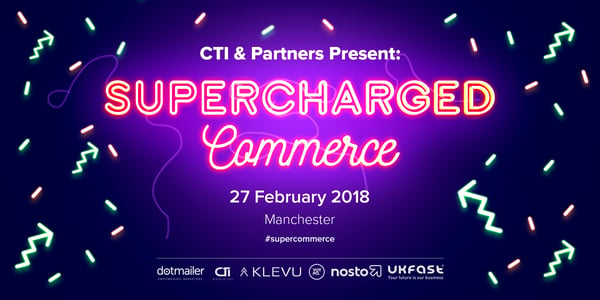 Within our office, we have plenty of space for events and community get-togethers. This year we reached out to the Drupal community and provided our space for Drupal Sprints and NWDUG meet-ups in the heart of Manchester.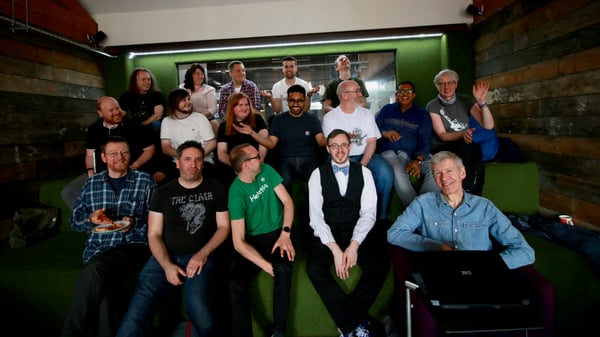 North West Drupal Sprint at the CTI Offices
Lastly, we also held a successful succession of Digital Marketing Training Days, covering PPC and SEO for eCommerce and Lead Generation businesses. You can get some of the takeaways on our blog post. To find out about upcoming events, be sure to follow us on twitter.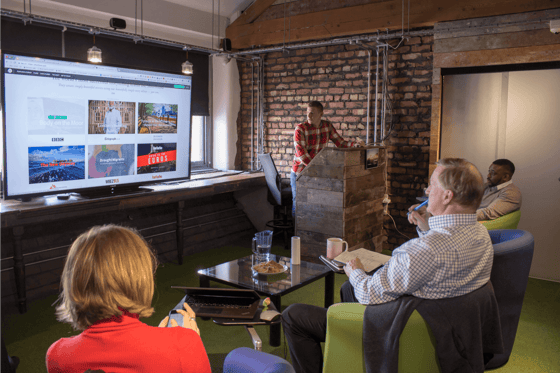 SEO and PPC for Lead Generation Training Day
The Growing CTI Team
Appointments
We wouldn't be able to deliver the work we do without the talented individuals who make it possible. This year It was an honour to see two of our long-term members of staff progress into senior management:
Katie Pointon as Head of Client Services
Paul Partington as Head of eCommerce
And to welcome Ben Scott into CTI as Head of Umbraco!
In 2018 we launched our first official grad scheme, taking on two Drupal developers back in summer. The successful applicants, Lincoln and Gareth, completed their 6-month scheme and have now joined the team as full-time developers. It was such a success, in fact, we're running it again this year. Well done guys, and thank you for all your hard work!
New Team Members
We've also welcomed some unique and talented individuals to the team including:
Sacha Crowther as a Content Executive
James Genchi as a User Experience Designer
Jamie Feely as an Account Manager
Paul Culshaw as an SEO Consultant
Andy Mawdsley as a QA Tester
Adil Lafrid as a QA Tester
Rob Dorsett as a .NET Developer
Peter Costello as a .NET Developer
and Michael Jenkins as a Project Manager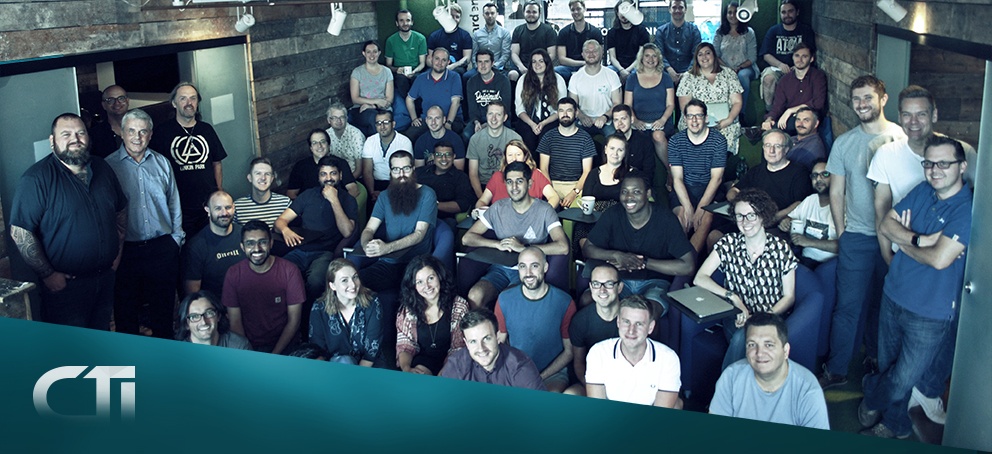 The CTI Team in Summer of 2018
With a growing team, we are keen to not lose touch with what makes CTI such a fun place to work. We had tonnes of staff-organised events this year, including weekly yoga, football, and squash. A few of the year's highlights include:
Bake Off: CTI Edition
CTI Bake Off ended in a spooky Halloween final! Congrats again to Rik Hoppers for taking home the winning prize.
Happy Halloween everyone 🎃 We celebrated with a spooky themed CTI Bakeoff Final. Congrats to @reekster for taking home the prize of champion baker with his Bloody Oaty Crumble Bake! #halloween #agencylife pic.twitter.com/e3Jhu60m7s

— CTI Digital (@CTIDigitalUK) October 31, 2018
Having run for many years, the engraved trophy is getting pretty full. But we managed to squeeze champion Rick Steckles onto the award!
Earlier this month we had our annual pool competition 🎱 Congratulations to Rick, our Technical Director for taking home the trophy! 🏆 https://t.co/V84Ss6z8pq pic.twitter.com/AgaLMSEQwS

— CTI Digital (@CTIDigitalUK) October 8, 2018
Thank you to our clients, partners, friends and supporters for a fantastic 2018. Have a merry Christmas and a wonderful new year!