2019 has been a fantastic year. We've held a record number of training sessions, spoken at events around Europe, and we celebrated our 5th anniversary with 5 more clients. Thank you for making the year so special. To celebrate, we've gathered together some of our highlights.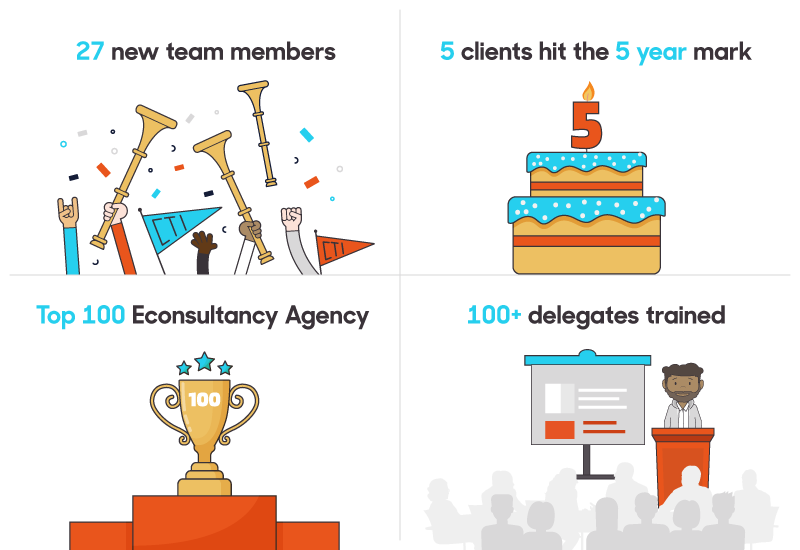 New starters, old clients, a top 100 UK agency, and tonnes of training days. We've been busy!

Growing up and out
Back in May, we announced that Nublue had joined the CTI family! We were thrilled to not only expand our hosting and e-commerce expertise but also have over 40 talented specialists join the team.
We've also welcomed 27 new members to the team at CTI Digital across development, account management, project management, UX, strategy and marketing. If you fancy joining is too, check out our vacancies here.
Finally, our logo had a bit of a facelift as at age 16, we're pretty old for a digital agency! What do you think?

Our refreshed logo; same company, new look.
Continual improvement
This year we added some shiny badges to our name. We became certified in AWS, Cyber Essentials Plus, and ICO. We also maintained our government procurement status as members of G-Cloud 11 and DOS 4 and held our ISO accreditation for quality processes.
In the more glamorous world of league tables, we ranked as a top 15 agency in Prolific North's 'Top Digital Agencies List'. We were also part of Econsultancy's Top 100 Digital Agencies for the 2nd year running!
A packed events calendar
Sharing knowledge is a key value for us at CTI. In 2019, we really stuck to this and trained over 100 delegates through our in house marketing training days and as guest speakers at venues including Google's Digital Garage.
We also attended and exhibited at several technology and industry events including TechSmartNFP and Drupal Europe. At each we took the stage to open the door to continuous learning, covering topics including; Industry 4.0, Higher Education, and new development frameworks.
Celebrating new and old relationships
Finally, we wanted to say a quick thanks to our clients. We've welcomed some exciting brands in 2019 including Durham University and Business Growth Hub. This year, however, we also hit the +5 year mark with a number of clients including Little Greene Paint Co, Hill Dickinson, and McGraw-Hill Education!
Thanks for a great year to our partners, clients, team, and friends. Merry Christmas and have a happy New Year from all of us at CTI Digital!