Apple announced at its annual Worldwide Developer Conference on Monday that it will be expanding Apple Pay to support web based purchases this Autumn.
Following its release in 2014 Apple Pay has been adopted by some of the world's largest brands including Starbucks, Boots, Marks & Spencer and is now supported by several banks including, but not limited to Halifax, NatWest, Barclaycard and American Express.
The announcement of Apple Pay for the web shows Apple's determination to strengthen the Apple Pay proposition which already supports iOS Application based payments and in store purchases.
Using Apple Pay to make purchases online
After installing the latest version of macOS Sierra (due for release Autumn 2016) users will be able to make payments using Apple Pay at participating online retailers.
When entering the checkout process users will be presented with a "Pay with Apple Pay" button that once pressed will push a notification out to supported Apple Pay devices that are linked to the same iCloud account.
Users will then be able to confirm their purchase by either using Touch ID on their iPhone or by double clicking the side button on their Apple Watch.
Apple Pay will also be responsible for pre-filling associated billing and shipping addresses that are linked to the user's iCloud account to allow for a frictionless checkout experience.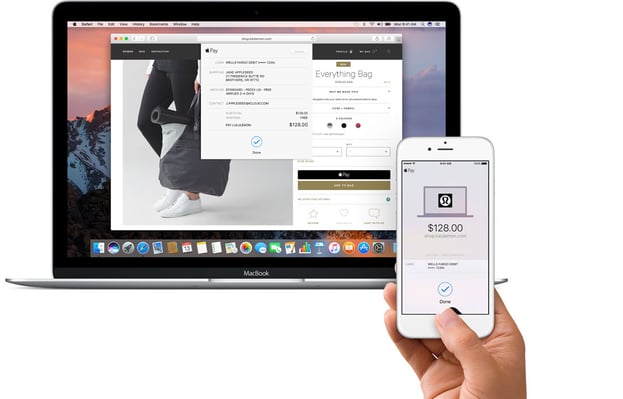 How do I implement Apple Pay on my website?
Apple Pay will be in Beta until Autumn 2016 during which time Payment Gateway providers will be able to develop web based solutions to capture and process Apple Pay on the web.
Apple Pay is already supported by a number of Payment Gateway providers such as Stripe, Braintree and Cybersource for iOS based implementations with Stripe already launching a landing page for Apple Pay to keep users updated on the development progress.
Rounding up
Online retail continues to grow at an alarming rate with Online Sales for Europe growing by 16.7% in 2016 to £182 billion1 and as a result many retailers are now seeing online sales outpace in-store sales.
Over the last few years we have seen multiple innovations in payment industry with the introduction of crypto currencies such as Bitcoin innovative payment methods such as Amazon Payments, E-Wallets such as Google Wallet and pay after delivery services such as Klarna each one of the aforementioned services looks to make the purchasing journey as frictionless as possible.
Whilst Apple Pay offers an innovative proposition to merchants it is heavily reliant on users having compatible iOS devices on hand to support the purchase.
We see Apple Pay being rolled out as a supplementary payment method sitting alongside a standard Credit / Debit card payment solution.
CTI Digital
At CTI Digital we specialise in providing highly scalable ecommerce solutions for B2C and B2B based businesses.
Our certified team have over a decade's worth of experience providing ecommerce solutions for the global market.
If you have a project you would like to discuss, why not drop us a line?
Sources