We're thrilled to be sponsoring Manchester Digital's Conference and BBQ on the 27th June (Next Thursday!).
The Future of Digital
The big day will bring together some of Manchester's greatest digital minds in collaboration, revealing all they know about the theme of the event: 'The Future'.
Hosted at Tech Incubator, the conference begins at 2pm and will feature a full schedule of expert talks, including a session from our Commerce Director, Ian Cassidy on the future of commerce! Alongside Ian's presentation you can catch the following insights:
'The Modern Workplace and You' Ray Bell, CTO, inTecBusiness Solutions
'The Near Future of Learning' David Edmundson-Bird, Principal Lecturer in Digital Marketing & Enterprise, Manchester Metropolitan University
'Digital Disrupters – how mobile has changed the marketing landscape' Monica Tailor, Head of Digital, McCann Manchester
'The time for explainable AI is now' Rick Turner, CEO, Ditto
'Join up the dots - how data will drive the future of advertising' Steven Hough, Strategy Consultant, Regital
'The Future of the Freelance Economy' Shib Mathew, co-founder and CEO, YunoJuno
'Why the cooperative model works well for digital-tech business' Shaun Fensom, Consultant and Chair, CBN
'The Future of Biometric Payments' Simon Binns, CMO, Fingopay
'Prediction and guidance of successful business evolution' Jon Ayre, Equal experts
'Intelligent Automation – DWP journey so far' Hayley Addison, senior product owner – Delivery and Live Service, Intelligent Automation Garage (IAG)
'Building a sustainable digital future' Steve Lydford, Software Craftsman, Codurance
'Doing good with AI' Matthew Squire, co-founder, Fuzzy Labs
'The Future of Autonomous Marine Vehicles' Ed Rimmer, software architect, Thales
We'll be there, with members of our Marketing and Development teams, as well as a stash of our famous Manchester mugs, available for you to pick up at the event!
A Chance to Network & Celebrate Summertime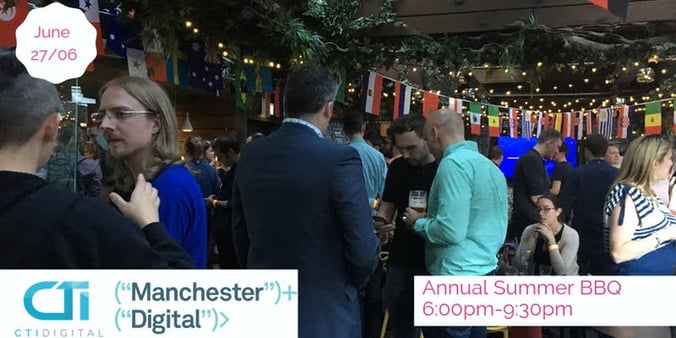 After the talks have got you excited for 'The Future', come and wind down at Manchester Digital's annual summer BBQ. This year the barbecue will conveniently also be held at Tech Incubator Manchester!
A great social event with over 200 attendees, you'll be able to hang out with colleagues and meet industry peers in the sunny Tech Incubator garden. It's set to be the 'perfect place' (according to Manchester Digital) to soak up festival vibes for those of us not attending Glastonbury!
Drinks and food are all included in your ticket price. We'll also be hosting some games throughout the event, with a competitive leaderboard. The winner will go home with a £100 Amazon voucher!
So grab your free ticket to the members' conference online:
And pick up an amazing value ticket to the BBQ, that gets you free food and drink, plus the chance to win £100!