In a significant milestone, CTI Digital has been appointed one of just ten Umbraco Platinum partners globally. Their deep-rooted expertise in Umbraco and a proven track record of successful projects have earned them recognition as a top-tier development partner. As a leading content management system (CMS), Umbraco has gained immense popularity, and being a Platinum Partner signifies CTI Digital's position at the forefront of the digital landscape.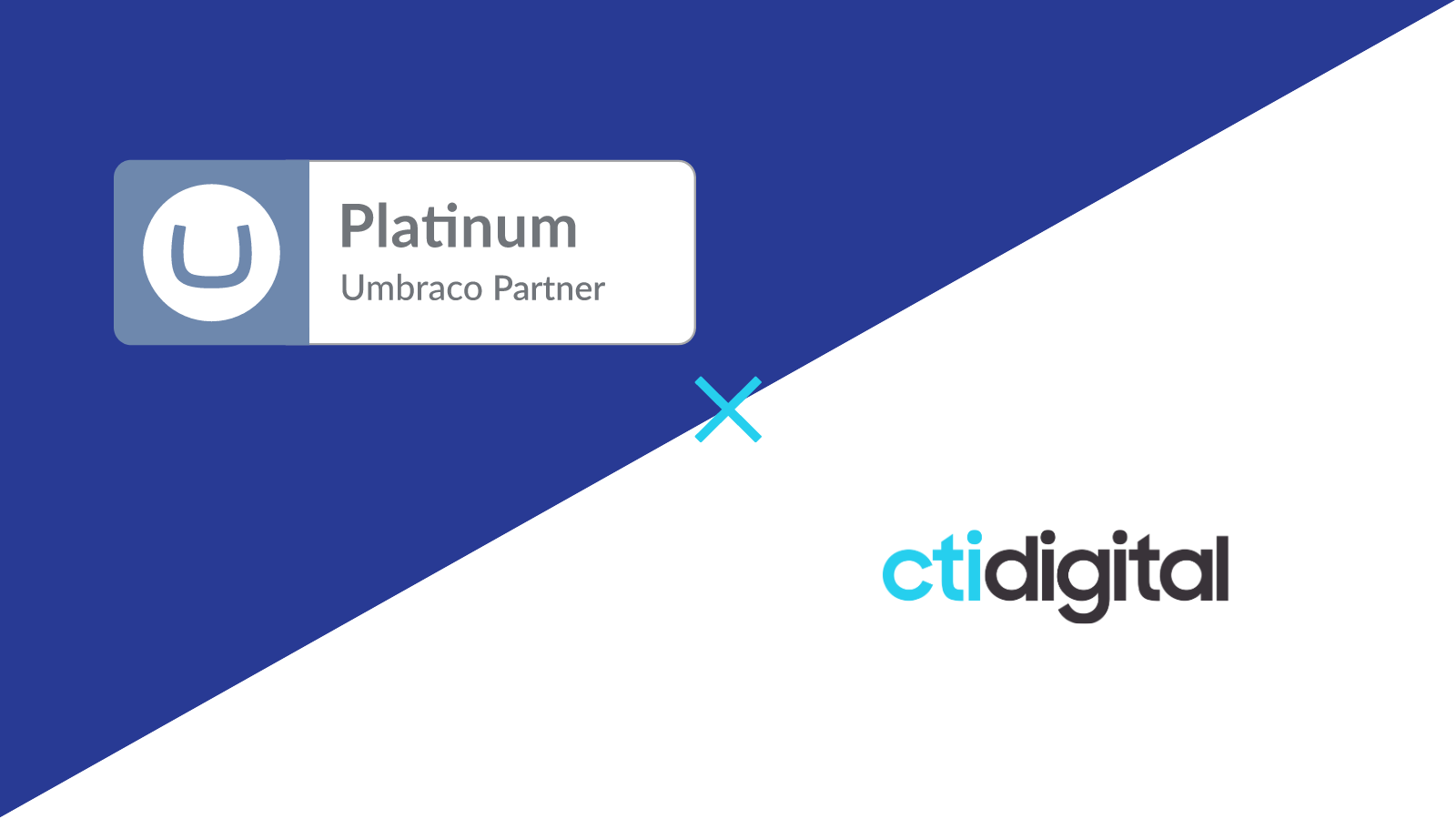 Umbraco is an open-source CMS platform renowned for its flexibility, ease of use, and robust capabilities. Initially released in 2004, Umbraco has evolved to become one of the most popular CMS choices globally. Known for its user-friendly interface and developer-friendly architecture, Umbraco empowers organisations of all sizes to create and manage compelling digital experiences easily.

The status of Umbraco Platinum Partner is a prestigious recognition, and CTI Digital joins an elite group of global agencies known for their proficiency in Umbraco development. This appointment highlights CTI Digital's exceptional capabilities. This appointment strengthens CTI Digital's position in the market, setting them apart from competitors and affirming its position as a go-to agency for businesses seeking a cutting-edge Umbraco solution.
One of the UK's largest Umbraco Agencies
With over 15 years working with Umbraco and an ever going development team of over 30 certified Umbraco developers and 30+ strategy and marketing consultants, this status will deepen existing relationships from within an enviable portfolio of brands, including Merlin Entertainment, Mind, Basketball England, Tutlewax, STADA and Aldermore Bank, helping CTI Digital grow into new markets and territories.
Serve customers even better
CTI Digital can now serve organisations globally thanks to its new status. Taking advantage of exclusive early access to Umbraco's latest features and updates, new products, and roadmap ensures clients always benefit from the most advanced and powerful CMS capabilities.
"I am very proud to have gained platinum status," said CTI Digital's partnership and Growth Director, Kirstie Buchanan. "We have worked hard to achieve this status and look forward to continuing our commitment to the Umbraco community. The Platinum partnership enables us to serve our customers even better and provide them with the latest and best solutions Umbraco has to offer."

"We are delighted to have CTI Digital as part of our esteemed Platinum Partner network," comments Kim Sneum Madsen, CEO at Umbraco.

Mike Pederson, Partner Manager Teamlead at Umbraco, added, 'We have built a strong relationship over the years with Platinum Umbraco partner CTI Digital. Not only are they a well-respected partner with a great track record — we share the same mindset of helping our customers thrive and grow. Their partnership approach is unmatched."

This new accolade has further solidified CTI Digital's position within the Umbraco ecosystem sitting alongside our Umbraco Platinum Contributor and Cloud Powerhouse partner badges.
Ready to elevate your digital presence with an award-winning Umbraco Platinum Partner?
Whether you need a custom Umbraco website, seamless integrations, or robust support, our team of certified developers are ready to deliver excellence at every step. Contact our team to discuss your next Umbraco project.