Congratulations to all of the pioneering digital agencies who have made it onto the Top 50 Digital Agencies list for 2019! We're thrilled to have risen 3 places since 2018 and now stand amongst the 15 best digital agencies.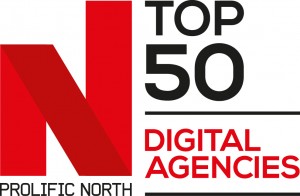 Every year, tech news heavyweights, Prolific North release a Top 50 list of the best performing Digital Agencies in the North of England.
This year the report was conducted in association with YouGov and Mustard Research. The list ranks agencies based on their overall growth and financial success over the past year.
For CTI, being listed as a Top 50 Agency is a brilliant reminder of the growth we've achieved over the last 15 years. We are proud to continually climb the list, particularly after completing a Management Buy Out last year and re-joining the proudly independent agencies who make up 74% of this year's list.
74% of the agencies in the Top 50 are independently-owned agencies, compared to 60% last year.

Prolific North
Being named in the top 15 is also a great testament to the growing relationships we have nurtured with existing clients like McGraw Hill and Merlin Entertainments. We can also attribute our successes to new client wins in 2018, including Manchester Metropolitan University and Chatham House. To all of our clients: we couldn't do it without you, so thank you for the great partnerships we have and will continue to build.
See the complete list of the Top 50 Digital Agencies here.