We attended our first award ceremony of 2022 as hosts to 2 of our shortlisted clients Drinkaware and Right at Home at the prestigious Northern Digital Awards. The event was held at the Armouries in Leeds last Thursday evening.

The awards recognised the very best in digital marketing campaigns and talent in the region. Our Marketing team had 12 nominations across 5 categories. The team had a wonderful time at the awards ceremony and were delighted to bring home the following awards.

BEST SEO CAMPAIGN
CTI Digital & Right at Home - Page 7 to Page 1 in under 7 months
Having invested in a new site that was plagued with technical issues, our client sought an agency to help them maximise visibility and reach new clients, carers and potential franchisees. This project was all about increasing visibility and building a web presence that accurately reflected the award-winning brand and its dedication to quality.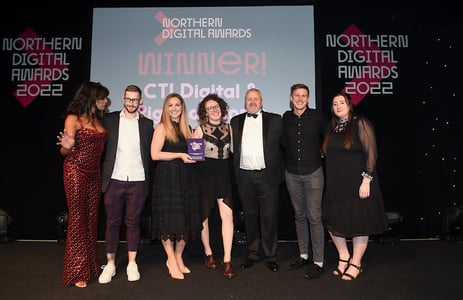 BEST DIGITAL MARKETING CAMPAIGN – HEALTH & BEAUTY
CTI Digital & Right at Home - Digital Marketing designed to deliver home care to those who need it.
As the demand for at-home care grows ever larger, the homecare sector becomes more competitive. Working with CTI Digital, Right at Home took on a full replatform of their legacy website to build a foundation from which each franchisee could gain better visibility in their territory.In a competitive category/industry, we demonstrated impressive results and an innovative approach to the challenge.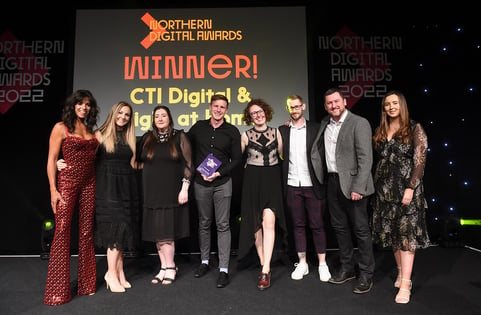 BEST DIGITAL MARKETING he G CAMPAIGN – B2B
CTI Digital & Drinkaware at Work - Helping businesses look after their staff
In response to drastic lifestyle changes caused by lockdowns across the UK, the Drinkaware Trust embraced e-learning and invested in digital advertising for the first time to drive B2B lead generation. With no historical data or creative, we produced an engaging and timely digital campaign that delivered leads from businesses on the client's hit list.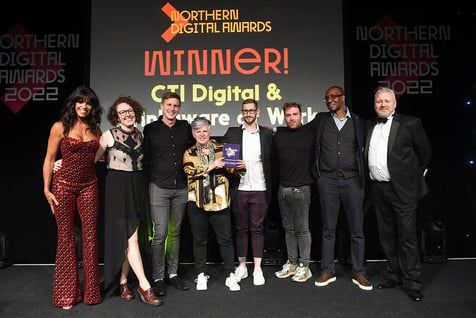 See the list of well-deserved winners and awards from the evening published on the Northern Digital website. Take an in-depth look at all the work that went into our campaigns in our client case studies across the site. Or browse our past award wins on our blog to see what else we've been up to.