The Top 100 Digital Agencies report is the comprehensive listing of the UK's best digital agencies. Amidst a digital industry that is growing faster than ever, we are proud to be featured amongst the selected industry leaders.
Covering digital marketing, design and build, technical and creative agencies, the intention of the report is to provide in-depth analysis and commentary on the state of the industry as a whole. By measuring fee income from digital activities in the UK, agencies are ranked and featured alongside some of their top case studies. In our 15th year of trading at CTI we have proudly surpassed £5 million turnover, delivering impressive results for clients and earning us a spot amongst the best.
The report, compiled by eConsultancy, has long been considered an independent authority on the UK agency landscape. First published in 2002, this respected digital tome lists the 100 best UK digital agencies, as well as some up-and-coming 'ones to watch'.
Ultimately the Top 100 report is a guide for client-side professionals to choose the right digital partner for their project. As such, each agency has a featured profile, as an opportunity to describe their work and demonstrate their expertise.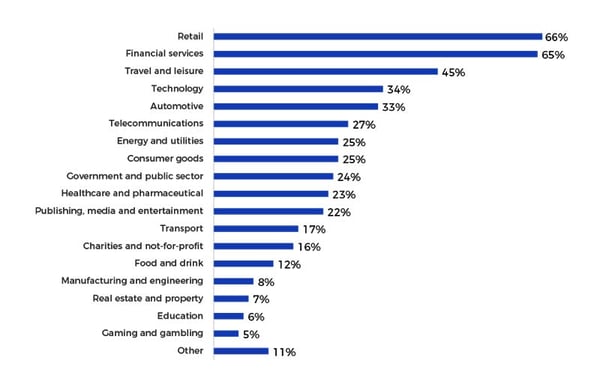 Main Industry Sectors serviced by the Top 100 Agencies 2018. Insights by eConsultancy.
With London-based agencies dominating the Top 100 list, we are proud to be amongst just 7 North-West agencies recognised at this national level. Being considered alongside some huge global players in the digital industry, such as IBM and Accenture, marks the exponential growth we have celebrated from our humble beginnings.
We are committed to assuring quality, longevity and client trust. Placement in the Top 100 agencies is a credit to the experience and knowledge of our 76-strong team to discern the difference between start-up hype and genuine innovation.
Over the past year, we have launched some exciting developments, for the Wildlife Trusts and Merlin Entertainments, winning awards at Big Chip and RAR for our successes. With many exciting new clients and major projects in the pipeline for next year, we hope to continually climb the Top 100 ranking. This is just the beginning...
If you're looking for a trustworthy digital agency with a proven record of success, why not get in touch for a free consultation?