Drupal is to release its latest version, Drupal 8.7, on the 1st May 2019. Review the entire Drupal product roadmap here.
Drupal 8.7 is a significant update for Marketers, Copywriters, Site Managers, and Creatives. It brings a new Media Library and Layout Builder, Drupal's first drag-and-drop content manager, recently revealed at DrupalCon Seattle 2019.
DrupalCon Seattle 2019
This update sees Drupal 8 retain its relevance in an emerging world of instant site builders, like Squarespace and Wix. Where Drupal has always stood out for its back-end capabilities and flexibility with API integrations, the new Layout Builder empowers Content Managers and Marketers. The user-friendly system allows Content Editors to maintain control over their content, throughout its journey to the end user. It also provides enhanced reactivity to the customer experience, as Site Managers can make edits without the assistance of a developer.
Of course, this isn't just a standard drag-and-drop editor. Drupal 8.7 comes with a whole host of features you won't find on low-end editors. These include instant multi-page management and the flexibility of powerful editorial workflows.
What is the Drupal Layout Builder?
The Drupal Layout Builder is a drag-and-drop content management tool. It allows non-technical individuals to design layouts in a structured way that adheres to the standard across the site. The new Layout Builder encourages users to take control, introducing blocks which help them to achieve designs and functionalities previously only editable in the developer's domain.
Key features include:
Modular template builder
Drag-and-drop paragraph editor
Permissions workflows
World-Class Accessibility
Drupal 8.7 Layout Builder Recording
Simple, Reactive Page Management
Using the layout builder, Site Managers and Marketers can create new pages from templates. To build on these templates, users can insert new blocks from the pop-out sidebar that do not exist elsewhere on the site. Once the Site Manager has added a block, they can preview it instantly. At this point, if the editor isn't happy, they can swap out blocks or replace images, text, buttons and more!
Users have recognised that it can be challenging to move huge, pre-built blocks and paragraphs in full preview. Using the preview toggle, users can now switch out of the full 'Content Preview' mode to a slicker block view. This simplified interface makes reordering blocks quick and easy. This differs from alternative drag-and-drop editors as the collapsed block editor sits within the same page. Therefore, editors can drag blocks across columns, as well as up and down.
Accessibility
The Drupal project has a long-standing commitment to accessibility and has been a leader in accessibility for many years. In 2018 Drupal Founder, Dries Buytaert, reaffirmed this commitment by stating that the forthcoming Layout Builder must be fully accessible.
The full 8.7 system is navigable by keyboard, in order to conform to Web Content Accessibility Guidelines, as recommended by the World Wide Web Consortium. This means that the drag-and-drop editor was designed with consideration for Site Managers, Marketers and Developers amongst us with specific accessibility requirements. Ultimately, the latest Drupal update will make agency life and in-house marketing that much more accessible to everyone.
Navigating Layout Builder by Keyboard
Workflows
The Layout Builder supports essential activities such as adding, saving and previewing content, or publishing data. The latest update also supports more complex features, such as content staging or approval workflows, using granular controls and notifications for the governance of each layout. This is a great win for marketing teams, as it de-centralises the content management process. Site managers can submit site updates safely, with version controls and final permission escalation.
For more complex updates, Drupal 8.7 supports workflows which push pages through multiple teams. For example, an initial submission which is then passed via testing teams, SEO managers, translation and localisation experts for international audiences, and final senior sign off.
Templates
The Layout Builder also includes a templating feature, useful for sites with large quantities of content. For enterprise sites, Content Managers can edit collections of pages all at once using the Layout Template Editor. Not only can they be edited in unison, they can also be rearranged while retaining their unique content. The ability to re-structure multiple pages at once saves a huge amount of time when one block needs to be changed across multiple locations.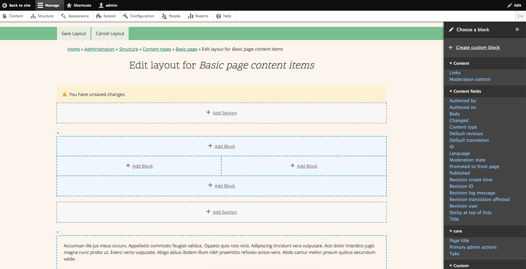 The Layout Builder in template editing mode
The Drupal Layout Builder was built entirely on Open Source contributions made by 123 contributors and 68 worldwide organisations.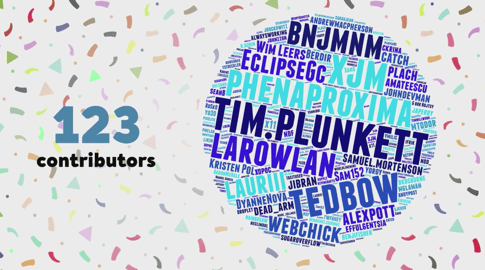 The 123 contributors (DrupalCon Seattle 2019: Driesnote)
Media Library
Drupal 8.7 included the release of a Media Library, to make asset management faster for Site Managers, particularly within the drag-and-drop format.
The Media Library in action
The Media Library is a pop-out window from which images and video can be inserted into the webpage. The library pulls content from the organisation's existing bank of images, hosted within Drupal. Or, users can upload media directly from their cloud or hard drive.
The addition of the Media Library allows Site Managers to insert or change images or video more efficiently than ever. The user selects the area where the image will be added and opens the Media Library. They can then select from existing images or upload multiple new assets at once. Once uploaded, users can remove or reorder any images ready for import. Once happy with the images, the user can add metadata and any extra information (like links), or change the format to video.
The Media Library was made possible by Open Source contributions from 310 individuals and 122 organisations.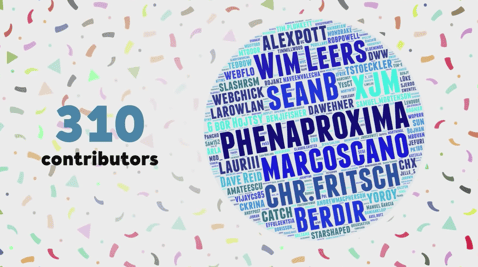 The 310 contributors (DrupalCon Seattle 2019: Driesnote)


Technical updates
There have also been a host of additional updates and tweaks to Drupal, improving its speed and background functionality. Such updates include adding JSON:API as a core module and providing a consistent way of displaying JavaScript Messages. For the full list of technical updates, visit the Drupal website here.
What's Next?
The administrative side of Drupal, where site managers navigate the back end and manage content, has been close to untouched for the past 10 years.
The User Interface (UI) is currently being redeveloped to be aligned and reflect the software behind Drupal, giving it a modern look and feel. This includes better use of space (and white space) and more contrasting features. The additional space also means its more accessible, and will receive a WYSIWYG integration.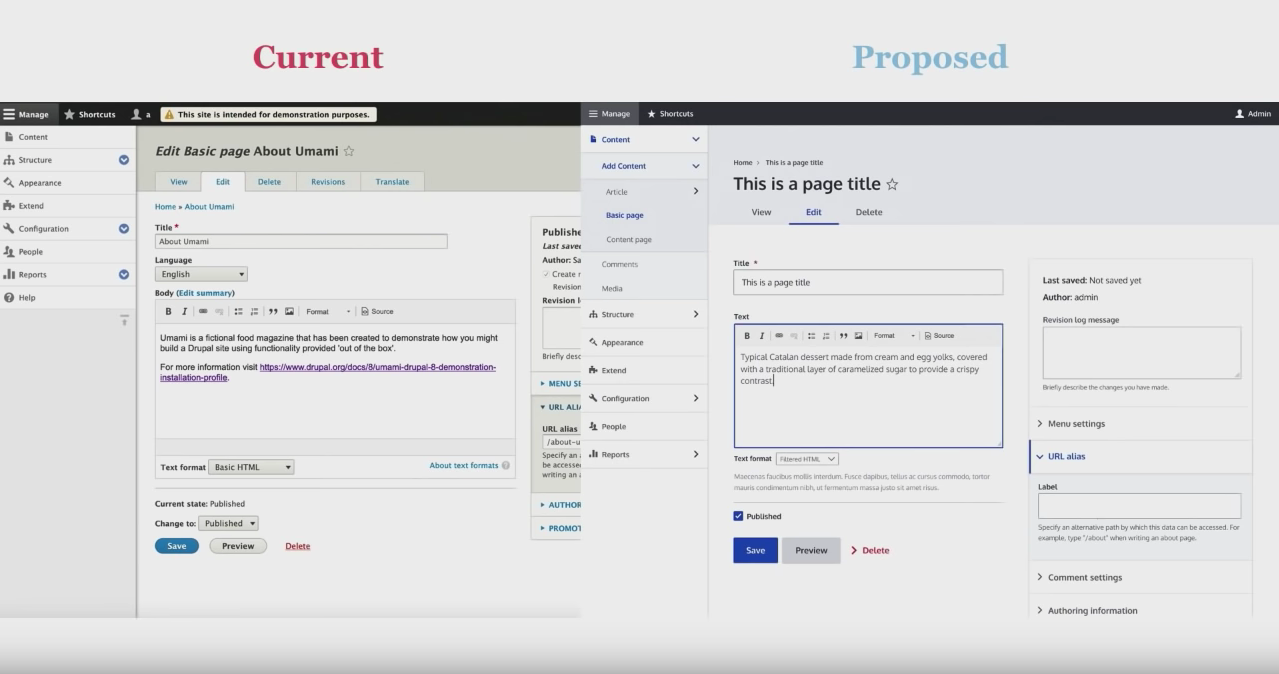 Proposed UI for Drupal 8.8
Sign up to email alerts to find out more or talk to our Drupal Web Development Experts about upgrading your Drupal Platform.