For the second year running we're sponsoring the North West Drupal User Group Unconference! Supporting and contributing to the Drupal Open Source community is an important part of life at CTI Digital so we are excited to sponsor such a pivotal event in the Manchester Drupal community.
As the name suggests, the Unconference rejects the traditional conference format in favour of a more informal and accessible structure. Attendees arrive without any knowledge before the event of who (or how many people) will be speaking. Those who have come prepared with an idea for a talk then quickly pitch their proposal up on the wall to hopefully secure a slot in the line-up. This format allows an even playing field for first-time speakers and encourages everyone to get involved. What's more, talks tend to be more reactive to recent topics, updates and events, as opposed to being written and approved months in advance of the conference.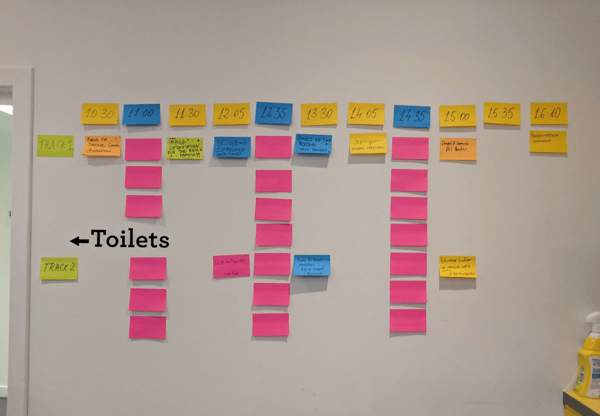 Planning out the Unconference talks with all the attendees
Whether you're a Drupal veteran or just discovering the platform, we'd highly recommend attending as there will be something suitable for every ability level. It's also a great way to get to know like-minded people, based in the North West like Eli, co-organiser of the unconference!
Eli, co-organiser of NWDUG on what makes the unconference such a unique event.
So don't hesitate to pick up a ticket. See you there!
Still not convinced?
Last year our Drupal team was there in force, delivering multiple talks and getting to know the extended community. One of our apprentices also attended and found it an immensely valuable experience. Take a look at what they got up to here:
Thanks to NWDUG Twitter for the images.