GOSH's mantra is "The Child First and Always". CTI Digital set out with the objective that our solution would embody this principle.
Extended discovery phase
Discovery workshops conducted by business analysts, solution architects, and user experience designers resulted in establishing a comprehensive understanding of organisational goals. It also ensured GOSH made informed decisions about what was being proposed for their site. While this was at odds with the client's preferred way of working of seeing code being written early on, we began the process with careful research and planning, which steered the project and led to success over the following months.
Agile Project Management
The cornerstone of the agile process is continuously adapting to change and getting feedback. As part of this process, our teams worked very closely together, focusing on assimilating feedback so that we could deliver the best possible product. We held regular sprint retrospectives internally, as well as frequent reviews with the client. Insight gained during both the retrospectives and reviews helped us remove impediments to delivery, respond to valuable user feedback, and reassess the scope of the project.
We managed the CMS and Migration projects in parallel. This helped to isolate the risk of the migration from the more predictable CMS build.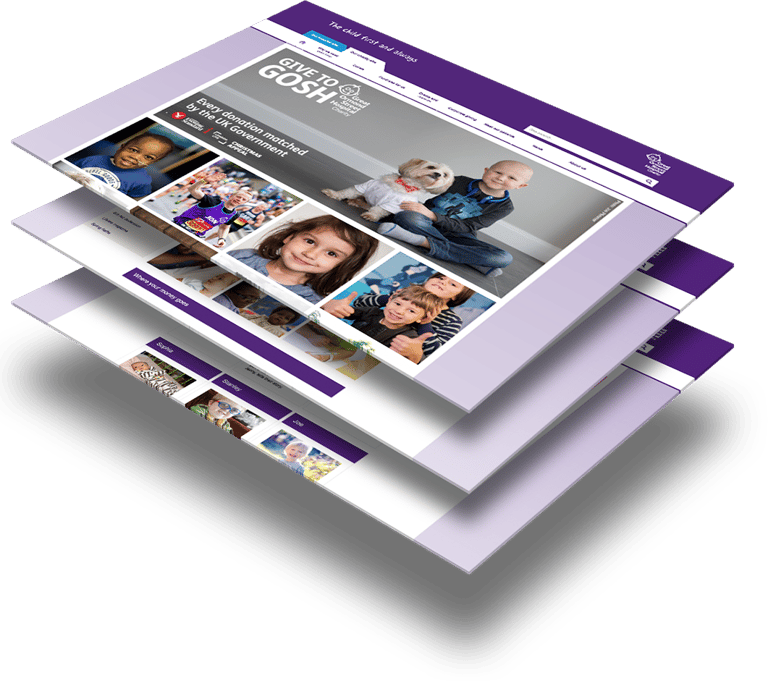 Accessibility and usability
The site is visited by a higher-than-average number of visitors with temporary and permanent visual impairments. Based upon advice provided to GOSH by RNIB, we implemented improved accessibility to achieve WCAG compliance.
Additionally, though it was not initially included in the project requirements, the team determined during discovery workshops that it would be imperative to include responsive design within the scope of work. We worked with GOSH to adapt their requirements to take advantage of Drupal's existing functionality, which allowed us to expand the scope of the project to include responsive design without incurring any additional cost.
KPIs and performance
The entire project was steered by Key Performance Indicators that agreed with GOSH's project board. These were metrics by which success was measured.
During every development sprint (and towards the culmination of the project) great emphasis was placed upon asserting that we robustly achieved results contributing toward the KPIs. For us, GOSH as a charity deserved the very best project outcomes.