Project management is a critical role that ensures the successful completion of a project within the stipulated time, budget, and scope. Project managers are responsible for planning, executing, and monitoring a project's progress from start to finish.
We sat down with Ashley, Project Manager here at cti, to find out about their typical day.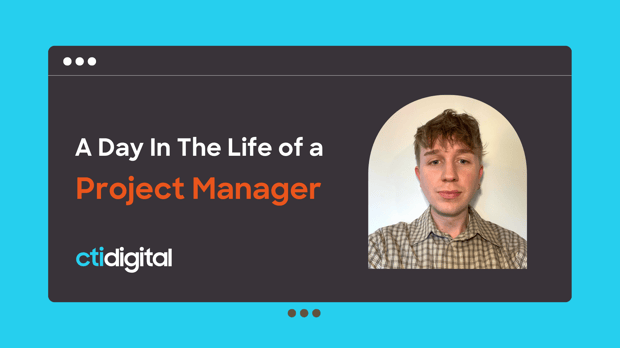 What time do you like to start work?
On a typical day, I'll start work at 9am. Occasionally when my day is more meeting heavy, I'll start at around 8:30am to give myself some time to plan out what tasks I have to complete that day and make sure I have everything for each meeting in the likelihood I'll have to go from meeting to meeting.
How long have you been at CTI?
I've been with CTI since September 26th 2022, so less than six months. Although it's only been six months, I feel like I've been here for a lot longer. I've worked on a good range of projects across many teams. I think it feels longer because of how well I've got on with a lot of the people I work with.
Please can you break down what your typical workday looks like?
I have a rough structure for my standard day, starting by checking the status update that I've written the previous day. I'll then review the teams I have on my projects for the upcoming day. If I have a morning scrum meeting with that project, I'll provide the details there. If not, I'll usually message them to see if they have everything they need to do their work. I like to do those checks to enable everyone to be able to do their tasks before continuing with my own. I'll then check what meetings I have for the day and what I need for those meetings.

I'll then try to answer any emails in my inbox or set a priority marker on anything that I need to refer back to later in the day.

I'll then normally give at least 15-30 minutes for each active project to check the individual project board to see how things are processing and communicate anything to the client. I'll also check into the dedicated project channel to see if there's anything I need to attend to.

I tend to take my lunch at 1pm, giving me time to walk my dog, Rocky and get some food.

My typical day would usually include at least 1 client-facing meeting, whether that be a weekly, bi-weekly or monthly update meeting.

At the end of my working day, I like to write a progress update for each project; this just means I can properly shut off at the end of the day and know that in the morning, I'll have the list to refer back to.
What essential tools or websites do you use daily to help you?
Here's the list of tools/websites I open every day: Google Mail, Google Calendar, Google Drive, Google Meets, Google Sheets, Slack, Jira, Confluence and Float.
What are they used for, you wonder?

The google tools are pretty self-explanatory; I use google for my emails, calendar, video calls and for storing documentation. I'm also pretty partial to a spreadsheet, so I'm usually using/creating one.

Like everyone at CTI, I use slack for my day-to-day communication with my project teams. This is the simplest and fastest way to communicate with my teams.

Jira is used to track all the project progress and is used by both the CTI team and the client.

Confluence is used for our documentation; I use this most frequently for meeting notes / and documenting progress updates for my projects.

Float is something I'm constantly in and out of for reviewing resourcing.
How do you prioritise tasks in a project?
There are many contributing factors that need to be considered when prioritising tasks within a project.

A simple method that I use to help determine a priority order is adding the tasks into a simple chart with 4 boxes: 'Urgent and Important', 'Not Urgent but Important', 'Urgent but Not Important', and 'Not Urgent and Not Important'. From this, I can clearly see what needs doing immediately, what can be scheduled, what can be delegated and what doesn't need doing.

I don't always need to create a physical chart with these boxes, but applying that logic to the order of my tasks helps a lot.
What's your go-to lunch?
Okay, this is where I probably differ from the other project managers, something that the average 30-year-old would be having for their lunch.
I typically have crackers/toast with an orange/apple, yoghurt and crisps.
Reading this will probably make you think of your childhood lunchbox, but it works for me, and it's simple and means I can eat while checking my emails.
What excites you the most about your job?
I'd say the part that excites me most about my job is the launch day of a project. I get to see the result of months of hard work being released and appreciated by the public. There can often be many hurdles to overcome throughout a project, and seeing the final product makes it all worthwhile.
One of your team members is asking for more time to complete a task. How would you handle this situation?
I'd begin by asking why the team member needs more time; this will give me a greater understanding of what has halted progress. I'd then ask for an estimate of how much additional time would be needed. Most of the tasks completed by our teams have been estimated. These estimates are provided by a tech lead or equivalent who usually has a good idea of how long a task should take. Presuming the additional time is for something that is within the scope of the project, I'd then progress with requesting the additional time. Followed by assessing what impact it will have on the remainder of the project from a delivery, resource and budgetary perspective.

I'd then inform the client of the changes and update them on the adjustments that have been made to ensure the completion of the task.
Have you grown during your time here?
I'd say I've had growth in confidence in my ability to manage multiple projects across different service areas and platforms with varying complexity. Before joining CTI, my knowledge was strictly within project managing WordPress projects, whereas now I'm managing projects using Magento and Drupal, as well as some strategy and marketing projects.

I think I've also learnt to set boundaries and have a better work/life balance which I haven't really had before, and that has done wonders for my well-being.
What advice would you give to aspiring Project Managers?
I've learnt a great deal from other project managers, so I think the first would be to listen and absorb as much information as humanly possible.

Secondly, I'd say never rush into anything; a good project manager will take a moment to assess the situation, look at the dependencies and risks and consider the best possible solution to a problem. Taking your time and looking at the bigger picture will often prevent problems later on down the line.

No two teams will be the same, so at the beginning of your project, take time to learn how your team works best, understand what'll enable them to do their job to the best of their ability and do what you can to cater for that.

Finally, I'd say be kind, honest and have a sense of humour. Personally, I find that these qualities help build great relationships internally and externally. They'll help get the best out of your team, and it'll hopefully instil confidence in your clients.
If you would like to learn more about life working at cti digital, check out our Instagram page for behind-the-scenes insight, or visit our careers page to view the latest vacancies.