Extended End-of-Life Timeline for Drupal 7
We have important news to share regarding the end-of-life timeline for Drupal 7. Previously, Drupal announced an extension until 1 November 2023. However, we are delighted to announce that the final date for Drupal 7's end of life has been further extended to 5 January 2025.
With this end of life extension, the Drupal Security Team is making adjustments to the level of support provided. As a trusted Drupal partner, we are here to assist you throughout this transition. It's essential to note that this will be the last extension, so it is vital to plan your migration strategy appropriately.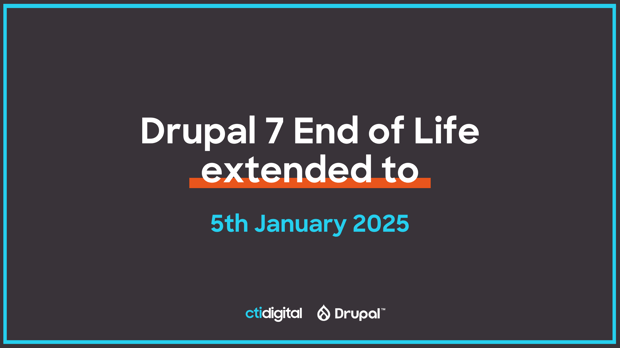 To ensure a simple transition, we want to highlight a few key points about the end of life extension:
Reduced support for moderately critical Drupal 7 issues
Starting from 1 August 2023, the Drupal Security Team may publicly post moderately critical and less critical issues that affect Drupal 7, as long as they are not mass-exploitable. This change will not impact Drupal 9 and newer versions. If a security issue affects both Drupal 7 and a newer version, the Drupal 7 issue may be made public without a corresponding fix.
Drupal 7 branches of unsupported modules no longer eligible for new maintainership
After 1 August 2023, unsupported Drupal 7 module branches will no longer be eligible for new maintainership. If you rely on Drupal 7 modules, we strongly encourage you to proactively adopt and support these modules to ensure their continued functionality. The Drupal Security Team will not issue security advisories for any unsupported libraries that Drupal 7 contributed modules depend on, including CKEditor 4.
PHP 5.5 and below will no longer be supported
Starting from 1 August 2023, Drupal 7 will no longer support PHP versions lower than 5.6. Drupal may provide further updates regarding the minimum PHP requirement before Drupal 7's end of life.
Security fixes for Drupal 7 Windows-only issues
From 1 August 2023, security fixes for Drupal 7 Windows-only issues will no longer be provided. If you are running a Drupal 7 site on Windows, we recommend considering migrating to another operating system or hosting provider.
Changes to Drupal.org services for Drupal 7
As of 1 August 2023, Drupal.org will no longer package Drupal 7 distributions with Drush make files. However, you can still build distributions locally using Drush make.
What does the Drupal 7 End of Life mean for you?
As we approach Drupal 7's end of life, it's vital to understand how the end of life will impact you:
The Drupal Security Team will no longer provide support or Security Advisories for Drupal 7 core and contributed modules. Public disclosure of security issues and zero-day vulnerabilities may occur.
Drupal.org will no longer offer support for Drupal 7-related tasks, including documentation navigation, automated testing, and packaging.
Drupal 7-compatible releases on project pages will be flagged as unsupported.
Certain Drush functionalities for Drupal 7 will no longer work due to changes in the Drupal.org infrastructure.
Drupal.org file archive packaging (tar and zip files) for Drupal 7 will be discontinued, and the archives may eventually be removed.
There will be no more core commits on Drupal core 7.x, and downloadable package tarballs may no longer be available.
External vulnerability scans will identify Drupal 7 as insecure.
If you are currently maintaining a Drupal 7 site, we strongly recommend initiating a migration to Drupal 10 before the end of life date. Our expert team is here to guide you through the migration process, ensuring a seamless transition.
If you are considering upgrading your website to Drupal 10, contact our team of dedicated Drupal developers for specialist support.