Appointment to the featured case study section on the homepage of Drupal.org is the reserve of projects having the highest standard and global significance. It is with great pride we are delighted to announce our delivery of The Digital Transformation of london.gov.uk has achieved this prestigious accolade.
London's City Hall were inspired by the digital transformation of gov.uk and adopted the principles of The Digital by Default Service Standard. The project, which spanned 18 months, was a collaborative effort between 5 different organisations.
It provided a perfect opportunity for our team to exert their technical prowess, implementing a new service which is interactive, easily accessible and relevant to most, if not all, of the 8.63 million people living within the city of London. The new site has been hailed as a great success by the GLA, the people of London, and Mayorwatch.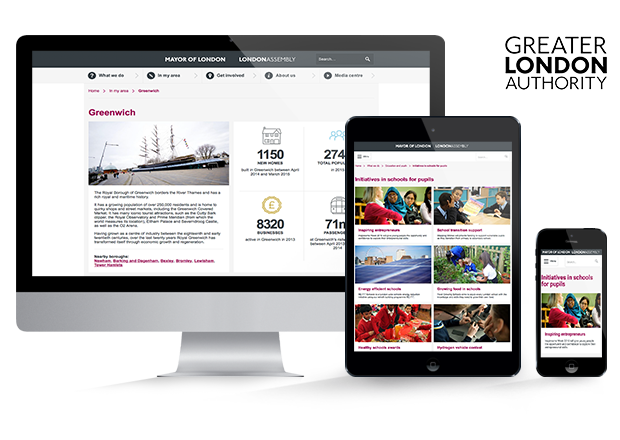 Take a look at the GLA Drupal website
The site was designed in line with the 'Digital by Default Service Standard', which calls for digital teams to build high quality government services which reflect the needs of the user. We designed to be viewed as the 'beating heart of London,' a platform for Londoners to learn about the work of their Mayor and to stayed engaged with the issues which matter most to them. This was achieved through extensive user research and beta testing, carried out by both the Mayor's Office throughout 2014 and our team in early 2015.
The new site couldn't have happened without gathering together with great partners, and taking advantage of the many cloud and agile capabilities that Drupal has to offer. We've achieved big cultural change not only on our site, but also in our organisation.

- David Munn, Head of Information Technology at Greater London Authority
Encouraging Londoners to utilise this new platform, we added features such as the 'In My Area' section. This feature will be regularly updated with information about local matters affecting individual London boroughs, ensuring the people of London have a relevant information source available to them at all times.
We hope the people of London will see how far the site has evolved from its original state and will make the most of what is now a colourful and dynamic information portal which has been built to serve the City of London and its people.
We're proud to be part of a collaboration which has seen the complete transformation of such a high-profile site and we believe the efforts of design agency 5K and our team have fulfilled the objectives set by the then London Mayor, Boris Johnson, who commented:
"Our website should be the first port of call for Londoners who want to find out more about the decisions that affect where they live, so it's vital that the site is easy to navigate and packed with useful information. As well as keeping people up to speed, our brand new website will encourage Londoners to get involved and have their say on what's happening in their city."
Part of our ethos is to continually provide our clients with the optimum solution and the team were thrilled to be given the opportunity to showcase their research, technical and Drupal expertise, to create a platform which will hopefully make a difference to London and its people.
You can read in detail about how we delivered the project within the case study on Drupal.org.