Whilst at Drupal Europe last month, I was privileged to be invited by Drupal's founder, Dries Buytaert, to a round table discussion, aimed at further marketing the Drupal project.
Bringing together a number of leaders from the Drupal community, we all shared the same desire to boost the marketable assets of the open source platform. One of the ways we hope to achieve this publicity is by creating a comprehensive, customer-facing "Pitch Deck".
The session began as a workshop, facilitated by Adam Goodman. He primed the group to start identifying and explore opportunities to better convey the benefits of Drupal to the uninitiated. The ultimate objective is to encourage the adoption of the Drupal platform. Consensus was reached that we focus upon three separate initiatives.
We're not competing with one another, yet we're not helping each other either. Our role as leaders is to activate the assets that already exist in the community.

Bert Boerland
The initial plan it to create a marketing resource that will present Drupal's credentials in a persuasive manner. This slide deck will also contain impressive exemplar case studies, to ease the process of convincing an organisation or client to choose Drupal.
The Team
I volunteered to take overall responsibility for the creation of the end result. Joining forces with Suzanne Dergacheva and Ricardo Amaro, who bring rich, varied perspectives and skill sets, I feel confident providing the basis for this universal toolkit. But we can only be truly successful if many others contribute to our initiative. We need sales people, marketers, copywriters to join our cause.
Providing a single and persuasive resource, available for all Drupal promoters, to sell the powerful advantages of Drupal will benefit all who use it. With strong consistent messaging, and bolstered by the many Drupal success stories, the deck will position all advocates better to expand the Drupal market share across many scenarios.
With a core team of fellow Drupal professionals, we plan to cover as many topics as we can identify, from security, accessibility and performance functionality through to specific industry verticals, like Higher Education or Media. The key intention is to show how Drupal can adapt to fit projects of all shapes and sizes, across all industries.
The Benefits
Many of Drupal's competitors (think Wordpress, Squarespace etc.) are widely publicised and, consequently, innately popular. In many cases, Drupal may well be the ideal platform for a project, but it risks losing out to competing CMS providers as the success and potential of Drupal is not easily demonstrated.
Our intended users are sophisticated purchasers. As they ask more and more questions, our responsibility grows to equip agencies with comprehensive information. By using the collaborative resource, agencies will be able to accurately sell the Drupal platform, whilst spending more of their energy and resources focusing on the services they deliver. Freeing up time from writing and re-writing duplicated Drupal sales, organisations will be left to promote their unique strengths.
The Plan
We plan to kick off the project by identifying the high-level requirements and the mechanism to create the slide deck. From there, we hope to crowdsource for support, and seek volunteers from the wider business community. By recruiting sales people, marketers, copywriters and subject matter experts, we hope to create a well-rounded resource, targeted at the varied stakeholders of a new Drupal development project.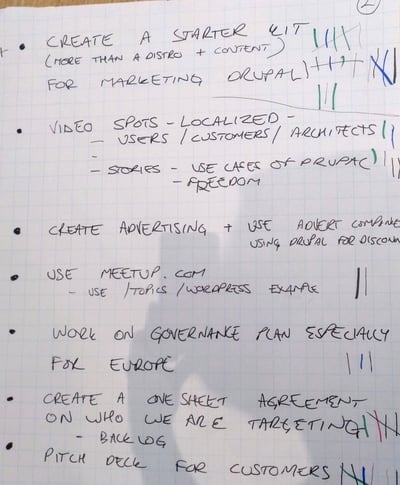 Brainstorm Notes from Drupal Europe Roundtable - Photo by Meike Jung
By working together, embracing open source ideals, we hope to rapidly achieve the first incarnation of the slide deck, ready for it to be built upon in the future. The sooner we create a draft, the sooner we can share the potential of Drupal with a wider audience. Projects like this prove that you needn't be a web developer to be part of the welcoming Drupal community.
Get Involved!
If you're interested in getting involved with this innovative project, please get in touch via our web form. Any contributions, big or small, will be gratefully received, as we strive to convert this idea into a reality.
Join the cause, let's make Drupal better together!
Drupal.org Issue: Drupal "Pitch Deck" for Presenting to (Potential) Customers