QA Testers are a vital part of the software development industry. Testers are in charge of identifying errors, finding the source of those errors, and using their communication skills to convey the issues they found to the development teams.
We sat down with our Senior QA Tester, Helen, to find out what her typical day looks like.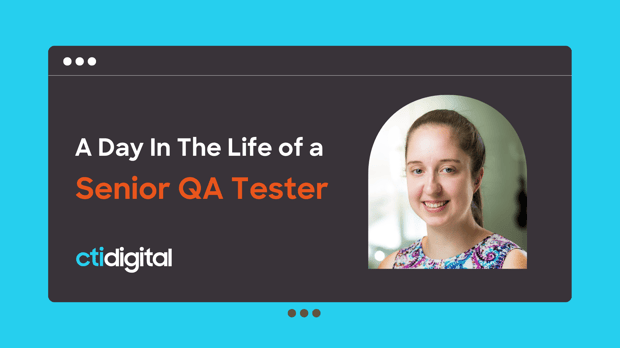 What time do you like to start work?
I try to start at 8am every day as it means I can organise my day whilst it is a bit quieter, and I can get stuck into work before all the daily scrums start at about 9-9:30. I also like that I can finish earlier in the evening so that I have the rest of the night to do my own things.
How long have you been at CTI?
I joined Nublue just over 6 years ago in November 2016 as a Client Services Assistant. I changed roles a few times over the next year before officially becoming a QA Tester in August 2017. Nublue joined the CTI Group in 2019 and I've been part of the QA team here ever since.
I became a Senior QA Tester in January 2021.
Please can you break down what your typical workday looks like?
A typical day in QA is very fast paced and can vary massively. Some days I work on one client project and other days I could have 3 or 4 different projects to look at across both our Drupal & Magento platforms.

As well as client work, I work on internal documentation such as creating test plans and updating QA documents.
I also have several "Continued Professional Development" days throughout the year where I can research interesting topics, learn new tools and further my QA knowledge.

Every morning we have a QA Scrum as well as scrums for any other projects I am working on that day/week. The scrums are an opportunity to provide an update of what I was working on yesterday, what I will be working on today and any blockers/issues I am currently facing or may face during the work.
Throughout the day, with guidance from the team schedule & project deadlines, I then prioritise and work through the assigned projects.

At the end of the day I provide updates to the projects which includes the progress I made that day, any work that has passed QA & is ready for UAT, as well as any bugs that arose during the testing.
What's the most exciting project you've worked on so far at cti?
One of the first projects I had the pleasure of working on at CTI was the rebuild of the new Little Greene Paint company website. It was one of the largest Magento 2 sites I had worked on and an exciting opportunity to work with a much larger project team than I had in the past, alongside colleagues from different disciplines across the company.

The 'Greater London Authority' project which involved a re-build of the london.gov.uk website was another exciting challenge for me. Having been a Magento tester for most of my QA career, getting the opportunity to work on the Drupal platform for this project was very rewarding. It provided a great opportunity to further develop my communication skills by working closely with the client and the development team from start to finish.
What are the technologies that you are most excited about in your current project?
I have recently started getting stuck in with automation testing. We're using a tool called Cypress to create test scripts for checking common functionalities across our client sites such as adding products to basket & making a purchase.

I am still in the very early stages of following tutorials and reading help guides, but I can already see the benefit it will have on our testing in the future! By automating common scenarios it can help free up our time so that we can put more effort into manually testing other areas of the site that can't necessarily be automated.
What attributes and skills do you think to make a QA Tester successful?
I think good communication is an essential skill to have as a tester as it's imperative for cross-team collaboration as well as for building trust with our clients. We need to be able to clearly convey test reports in both a technical and a non-technical manner to avoid any ambiguity and inconsistencies.

Having an analytical mind-set is also an important trait to have and being curious compliments this too. Both attributes help us to perform an in-depth analysis of the website or application, visualise the scenarios and tests to perform, and think outside-the-box to look for edge-cases that may have not been considered by others.

Professional Pessimism is another key skill to have. It encourages us to question every aspect of the website/application from design & development through to the end delivery and the way in which customers will use it. It pushes us to thoroughly examine the system so that we can rightly contribute to quality and advocate for issues to be fixed earlier on in the development process.

Some other attributes and skills not to be forgotten include: having a critical eye; good attention to detail; the ability to respond to the unexpected and adapt; and organisation.
Last year, through CPD funding via cti, I completed the ISTQB Foundation certificate with my CPD days which covered practical knowledge of the fundamental concepts, terminology and "best practices" in software testing, including how quality can be integrated early on in the development life cycle, and the different types of static & dynamic testing and various testing techniques such as boundary-value analysis & equivalence partitioning. I completed this through self-study and reading through the training provider resources before completing a timed exam online.

I learnt how to analyse the different concepts and how to apply them to my current work. At the end of the course, I was able to feedback to the wider team and help integrate new ideas within our current way of working.
What's your go-to lunch?
Usually left-overs from tea the night before! Or if I'm working from home and it's a nice day I sometimes go for a walk and pick up lunch from one of the cafes or shops in my area. When I am working from the office I tend to order a take-away from one of the nearby restaurants.
What excites you the most about your job?
I like that there are so many different projects at CTI that I could work on, where every day brings a new challenge. Not only do I get the opportunity to work across different platforms such as Drupal, Magento, Umbraco, BigCommerce and other solutions, but I also get the chance to grow myself professionally by working on internal projects such as assisting with QA Process improvements, writing Client training documentation and learning new tools for test automation.
Through cti, I was fortunate to attend Test Bash 2022, a two-day annual event hosted by the Ministry of Testing, where QA Testers from across the globe came together to learn, exchange ideas and network with the community. I met some fantastic people and found the event to be very insightful.
Have you grown during your time here?
Professionally, I think I have grown massively in knowledge and skills during my time with CTI. I started here having no professional experience in industry and only little awareness of QA from University but with the guidance and support from my colleagues I have gained invaluable skills, new perspectives and increased my responsibilities considerably since joining CTI. I now feel comfortable leading the testing on a project, liaising with clients, championing change within the QA process, as well as mentoring new members of the team.

Personally, I have also grown in confidence greatly whilst being at CTI. I've learnt how to approach all sorts of situations clearly & professionally; I am able to communicate my ideas and influence decisions; and generally have more trust in my own thoughts & ideas.
What advice would you give to aspiring QA Tester?
Think like an end-user - Don't approach testing only from a technical point-of-view. Imagine you are the customer using the website/application and think how they might use it.

Build good relationships with your project teams - It is imperative as testers that we communicate regularly. There may be times where testers and other team members may not agree on certain things, so it takes a diplomatic approach to resolve those without harming the good relationship. At the end of the day we all want the same thing - that is, a good quality product for the client!

Be practical and make mistakes - Learn by doing and don't rely solely on book knowledge. I have always believed the best way to learn is to get stuck in and not be afraid to make mistakes. Treat those mistakes as a learning experience - try not to repeat the same mistakes and take time to find out why; why didn't you notice the bug the first time round? Why did a certain approach not go that well for you? Embracing that can help you build confidence in yourself, improve relationships with your team, and help you see the bigger picture.
If you would like to learn more about life working at cti digital, check out our Instagram page for a behind the scenes insight , or visit our careers page to view the latest vacancies.