May 2018 brings with it some major changes for the e-commerce world: eBay will begin overhauling its online "Shopfronts" to improve user experience. Rolling out the updates over several phases, eBay's new design will champion a 'Shop by Product' approach.
The upgrade sees eBay adapt to look increasingly like standard e-commerce stores: a single product link will lead through to a range of purchase possibilities.
Shop by Product
It is likely that you are familiar with the current eBay search results, which prioritise relevant products but ultimately produce an overwhelming list to scroll through. From this update, by grouping listings together, eBay hope to present each user immediately with their ideal purchase.
For a single product, for example grouped by a specific colour, size or generation, the new Shopfront will present the array of available buying options. eBay's 'Our Pick' listing will appear as the default, with options to segment and explore 'Brand New', 'New (other)' and 'Refurbished' products, as well as Auctions that are ending soon. With relevance already established, listings can then be ranked by price. This new interface seems reasonably familiar to those of us with an Amazon account (depending who you ask, of course).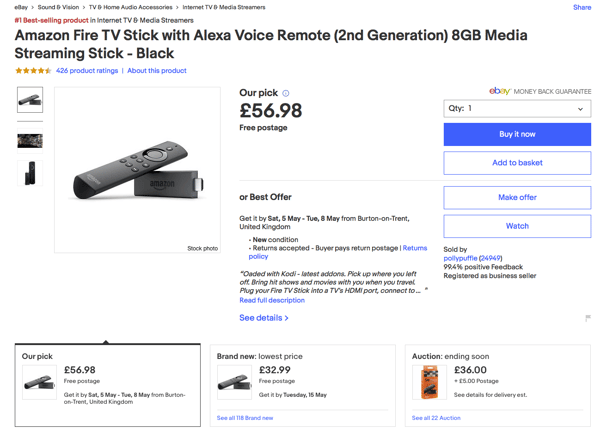 The new product listing page
Phase One of the update has been launched this month, focusing on a select group of trial products. These represent sought-after and easily categorised products from renowned brands.
The initial sample is made up of: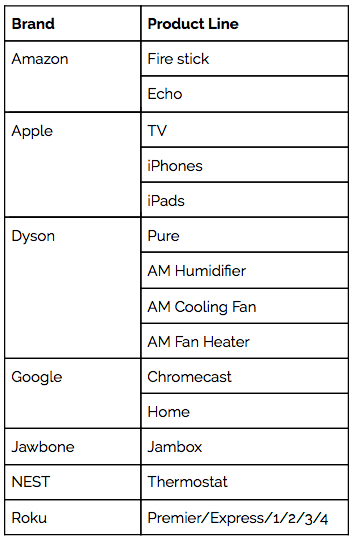 Products to be updated in Phase One
User-centred
eBay claim that this staggered approach to releasing the update is intended to allow for user testing and feedback, before expanding the new Shopfronts across the whole site over time.
This user-centred method points to the main aim for the update: ultimately, the new eBay is designed with a positive user experience at the forefront.
The intention is to deliver:
A better mobile experience - as this is the most common browsing device.
More relevant products for buyers - to prevent endless scrolling.
Improved security - evolving to HTTPS.
Enhanced SEO, leading to improved traffic - ideal for sellers.
Key notes for sellers
Selling a product will require you to select an

exact

product category from the eBay catalogue to attach your listing to. If you currently have active listings for any of the phase one products, you must edit them to identify with the appropriate product group. Otherwise, you risk disappearing from the search results.

Any HTML customised shopfront appearances will cease to be supported on the updated site. Following the update, it will no longer be possible to set up a custom shopfront. Sitewide clarity and consistency will replace personalised seller pages.

Your individual listing page still exists! But, the new design will dramatically shift how this listing appears in the search results.

The vital position to strive towards is to be hosted in the 'Our Pick' box for a chosen product. For customers whose priority is efficiency, this will become the default purchase point, saving time from scrolling through various options. However, the algorithms that define this 'pick' are personalised for each individual user, so no single seller can hold a monopoly.
For sellers to make the most of the new update, the recommendations are nothing unexpected: the algorithms to boost seller profiles and increase rankings are to be based on a seller's positive ratings, feedback and those offering competitive prices. As such, for sellers, it's business as usual.
Then vs. Now
A quick search for an Amazon FireStick brings up 255 listings (of varying authority) in the classic eBay listing format. However, when these results are restructured into the grouped view, there are just 5 results.
The titles and featured images for each listing are no longer cluttered or confused with distracting keywords, symbols or emojis. This makes it substantially easier for a user to buy a relevant product from a reputable seller.
The former Search Results page
vs. the updated Search Results page
CTAs on the new listing pages are all equally sized, allowing users to 'Buy It Now', 'Add to Basket', 'Make Offer' or 'Watch' a product without forcefully encouraging a purchase. Beyond this, extraneous details, such as how many of each product have already been sold, are relegated to the individual listing pages via 'See details'. These design improvements result in an uncomplicated and concise listing that is visible on a single screen.
Further encouraging a positive user experience, the updated listings pages support and guide a customer's decision, by offering clearly presented information to 'Compare Similar Products' and see what 'People who bought this also bought'.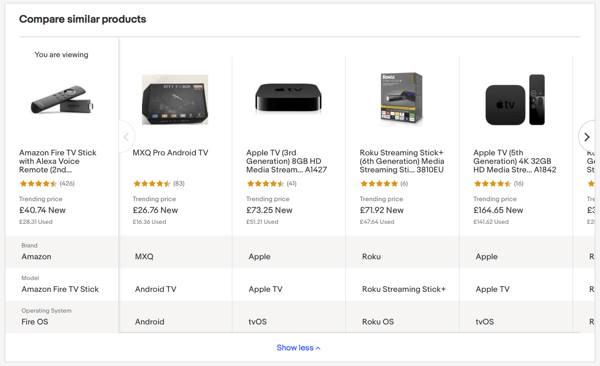 New listing pages include Comparisons and Cross-selling Modules
It is not yet entirely clear how this update will affect items that are not so easily grouped, such as clothing listings. However, from an eBay user's perspective, the new 'Shop by Product' arrangement ought to save time and confusion from the sometimes overwhelming number of offerings on the site. By improving efficiency, whilst still offering a vast range of competitive prices, eBay's update should place the site alongside other e-commerce giants, as a 'go to' marketplace for instant purchasing.