The Consumer Decision Journey is changing. As such, users' expectations from search results have evolved, and marketers must adapt their adverts according to users' new behaviours. Google is built to recognise intention and, as a result, it can offer smarter personalised search results, based on what Google knows users will like.
In order to capture the best of the potential market, Google Shopping ads are the fastest way to appear at the top of search results. This makes them a vital resource to harness. For an extensive rundown of how to optimise this high-ranking resource, read our eBook: '7 Tips for Running Better Google Shopping Ads'
New Behaviours
Users are no longer restricted to the information provided only by the brands and people they know. Social media, comparison websites, influencers, and magazines all make the decision more complex.
Users are also relying much more heavily on search results. While previously you may have asked a friend: "How much is my car worth?", "What do I do with chilli powder?", or even "What's the best haircut for me?", users are now asking Google these personal questions. As such, the number of very generic searches is decreasing and the reliance on long-tail keywords is on the up.
In order to target your Google Shopping adverts to achieve your business goals, you must elect to focus on a specific intention. Decide whether you want to:
Woo the Window Shoppers - engage those with little information and low commitment.
Sway the Serious Buyers - convince users with informed presentation of specific brands/products.

Attract the Abandoners - dominate the market, comparing USPs and coming out on top.

Cross-sell to Converters - incentivise a repeat purchase from your recent customers.
What YOU can do
Optimising ad titles and descriptions, and removing errors to ensure you're seen in feeds, is standard practice. The stand-out adverts must focus on the user's intention. June, our Advertising Manager delivered a talk on the topic you can view in full on youtube below.
Filmed by CTI Digital at Supercharged Commerce.
After defining your business goals and focus, there are several simple tasks to optimise your ads for search. Google Shopping ads are one of the best tools to employ when attempting to attract customers and increase conversions.
It's important to balance visuals with descriptive text, in order to entice users as well as to inform search crawlers of what exactly you're offering. Descriptive titles, rich with keywords, will help to boost visibility.
Depending on the target point in the consumer funnel, splitting campaigns and bids by specific and generic, branded and non-branded, can prove vital in delivering results most efficiently. Prioritising specific intentions can achieve your business goals specifically within your budget.
Beyond product descriptions and keywords, custom labels can also help to categorise and separate adverts. Ultimately, this is great for you as it provides more flexibility, hopefully saving time and money.
Finally, it's well-known that repeat customers are the most fertile market for most businesses. Therefore, enhancing remarketing campaigns to target specific audiences and to nurture your pre-existing relationship can pay dividends in terms of conversion rates later on.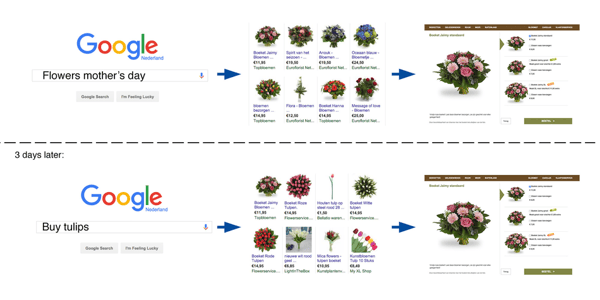 Remarketing with targeted adverts can boost conversion rates.

For more in-depth advice, examples, tools and even further bonus tips, read our eBook '7 Tips for Running Better Google Shopping Ads'.