It's important to consider the full customer journey when designing your digital advertising for Facebook, Twitter, Instagram and LinkedIn. Don't just focus on pre-sales. Targeting an existing customer base gives you the opportunity to build loyalty and advocacy: turn buyers into promoters and your PPC investment will pay for itself! With that in mind, here are our best tactics to increase your return on investment with existing and new users on Facebook.
Post Code Targeting and Pin Drops
Use Post Code Targeting and Social Pin Drop to reach Facebook and Instagram audiences within a certain geographical radius. This can be used for specific events targeting local people, targeting tourists in an airport, or even for recruitment near your office. For example, you could identify commuters on their journey and offer them an alternative.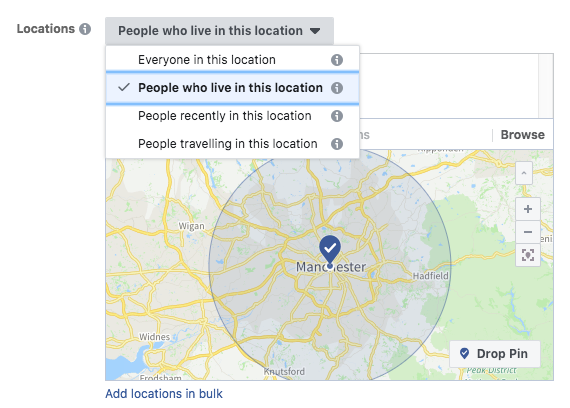 Facebook Ads: Target users by location and relationship to area
Customer Match
Customer Match can identify prospective consumers from the known demographics, behaviours, and psychographics (interests) of previous customers. You can also seek lookalike audiences based on past customers who have left you reviews. Or you can even bid on users interested in a competitor brand, to define and present your alternative offering their audience.
Facebook Funnels
Use Facebook Funnels to Improve eCommerce Campaign Targeting. The first step to a successful campaign is to start by identifying the product-specific conversion path. You need to reach the right person at the right time, with the right message.
Once defined, break down each funnel by device, gender, age etc. to truly get to know your audience. Then you can create specific, targeted messages for each. For example, lead repeat purchasers through an up-sell funnel, to join the newsletter. Start to up-sell your brand to them around the time of the 2nd purchase. Remember, if there is no purchase event set up, you can refine page views by other parameters.
Facebook Pixel Connection
Connect a Facebook Pixel to your page by creating an ESG (Event Source Group). This can help you to seek out high intent audiences and positive leads. You can investigate where these users are in their purchase journey and then to use each gap between funnel events as an opportunity for a campaign.
The Facebook Pixel is also a tool that you can train to understand what is and isn't working. Add as many standard conversions as possible: cart, page views etc and also custom conversions, specific to your business. The more conversions you include, the better Pixel will understand. It can learn to prioritise people who put items in a cart and target customers with the highest potential.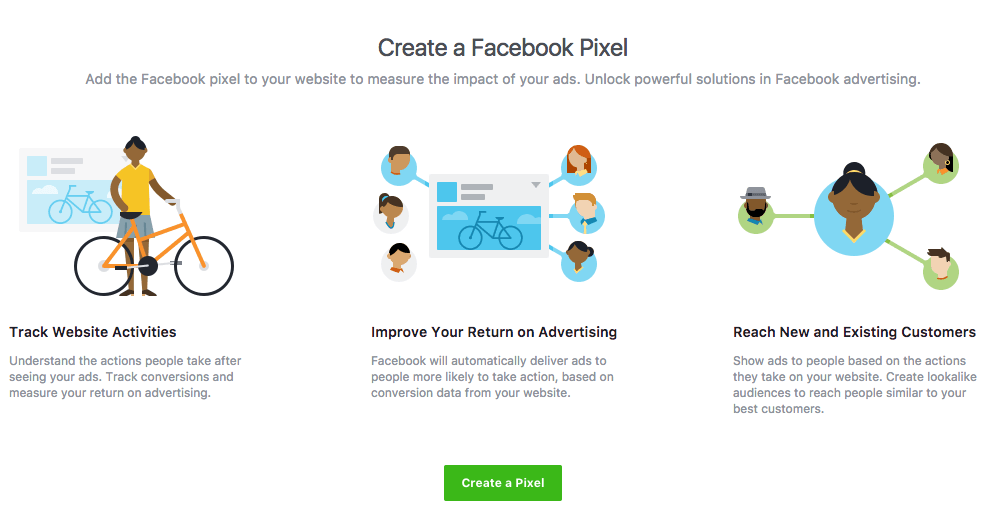 Facebook Ads: Creating A Pixel
Test, Test, and Test Some More.
Testing different variations of your adverts will help to see what gains tangible interest. Incremental changes will see your ads evolve into their best iteration. Don't just let paid ads become dead weight. The important thing is to make decisions quickly, so keep an eye on your ads; look for indicators of performance and react. Also do some split testing to see which activities really work for you.
Of course, what works in one campaign might not work for another. Whilst it's important to learn from analysing previous performances, cookie-cutter campaigns won't do your sales figures any favours.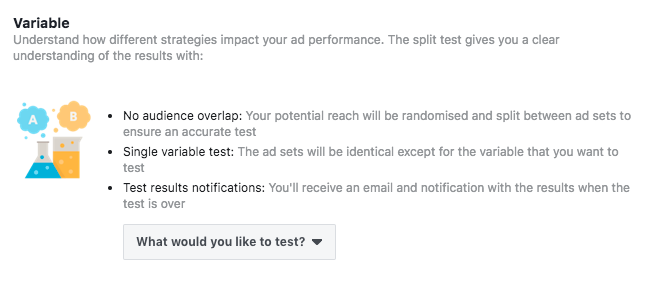 Facebook Ads: A/B Test Variables
Co-written with Sacha Crowther, Content Executive.
Up Next: Intention Optimise Your Ads (E-Book)