As we approach the end of LGBTQIA+ Pride month, I had the privilege of having a thought-provoking conversation with Freddie, a dedicated advocate within the LGBTQIA+ community, chair of our Equality, Diversity and Inclusion (EDI) committee and People Partner - Talent & EDI at ctidigital.

We centred our conversation on the crucial topic of allyship. We discussed how we can go beyond joining the celebration of pride month with our colleagues and peers and becoming true allies of their community.

Freddie generously shared their unique perspective, personal experiences, and invaluable insights into allyship. Together, we delved into what allyship truly means to them and explored practical ways to enhance our support and solidarity with the LGBTQIA+ community.

Freddie emphasises the importance of challenging performative behaviour and advocating for sustained support beyond symbolic gestures during Pride Month.

Read more on what Freddie has to say on improving our allyship, and creating a world that embraces and uplifts every member of the LGBTQIA+ community.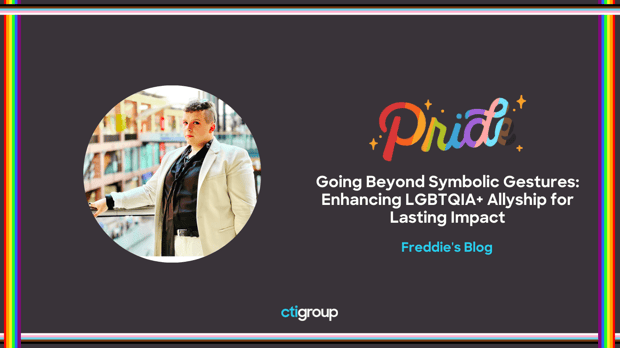 How would you define allyship within the LGBTQIA+ community, and what does it mean to you personally?
I would define allyship as the act of going above and beyond our normal stations. It's recognising that when we have privilege and power we should use this as a catalyst to support and stand up for marginalised communities, whether that's through work, social settings or political action.

It's understanding that there should be continued support for communities during and after events such as pride. It's to use your platform to help raise voices and hold safe spaces for people who are a part of marginalised communities.

It's also an opportunity for people to call out performative behaviour and ask for better for instance when companies change their logos for pride month and then do zero work for the rest of the year.
Can you share a personal experience or story where allyship played a significant role in your life as an LGBTQIA+ individual?
Yes, I started to identify as non-binary a couple of years ago and I remember having a conversation with my manager about wanting to express myself more in the work-place by wearing make-up more. My manager then sent me a lovely make-up package, this was quite monumental for me and I truly felt as though it was the first time I had been seen.

Also she consistently hypes me up to bring my true self to work, corrects people when they use the wrong pronouns and holds a genuine space for me to be my best self.
What are some common mistakes or pitfalls that allies should be aware of and avoid?
I would say challenging performative behaviour, we aren't a tick boxing exercise. If you genuinely want to support the LGBTQ+ community, then ensure you aren't just sticking a banner up in June and leaving it at that. Think about what your long term goals and plans are to support the LGBTQ+ community?

Financial exploitation of the LGBTQ+ community. Often we see many organisations cashing in on the pink pound (money from the LGBTQ+ community) and profiting off people who are advocating for their rights but none of that money is going back to the communities at hand.

For instance, going to a large chain retailer and buying a t-shirt with a pride flag on it. If you can, and you intend on wearing something for pride, I highly encourage you to buy from independently owned LGBTQ+ creators and shop owners.

(there are plenty on Instagram, esty, websites such as: he,she,they,them)

Using certain terms that derive from the LGBTQIA+ community especially from those that have derived from Black Trans and Queer people. Educating yourself on these words and taking the time to understand what they mean and where they come from.

(I highly encourage watching: Paris is Burning 1990 film documentary)
What do you believe are some of the most important ways allies can support and advocate for the LGBTQIA+ community?
You can support by consistently recognising that pride is still very much a protest, that beyond the glitter, sequins and parades, we are still very much fighting for our basic human rights.

Recognising intersectionality and educating yourselves and your teams on the differences in our community; for instance, someone might identify as gay, but they could also be Black & disabled, which still puts them at an even greater disadvantage. Ask yourself;

"How do we intend to support people with an Intersectional lens?"

Creating opportunities for people to not only have equal access to work but to have true equitability within the work-space, listening to them and understanding the tools they need for success.

Creating robust and proactive policies to support LGBTQIA+ individuals in the workspace. You can do this through developing employee resource groups or committees that are truly there to serve as safe spaces for people to be themselves and give room for people to have a true impact especially when the conversation centres around them. Employee Resource Groups (ERGs) and Committees need to be solely directed and led by people of that community.

Understanding gender diversity: a lot of people get sexual orientation and gender identity mixed up, they are not mutually exclusive.

Also when supporting our Trans, Non-binary and gender-diverse employees, it's imperative to understand the specific challenges that they face. You can create meaningful allyship & change by having the use of pronouns in place and also by working with Trans & NB employees you can also create meaningful policy to help support them in the workplace.
We are more than just a label
Allyship is important because it brings us together, it bridges the gap and provides much-needed safety and solace in spaces where most don't have a voice. We are also reminded that allyship is not just a label but a commitment to fostering belonging, amplifying marginalised voices, and creating platforms for those who need them most. By standing together as allies, we can create a more inclusive and compassionate world for the LGBTQIA+ community and beyond.
Why not read more from our LGBTQIA+ members on their views and experiences? Read why Arron is celebrating Pride Month and Olivia's views on celebrating Pride and confronting discrimination.