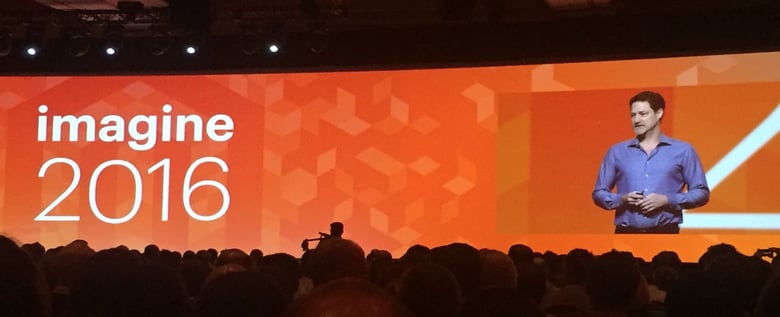 This month we headed off to Las Vegas, Nevada for the annual Magento Imagine conference held at the Wynn Hotel.
Magento Imagine is the biggest Magento event of the year with both merchants and developers travelling from all over the world to hear the latest announcements and connect with the thriving community.
If you've read our previous article you will know that this was Magento's first Imagine conference operating as an independant company, meaning expectations were at an all time high. Magento certainly delivered.
The following article summarises the key announcements from the conference:
Magento in Numbers
In the first keynote of the conference Mark Lavelle, CEO of Magento took to the stage to reveal that Magento facilitates annual sales of over $50bn dollars for over 250,000 merchants worldwide.
Magento 2.0 Marketplace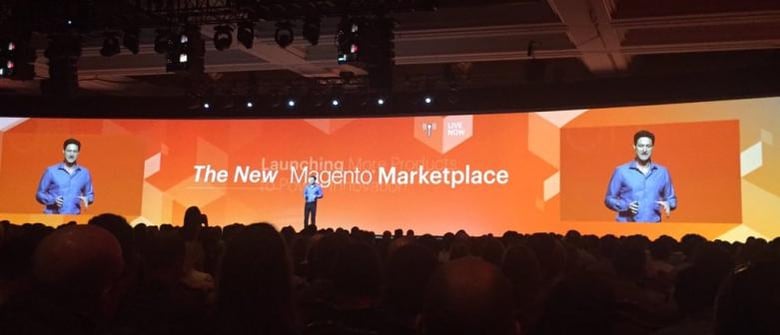 Onto the first key product announcement of the day and the launch of the new Magento 2 Marketplace
The new marketplace provides merchants with the ability to extend the functionality of the core Magento platform by installing a range of 3rd party modules and themes.
Magento also announced a stricter approvals process for marketplace submissions. Before a module or theme can be listed on the marketplace it must first undergo a series of checks which include Plagiarism, Adherence to Coding Standards and Security.
The new Magento Marketplace can be found at here
Magento Enterprise Cloud

Day 2 of the conference saw Magento announce 'Magento Enterprise Cloud Edition' which is a new addition to the Magento Digital Commerce suite.
Magento Enterprise Cloud Edition is a Platform as a Service (PAAS) and provides an environment in which to develop, run, manage and host Magento websites without the complexity of building and maintaining the hosting infrastructure.
Underpinned by platform.sh and Amazon Web Services, Magento Enterprise Cloud Edition provides a a rich development lifecycle management suite combined with a highly availible, triple redudant hosting infastructure. This makes it the perfect pairing for merchants wanting to streamline their development processes whilst also taking advantage of cloud hosting.
Additional features of Magento Enterprise Cloud Edition include:
-A Content Delivery Network with DDOS attack prevention provided by Fastly
-Access to New Relic and Blackfire.io profiling tools
-Elastic scalability
-247 Support
More information on Magento Enterprise Cloud Edition can be found here
Magento 2.1

The third and final day of the conference saw Paul Boisvert announce the first major release to the Magento 2 platform.
Arriving in June Magento 2.1 will include the following enhancements:
-Support for Elastic Search (featuring background re-indexing)
-M1 Code Migration Tool
-Payment Gateway enhancements featuring in-context checkout
-Staging and Preview mode for Products, Categories, Pricing and Themes
Magento Enterprise Edition B2B Module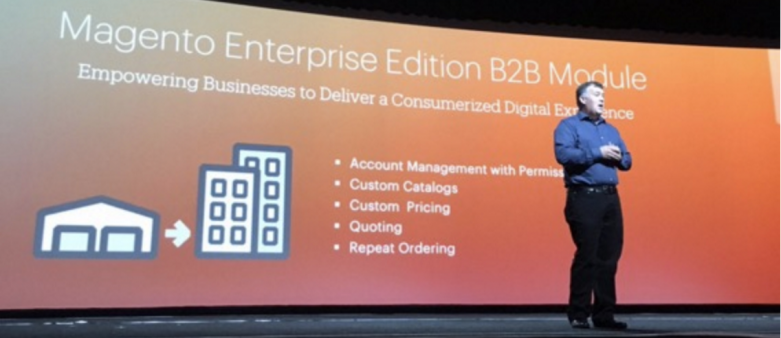 Before the conference wrapped up Magento had one final announcement for B2B merchants.
Q3 2016 will see Magento release a dedicated B2B module for Enterprise customers which will contain the following features:
- Account Management with Permissions
- Custom Catalogs
- Custom Pricing
- Quoting
- Repeat Ordering
Final thoughts
With all of the product announcements from Imagine, Magento faces a busy couple of months ahead.
We're looking forward to finalising our first Magento 2 build and eagly await the release of Magento 2.1.
If you have a Magento related enquiry, why not drop us a line?