University websites host a vast quantity of content, aimed at a diverse audience. Higher education (HE) institutions are huge organisations, often operating as isolated departments or faculties. We have seen how this organisational structure can disrupt clear communication between a university and its students online.
As competition grows within the HE sector, nationally, internationally and online, applicants are becoming more and more discerning. Increasingly, universities are pressured to quantify the value of studying in terms of employment and return on investment. In their report on 'Future-proofing the University', KPMG highlights the challenge of meeting 'the needs of students, communities and taxpayers, both now and in the future'. What's more, with ever-evolving regulations to comply with and an uncertain political and economic climate, universities are in a unique state of flux.
Working within such a volatile context, higher education institutions must embrace efficient working practices wherever possible and find a way to stand out from the noise. A clear Content Strategy helps to achieve just that.
Here I'll outline our process for developing a university Content Strategy, including some tips, tricks and insights from our expert content team.
Content Strategy: Where Content Meets Control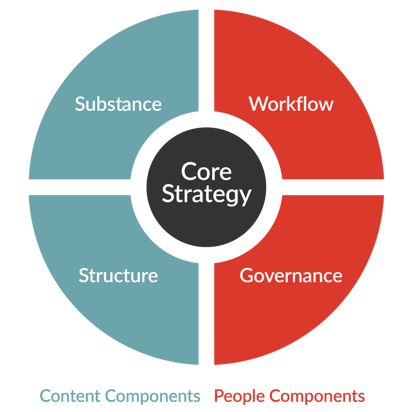 Content Strategy Quadrant, balancing 'Content Components' and 'People Components' - image by Brain Traffic
First thing's first: a Content Strategy is more than just a plan for your upcoming content calendar.
An efficient and successful Content Strategy must combine the substance and structure of your written content with the workflows and governance that make this content manageable.
Content is only as valuable as it is visible. Therefore, Content Strategists must consider what prospective students are searching for, and where they expect to find it. You must also account for university staff: content editors can only edit and improve content if they know where it is kept and what it should say.
A university Content Strategy must combine SEO and content marketing with user experience, from both an audience and editor's perspective. As such, Content Strategy is both an integral part of initial discovery research and a valuable approach to continual improvement.
Understanding Content for Higher Education
The foundation of successful content can be separated into four (seemingly simple) steps:
Define what you need - Conduct user research and explore competitors' sites to define essential content. Consider: What information do prospective students need to know? What do they want to know? And what information must you provide?
Improve what you have - Audit your existing content to gain a clear understanding of your existing resources. Save time, resources and ranking position by recycling and improving content.
Fill in the gaps - Recognise gaps in your content library and consider where best to incorporate new information. What requirements from your user research do not feature in your existing content audit? Can this information be added to an existing page?
Help the user find what they're looking for - Ensure that students, parents, academics and businesses can find the content that's right for them. Optimise your content towards common search queries and arrange your content in a logical Information Architecture.
Once you know the scope of your content, you must establish a process for creation, publication and continuous optimisation.
Main Factors of a University Content Strategy
Define a Unified, Central Vision
Universities and HE institutions are often comprised of thousands of staff and tens of thousands of students. When communicating both online and in print, the sheer scale of the organisation can lead to inconsistency.
Clarify your messaging by agreeing a centralised aim and identity. This clear intention will form the core of your Content Strategy. It will also help to identify your institution in the increasingly crowded HE market.
Condense your research and ambitions into a single, annotated sentence that will be at the forefront of everyone's minds:
OUR CONTENT MUST AIM TO DO SOMETHING ABOUT SOMETHING, TO BE SOMETHING FOR SOMEONE
It can be overwhelming to sift through branding documents, personas and user research every time you write or edit content. Instead, include a few brief annotations, to clarify your ambitions and factor in wider questions or considerations. Make it even easier to adhere to this core message with clear, digestible guidelines and content creation checklists. Doing so will help staff and students to represent the university as a cohesive whole.
Arrange Content in a Logical, User-Friendly Structure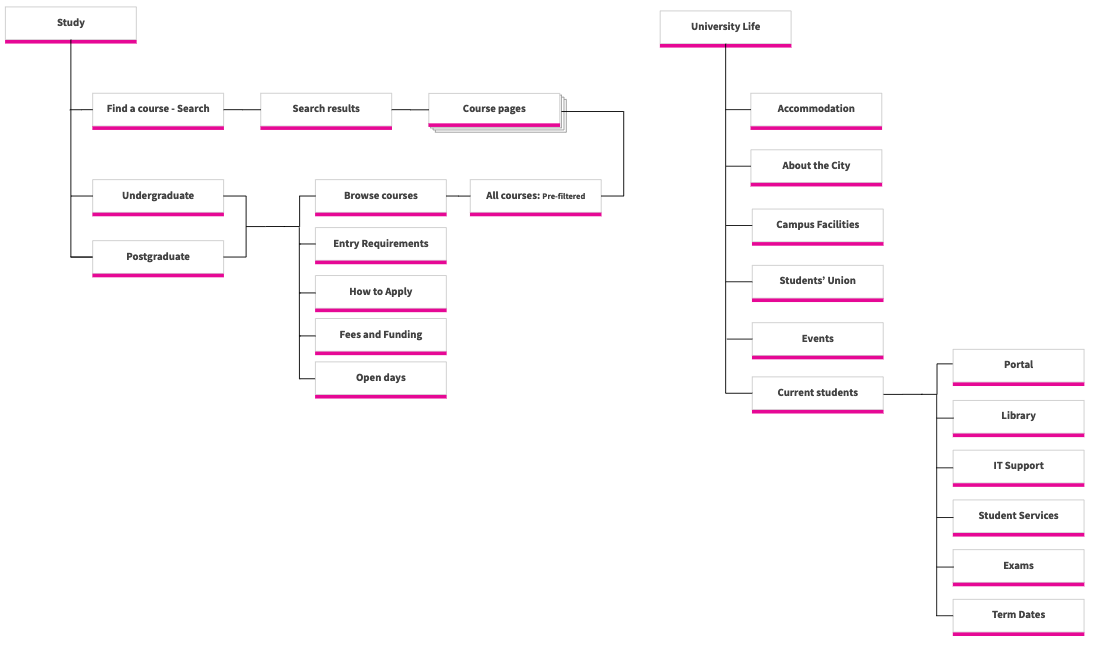 Example Sitemap navigational structure for arranging content on a university website
The organisational structure of a university may seem obvious to those within it. However, it is unlikely that many prospective undergraduates will know to look for a Maths degree under the Faculty of Science and Engineering.
Arrange your content according to a user's expectations rather than the organisational structure of the university. This content model must be defined during development, so that the CMS is set up to support your Content Strategy efficiently.
When discussing content structure, remember: content should never exist in isolation. To guide prospective students through a university application, you must link your content clearly. Align your sitemap and navigation with priority user journeys. A strategic internal linking structure will improve user experience and optimise your site for search. Focusing on links will also highlight any gaps in the chain, where you require new content.
Take Ownership: Define Governance Procedures for Content
Traditionally, large higher education institutions manage content in isolation. Each faculty, school and department create content according to different approval processes. This isolated approach leads to duplication of effort and risk of inaccuracy.
Define how and who will manage content production. You must establish a clear workflow process for creating, approving and publishing each content type. What's more, you must determine, from the outset, how regularly this content must be updated and who is responsible for maintaining it.

Approval process diagram for content production, featuring a three-tiered editorial group structure
Top Tips for HE Content Strategy
When it comes to content, sometimes less is more...
In our experience, in the Higher Education sector and beyond, we have found that content often gets lost in a bloated, slow website. On one university site, we uncovered that 91% of content accounted for just 12% of page views. University staff could archive a vast majority of content with low impact for most of their audiences. Doing so, would improve content management, as editors have far fewer pages to maintain. A smaller content library will also improve site speed, promote positive usability and simplify compliance with Advertising Standards regulations.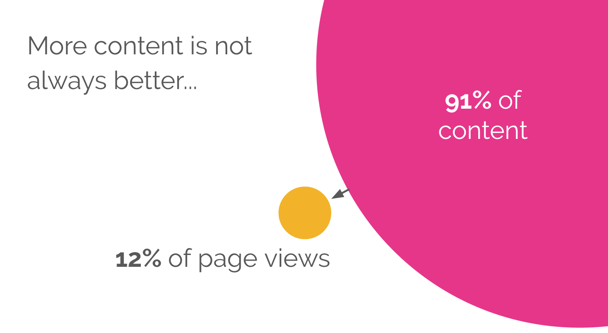 Ratio of content to page views for a vast university website
Although every Content Strategy should be unique to the institution, here are some general rules that we encourage all universities to follow:
WHERE is often as important as WHAT: help users find the answers they're looking for, with a clear information architecture, internal links, and calls to action.
Be kind to your content editors: structured storage and clear governance will help you to produce less and curate more.
Retire, replace, reuse content: optimise what you have to avoid duplication of effort and the risk of inconsistency.
To discuss your Content Strategy or to learn more about our work with Higher Education Institutions, get in touch with our expert digital strategy team.