When it comes to upgrading your website, the decision is never taken lightly.

It's a process that demands considerable effort, time, and money.

Whether aiming to boost your CMS platform's performance or enhance the user experience, making sure you choose the upgrade that delivers the greatest value for your investment is crucial.

We understand this better than anyone else as one of Europe's most experienced Drupal development agencies. Our expertise in Drupal allows us to streamline the installation process, getting you started on your priority features quickly and cost-effectively.

But that's not all. We've developed something truly special: Drupal Accelerator.

This innovative tool is designed to fast-track the installation of Drupal, providing you with a cost-effective package to create highly effective and efficient content and marketing websites. It harnesses the power of commonly used, ready-to-go features and functionalities, making it the perfect solution to fast-track the build and focus on your specific needs.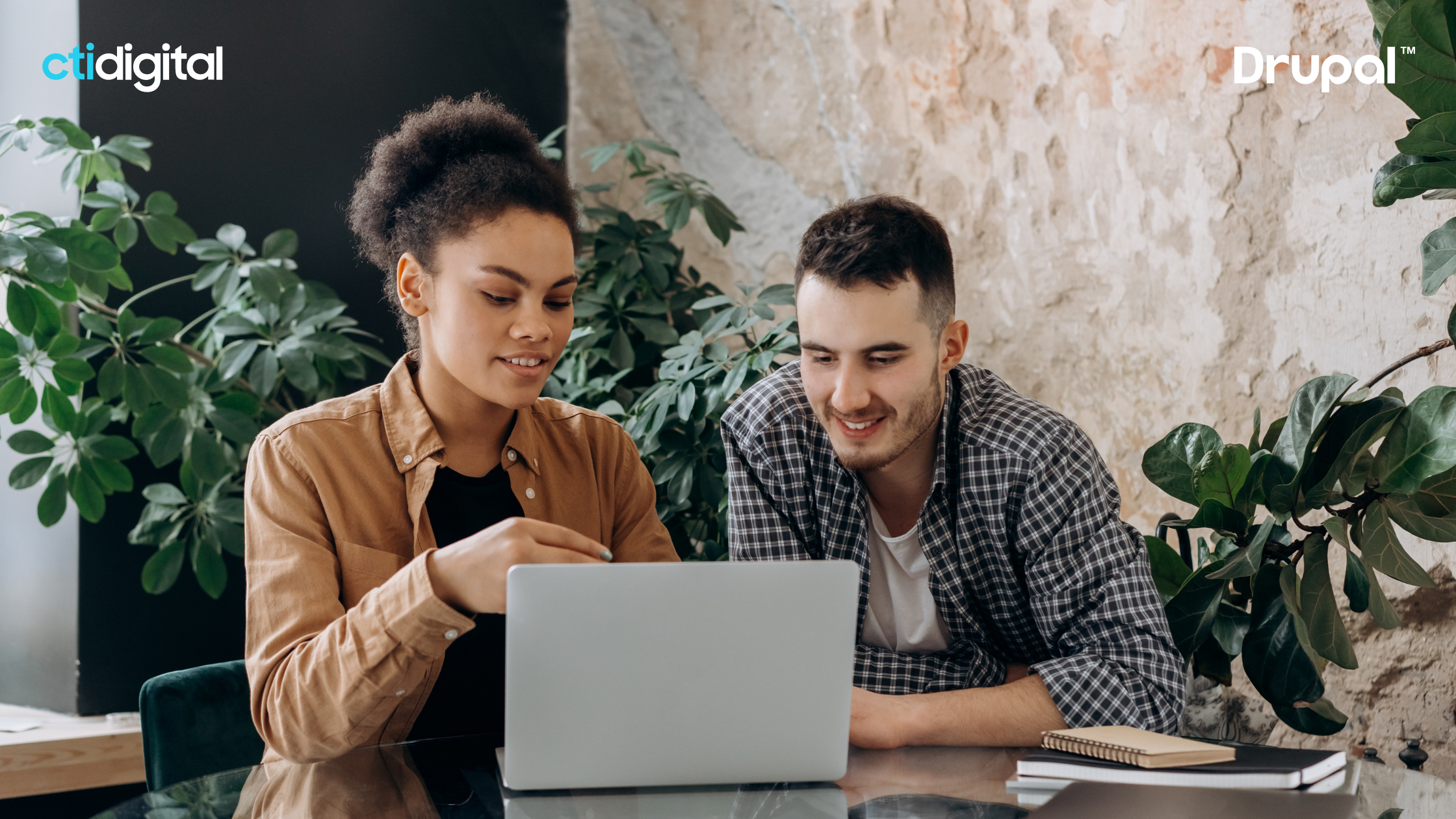 What is Drupal Accelerator?
Drawing from our extensive experience, we have harnessed the key elements of successful websites and integrated them into our advanced Drupal accelerator. This cutting-edge platform empowers our clients to effortlessly uphold efficient, high-performance, and accessible websites without reinventing the wheel.

Our accelerator is the product of years of investment in research and development, based on two decades of experience delivering projects for clients. Since 2020, we've distilled all that knowledge into a powerful package.

The beauty of our Drupal Accelerator is that it significantly reduces implementation timescales and brings cost efficiencies. By using it, you'll have more budget available for the custom development of specific requirements without compromising fundamental best practices.

With Drupal Accelerator, you'll no longer need to deliver functional requirements on a project-by-project basis. Instead, it elevates every organisation's starting point in a website build, removing the need to set up each website's features from scratch. This leaves more time to prioritise functionality which is specific to your needs, so you can get your website up and running quickly and efficiently.

Some of these features include:

Page components include page headers, banners, media players and inline forms.
SEO optimisation, including Google Tag Manager and Analytics
GDPR tools
Responsible, accessibility-compliant design
Inbuilt accessibility-checking tools
Drag and drop interfaces, content scheduling and editorial workflows
How can we maintain our competitive edge if every website uses Drupal Accelerator?
With Drupal Accelerator as the springboard, every organisation has the opportunity to unleash their creativity and build out unique features and requirements that give their website a true competitive advantage.

Here's the exciting part: Drupal Accelerator itself doesn't directly provide a competitive edge. Instead, it is the powerful platform that enables you to allocate your budget strategically, investing it where it matters most to create that winning edge.

By leveraging Drupal Accelerator, you free up resources that would otherwise be spent on basic setup and implementation. This means you can allocate those saved funds towards customising your website, developing cutting-edge functionalities, and implementing innovative ideas that set you apart from the competition.

Drupal Accelerator empowers you to unleash your creativity and focus on building the features that will truly make your website shine. It's not just a tool—it's the launchpad that propels you towards your unique competitive advantage.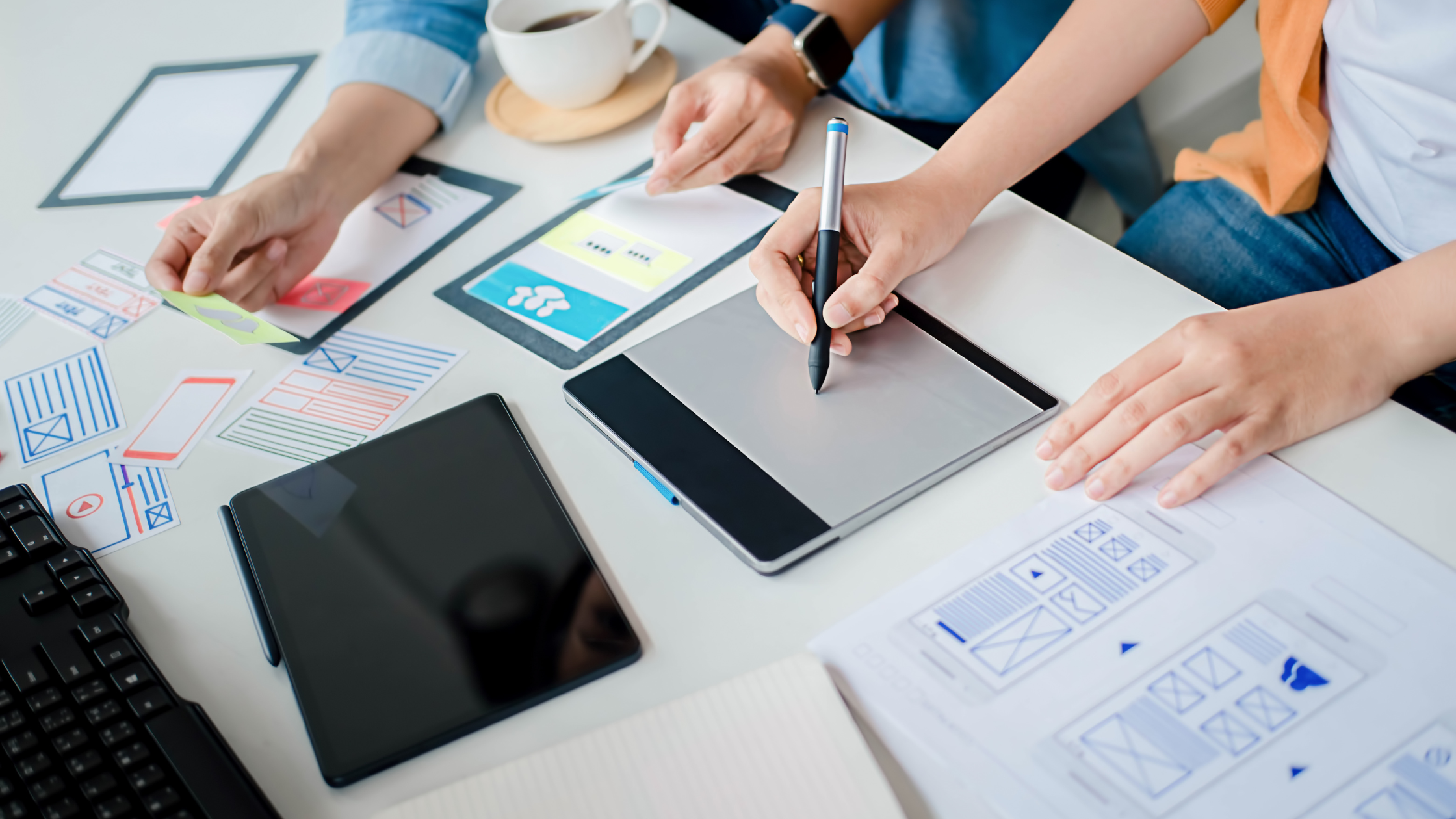 Revolutionising Drupal development: embracing efficiency and minimising risk with Drupal Accelerator
In the traditional world of Drupal development, the journey to a fully-functional content management system can be a long and winding road. Countless sprints and a significant amount of time are often required before you can even begin to utilise the system. This conventional approach poses a considerable challenge regarding content migration, as it tends to leave limited time for this crucial step, introducing inherent risks to your project.

But fear not! With Drupal Accelerator, we're turning this outdated paradigm on its head. Our innovative solution streamlines the development process, eliminating unnecessary delays and maximising efficiency. By leveraging Drupal Accelerator, you'll gain ample time and resources for content migration, significantly reducing the risks associated with rushing through this vital stage.

Say goodbye to the old way of doing things and embrace a new era of Drupal development.

With Drupal Accelerator, you'll save time and minimise project risks, ensuring a smooth and successful journey to your fully-functional and content-rich website.
Unlocking your web development potential: accelerating functionality and empowering efficiency
Imagine a web development journey where the standard functionalities are expedited, allowing you to invest valuable time in creating a CMS platform that seamlessly caters to both your website visitors and backend users. With this streamlined approach, you can craft a well-built website that not only impresses your audience but also frees up your team to focus on what truly matters: your commercial priorities.

Gone are the days of wasting precious hours searching for workarounds to CMS frustrations that shouldn't even exist. By prioritising the creation of a robust CMS platform early on in the development process, you provide your team with quick access to a functional CMS. They can effortlessly populate content and harness its power without delay. Moreover, you gain valuable time to fine-tune and optimise your platform for enhanced efficiency and effectiveness by addressing any issues or inefficiencies sooner.

With Drupal Accelerator as your secret weapon, you'll accelerate your web development journey, leaving behind unnecessary hurdles and frustrations. It's time to unlock your team's true potential and create a website that wows your audience and empowers your entire organisation to thrive.
Unlocking value by minimising costs on standard CMS functionality
We all know that time is money, and every moment counts when it comes to web development. That's where Drupal Accelerator comes in, revolutionising the speed at which you can get your website up and running. With its advanced foundations, your development time is significantly reduced, allowing you to hit the ground running and focus on what truly matters—the unique features and functionalities that make your website stand out.

Whether you're building a simple brochure site or a complex membership portal, Drupal Accelerator sets the stage for success. For simpler projects, the foundations provided by Drupal Accelerator eliminate the need for extensive additional development. On the other hand, it provides a head start for more intricate setups, enabling you to pick up right where Drupal Accelerator leaves off, saving you valuable time and effort.

Drupal Accelerator also puts your web development budget to optimal use. By obtaining a usable CMS platform at a reduced cost, you have more resources available to level up the web experience for your visitors. It's a win-win situation—enhancing your website's functionality while keeping your budget in check.

Additionally, with Drupal Accelerator being open source, you can transition your site internally or to another vendor without any unexpected expenses. You're in full control of your website's destiny.

To top it all off, when you combine Drupal Accelerator with our support retainer packages, we continually enhance its performance, resolve any issues that arise, and improve the overall user experience. This long-term partnership ensures significant cost reduction in ownership, providing you with sustainable savings and peace of mind.
Supercharge your website: the benefits of Drupal Accelerator unveiled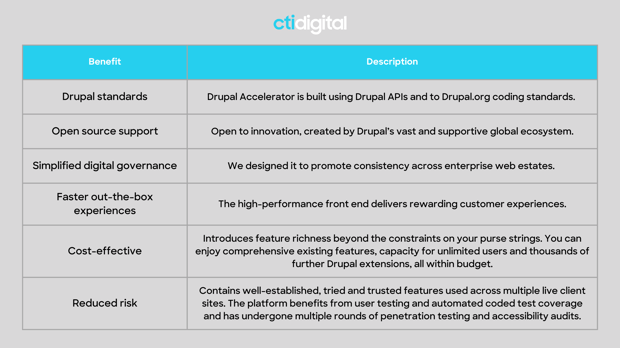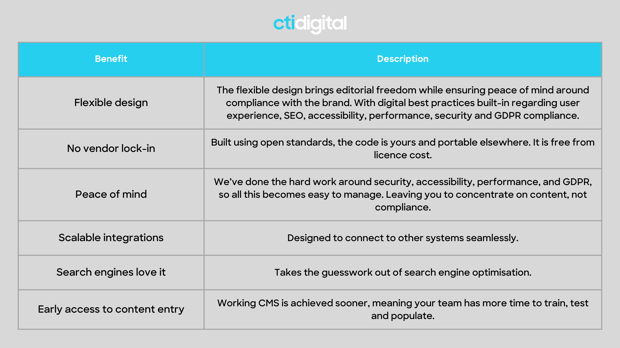 Unleash the power of Drupal accelerator: Features that propel your website to success
Mobile responsive front end
In today's digital landscape, responsiveness is key. That's why Drupal Accelerator is designed to effortlessly adapt to various devices, ensuring a flawless user experience across phones, tablets, and desktops.

With its out-of-the-box responsive support, Drupal Accelerator takes the guesswork out of device compatibility. Say goodbye to clunky layouts and frustrating user interfaces. Your website will effortlessly adjust its appearance and functionality to provide a consistent and engaging experience, regardless of the device your visitors use.

But that's not all. Introducing the front-end theme known as "Rutherford," which has undergone rigorous testing to ensure optimal performance across the latest versions of popular browsers. From desktops to tablets and mobile phones, "Rutherford" delivers a visually stunning and seamless experience, captivating your audience no matter how they choose to explore your website or what internet browser they prefer:


Chrome
Firefox
Safari
Microsoft Edge

Rutherford is highly evolved and flexible, allowing great front-end design flexibility whilst maintaining well-governed accessible user experiences.
Drupal's module library, distilled for you
The allure of the vast Drupal ecosystem is undeniable: "There's a module for that!" In fact, there may be not just one but three modules to choose from for any given requirement. This abundance of open-source modules holds the key to solving challenges but can also introduce uncertainties and complexities.

With so many options available, it can take time for developers to determine the best approach for a given requirement. That's where our Drupal Accelerator comes in.

Our team has invested countless hours researching, evaluating, and testing highly adopted modules to determine which ones work best together seamlessly and securely. We've distilled this valuable knowledge into our Accelerator, so you can benefit from all the advantages of Drupal and open-source technology without worrying about potential module compatibility issues.

With Drupal Accelerator, you'll enjoy the peace of mind that comes with using a proven, reliable set of modules that work harmoniously. Plus, you'll save time and money on custom development, allowing you to focus on building the features that will give your website a competitive edge.

Empower your Editors: Unleash creativity with Drupal Accelerator
When it comes to website adoption, the ease of use for editors is a vital factor for success. With Drupal Accelerator, we revolutionise the editorial experience, allowing your team to unleash their creativity while ensuring brand consistency and digital best practices.

Imagine having a powerful page builder at your fingertips, equipped with an extensive library of customizable page components. Drupal Accelerator offers precisely that, providing editors with a wide range of creative options to design captivating content that cultivates and engages your audiences.

Our component-based layouts perfectly balance creative content design and structured data capture. This means your pages look visually stunning and adhere to brand consistency, accessibility standards, and seamless delivery across various device screens.

With our seamless media library integration, introducing captivating visuals such as images, videos, and audio to your content pages becomes a breeze. Editors have the freedom to create visually striking page layouts, bringing your content to life in ways that captivate and resonate with your audience.

Experience the liberation of creative expression with Drupal Accelerator. Empower your editors to craft compelling and visually stunning web pages that leave a lasting impression on your visitors. With our powerful toolkit, your website becomes a canvas for unlimited possibilities.
Drag & Drop template builder
If you're familiar with the convenience of layout builders, you'll be thrilled to know that we've incorporated this intuitive feature into our platform, taking your website design to extraordinary heights.

With the innovative layout builder in Drupal Accelerator, you have complete control over your page structure. Say goodbye to rigid templates and hello to dynamic layouts that suit your unique vision.

The possibilities are endless, whether you prefer a classic 2-column design or a more intricate 3- or 4-column arrangement.

But it doesn't stop there.

Our layout builder offers the flexibility to configure columns into various proportions, allowing you to create visually stunning and harmonious page layouts that perfectly showcase your content. Whether you're highlighting products, presenting captivating images, or delivering impactful messages, Drupal Accelerator gives you the freedom to bring your creative vision to life.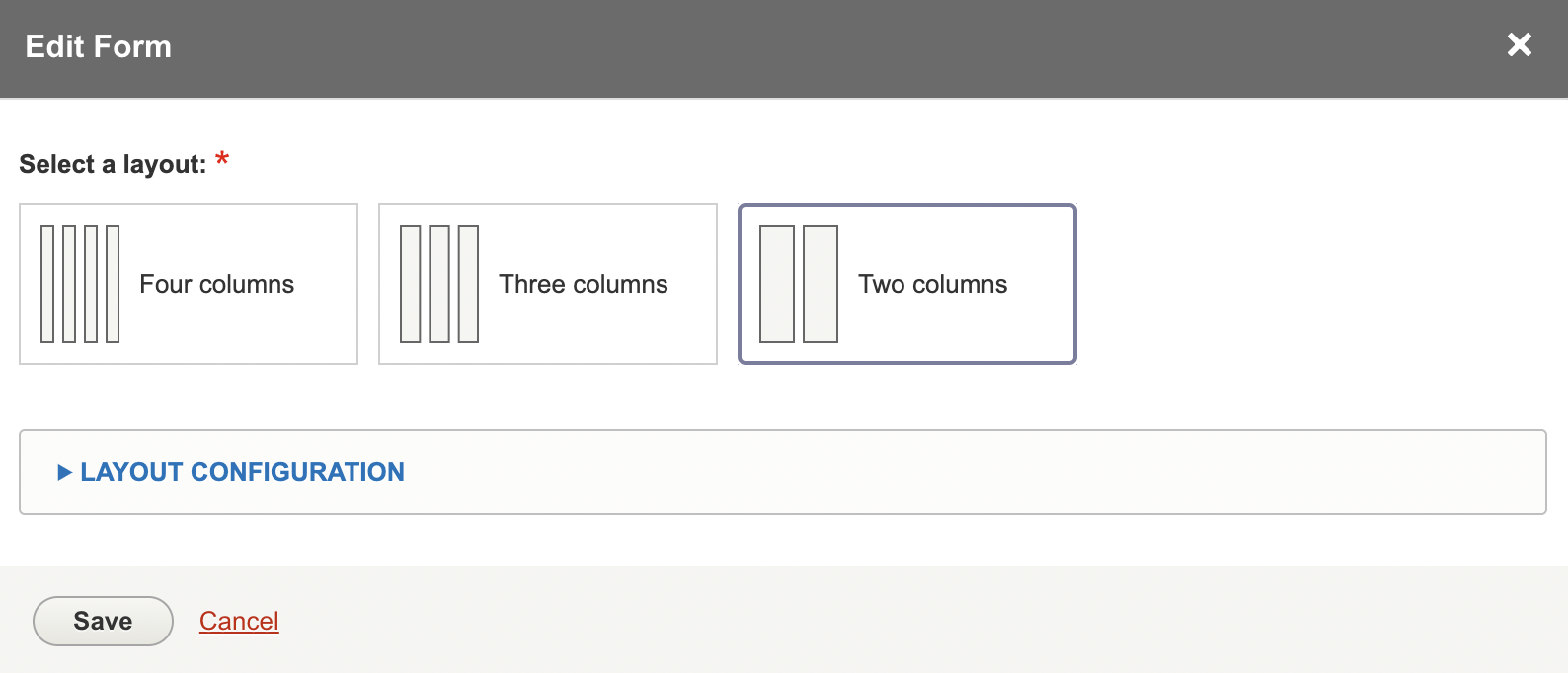 Once you have built a layout, editors can introduce content components using the drag-and-drop interface.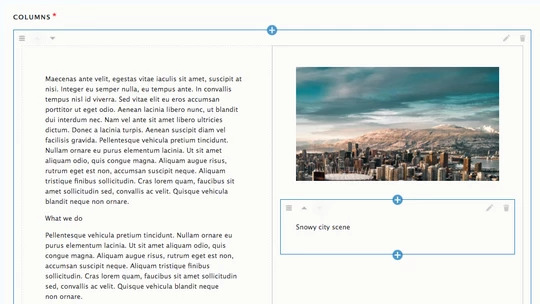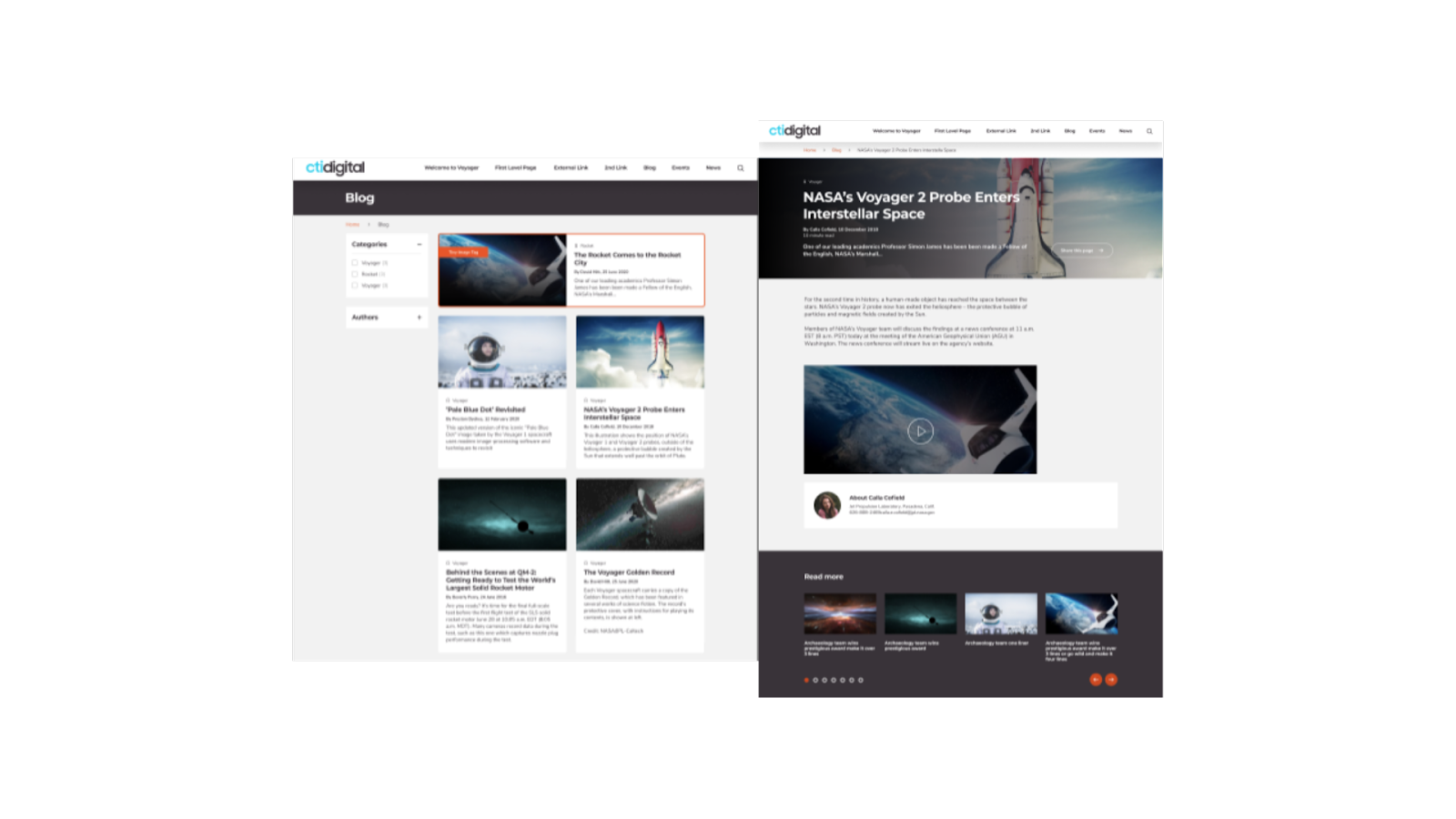 Whilst content managers assemble pages with components using intuitive drag-and-drop interfaces, the Drupal Accelerator does the hard work behind the scenes. This easy-to-use approach helps to ensure that content looks great across all devices, adheres to brand guidelines and meets industry best practices regarding:


Brand/style consistency
SEO
Accessibility
Performance
Security
GDPR
Unleash the full potential of your media
Create a visual journey like never before with Drupal Accelerator's cutting-edge media library.

Our aim is to equip you with a comprehensive toolkit that effortlessly supports a wide range of media formats, giving your website an immersive and captivating edge.

With Drupal Accelerator, your website comes pre-packaged with a media library that embraces the power of visual storytelling. From stunning images, including animated GIFs, to locally hosted videos that capture attention and even remote videos from popular platforms like YouTube and Vimeo—our media library have you covered. Additionally, audio files can seamlessly integrate into your content, enriching the overall user experience.

We believe in providing flexibility and convenience.

That's why Drupal Accelerator goes beyond the basics.

Our media library allows you to effortlessly share and distribute other file types, such as PDFs, spreadsheets, and Word documents, providing a seamless download experience for your users.

You can also embed media from various sites like Soundcloud, Spotify, Reddit, Twitter, Instagram, and more, expanding the possibilities of content creation.

Empowering content editors is at the core of Drupal Accelerator.

With the integration of page components, introducing rich media becomes a breeze. Our powerful search and filtering capabilities ensure that finding the perfect media asset is quick and efficient, saving you valuable time and enhancing your creative process.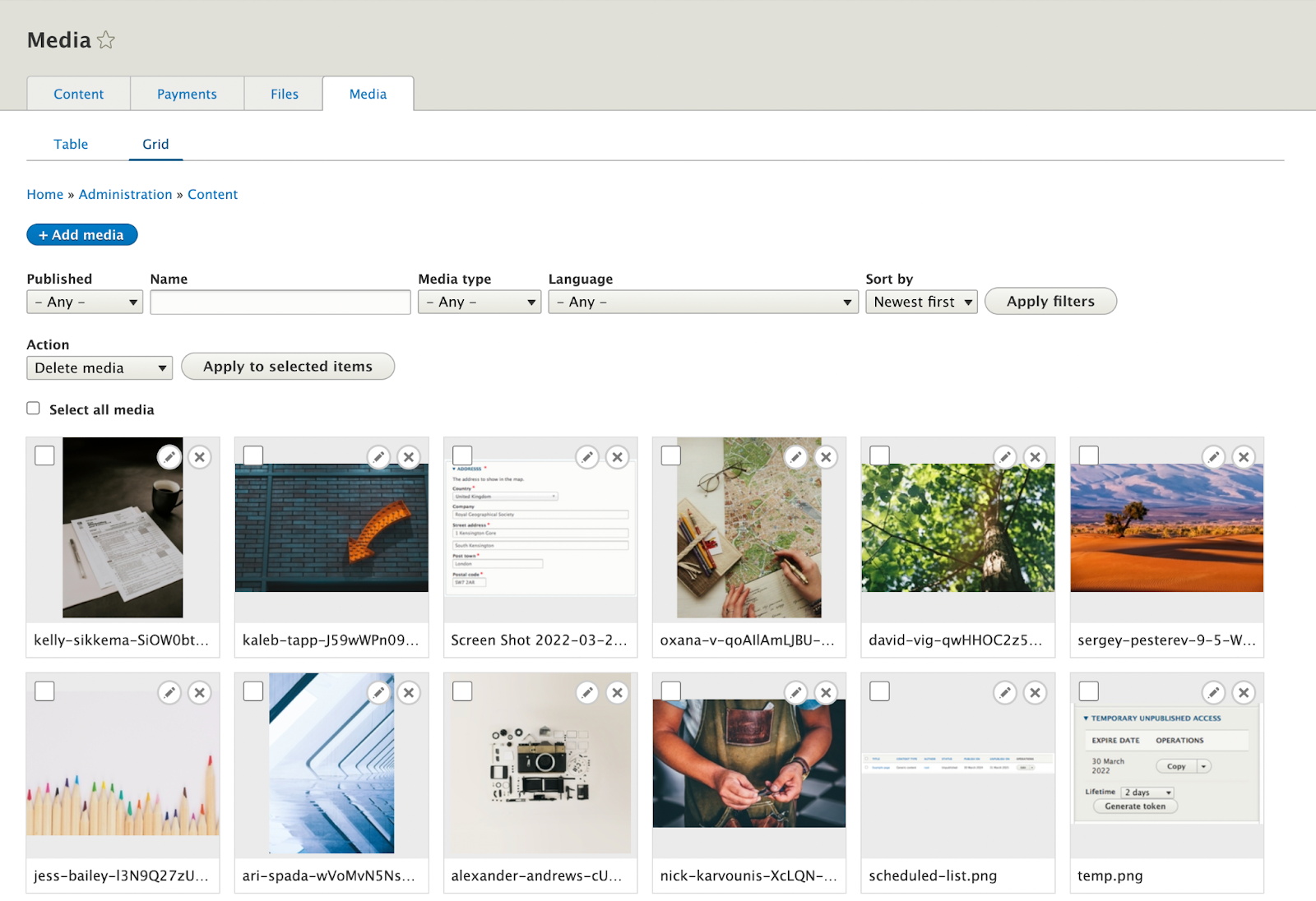 With Drupal Accelerator, we empower you to take full control of your media entities by providing customisable fields that go beyond the basics.
Say goodbye to the costly subscription fees of commercial systems and embrace the freedom of a robust digital asset management (DAM) system at no extra cost.

Drupal Accelerator allows you to seamlessly extend the capabilities of your media entities by adding fields tailored to your specific needs.

Want to track licensing and attribution information? No problem.

Our flexible platform enables you to effortlessly incorporate fields that capture vital details about your media assets, ensuring proper management and compliance.

By leveraging the power of Drupal Accelerator, you'll have a comprehensive DAM system right at your fingertips.

Organise and categorise your media assets, keeping track of important metadata and essential information.

Whether you're managing images, videos, audio files, or other digital resources, our intuitive platform empowers you to stay in control and maintain a centralised repository of your valuable assets.
Effortlessly maintain consistency and track asset usage with Drupal Accelerator
Say goodbye to the hassle of manually updating every instance of a media asset across your website. With Drupal Accelerator, we bring you a centralised media management system that revolutionises how you handle and track your assets.

Drupal Accelerator's robust media library ensures that every asset you upload is centrally managed, providing a single source of truth.

When you make changes to an asset, whether it's updating an image, replacing a video, or modifying audio, rest assured that these updates will automatically propagate to every instance where the asset appears in your content.

No more tedious manual updates or inconsistencies to worry about.

Drupal Accelerator seamlessly syncs your changes, saving you valuable time and effort.

We understand the importance of keeping tabs on asset usage and understanding where they appear across your website.

Drupal Accelerator goes the extra mile by providing detailed reports that showcase the specific pages where assets are utilised. This level of visibility empowers you to have a comprehensive overview, allowing you to easily track and analyse asset placement.

Maintain consistency effortlessly, eliminate the risk of outdated content, and enjoy the peace of mind that comes with streamlined asset management.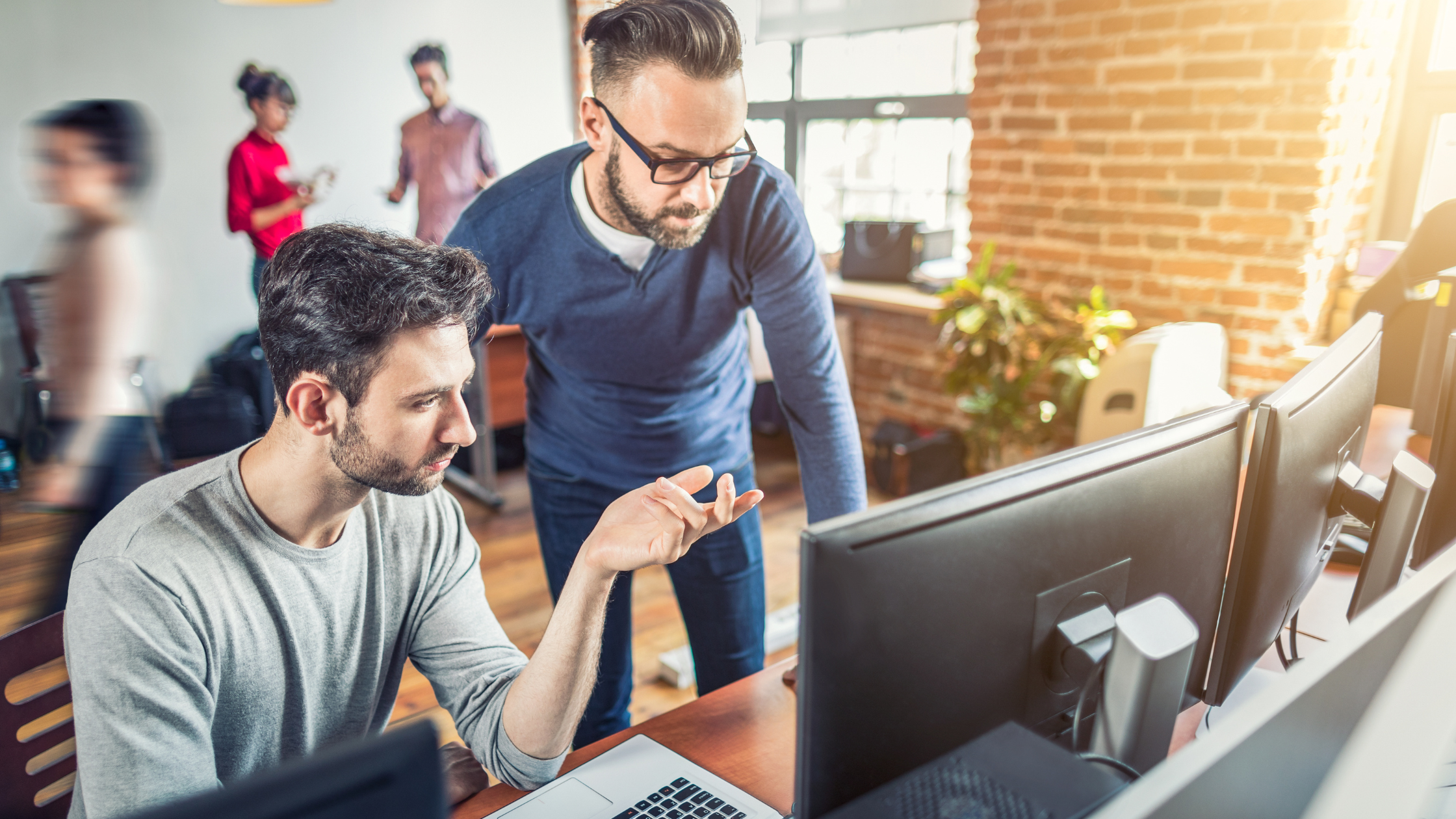 High Performance from Drupal Accelerator
We've invested significant effort into crafting the base front-end theme of Drupal Accelerator to deliver lightning-fast page load speeds.

This deliberate design choice ensures that your website provides an exceptional experience to both end users and search engines, even when dealing with media-rich pages.

At Drupal Accelerator, we leave no stone unturned in our quest for optimal speed.

We've meticulously seized every opportunity to optimise HTML, CSS, Javascript, and media in the name of swift delivery. Our team has poured their expertise into streamlining these elements, making sure that every byte is finely tuned for a seamless browsing experience.

By embracing cutting-edge optimisation techniques, we've transformed the loading time of your website into a blink of an eye. Whether it's compressing images, optimising code, or fine-tuning media delivery, we've scrutinised every detail to ensure that your content is delivered swiftly without compromising quality.

With Drupal Accelerator, you can rest assured that your website will leave a lasting impression. Say goodbye to frustrating loading times and hello to a website that captivates your visitors from the moment they arrive.

Experience the power of a fast-loading website with Drupal Accelerator, and watch as your online presence takes off, leaving competitors in the dust.

This optimisation has involved:


Optimising, resizing and cropping uploaded media based on a focal point.
Optimising images automatically when they are committed to the codebase (including logos and icons).
Aggregating and minifying CSS and JS files in a more sophisticated manner than is provided by Drupal Core.
Minifying HTML to squeeze every last byte of optimisation out of the site
Unlock the power of effortless SEO and analytics
Search Engine Optimisation (SEO) doesn't have to be daunting.

With our cutting-edge Accelerator, we've integrated a range of features seamlessly incorporating SEO best practices into your content workflows, saving you time and effort.

Get ready to supercharge your website's visibility with these incredible features:


Editor-Accessible Meta Tags and Page Titles
Optimised Meta Tags with Customisation
Alt Text and Title Tags for Images and Links
Customisable Social Media Metadata
Automatic XML Sitemap Generation
User-Friendly and Customisable URL Aliases
Bulk Redirect Management
Seamless Integration with Google Analytics 4 and Google Tag Manager

Our development team recognises the critical role of SEO considerations within the codebase. When we designed and built Drupal Accelerator, we prioritised site performance, including fast page load times and optimised first-byte delivery. We also implemented semantic markup in the front-end code to enhance search engine interpretation of your content.

With Drupal Accelerator, achieving SEO excellence becomes a breeze.

Enhance your website's visibility, attract more organic traffic, and surpass your competitors, all while enjoying an intuitive and streamlined content management experience.
Fortify your website's security with Drupal Accelerator
Drupal's security record is already exemplary - Drupal Accelerator takes security to the next level. Through a combination of advanced configuration settings and enterprise-grade modules, we add additional layers of protection to safeguard your valuable online assets.

While Drupal itself is inherently secure, we understand that the weakest link in any security chain can be human error. That's why we go the extra mile to prioritise user security. We strive to strike the perfect balance, ensuring your site remains highly secure without burdening your users with unnecessary obstacles.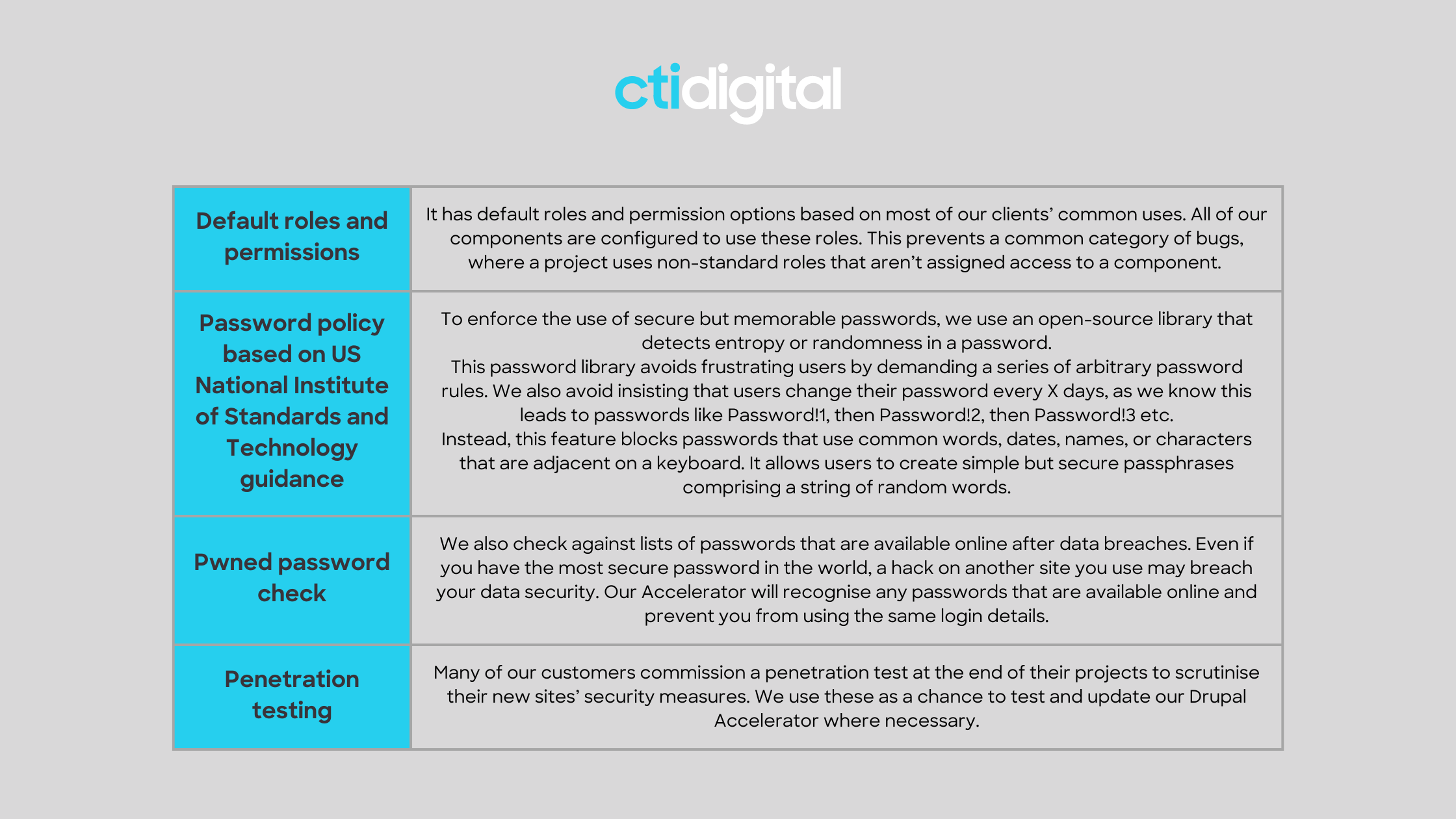 GDPR Compliance
In the ever-evolving landscape of data privacy regulations, it's crucial to prioritise the protection of your users' personal information. With Drupal Accelerator, we've got you covered. Our pre-installed GDPR cookie module addresses the requirements set forth by the General Data Protection Regulation (GDPR) and the EU Directive on Privacy and Electronic Communications.

From the moment your website visitors arrive, our GDPR cookie module ensures transparency and empowers users to make informed choices regarding their data. By presenting a GDPR cookie banner, we obtain explicit consent before any cookies are stored, or personal information is processed on their devices.

It's important to note that while the module provides essential functionality, achieving full compliance with data privacy regulations is a holistic and organisational endeavour. Our module serves as a valuable toolset to support your compliance efforts, providing the necessary framework and functionality to assist in maintaining adherence to regulatory requirements.
These features include:

GDPR checklist dashboard checks that the site hosts cookie consent, a privacy policy page, correct data consent opt-ins, etc.
Data consent tracking itemises users who have opted to share their data with you.
Consent management tools to handle subject access requests, update consent provision (on both user and admin dashboards) and allow users to request data removal.
Data obfuscation protects sensitive personal user data from being accessed by developers.
Drupal Accelerator Accessibility - WCAG 2.1 AA Compliance
We take accessibility seriously.
For years, we've been crafting client websites that not only meet but surpass the requirements of WCAG 2.1 accessibility regulations.
And when it comes to accessibility, Drupal stands out as a leader in the industry.
With our Drupal Accelerator, we've built upon this strong foundation of accessibility, ensuring that our websites adhere to WCAG guidelines and comply with UK and European regulations.
We don't stop there.
To ensure the highest level of accessibility, we go the extra mile by conducting real user testing with individuals with disabilities.
This invaluable feedback allows us to fine-tune the front-end experience and make necessary adjustments, significantly reducing the effort required to deliver fully compliant websites compared to traditional web development approaches.
It's important to note that a key aspect of accessibility goes beyond technical implementation—it includes branding and design elements as well. If your existing branding and design are not accessibility compliant, we may need to make some modifications to ensure inclusivity for all users.
Accessibility is not just a checkbox for us.
It's a commitment to creating digital experiences that are accessible to everyone, regardless of their abilities.
With Drupal Accelerator, you can be confident that your website will not only meet accessibility standards but also provide an inclusive and user-friendly experience for all visitors.
Unleashing your competitive edge with enhanced website functionality
When it comes to building a new website or upgrading an existing one, Drupal Accelerator serves as the ultimate launchpad. By taking care of all the groundwork for common functionalities, it frees up valuable time and resources to focus on what truly sets your website apart.

Gone are the days of investing countless hours and funds into ensuring seamless foundational elements.

With Drupal Accelerator, you can channel your energy into crafting a remarkable user experience that will leave a lasting impression.

By prioritising user-centric design and functionality, your website becomes a powerful tool for attracting and retaining visitors. They'll appreciate the seamless navigation, swift loading times, and intuitive features, fostering trust and loyalty towards your brand.

Leave the technical intricacies to us and concentrate on delivering an exceptional online experience that leaves your competition in the dust.

Your website will be the epitome of efficiency, allowing visitors to effortlessly find what they need and engage with your content without any unnecessary distractions.

Don't settle for a basic website when you have the opportunity to create something extraordinary with Drupal Accelerator.

Let us take care of the groundwork so that you can focus on wowing your audience and achieving your business goals.
Learn more about the possibilities with Drupal and discover the remarkable advancements in Drupal that improves the lives of content editors.

Looking to revolutionise your website upgrade? Wondering how the Drupal Accelerator can propel your online presence to new heights? Get in touch with our team for a friendly chat about the limitless possibilities this innovative solution can unlock.