Dancing leprechauns, traditional Shamrocks and a whole lot of drinking! St Patrick's Day is a holiday celebrated all around the world and is the perfect opportunity for businesses to capitalise on some fun and festive marketing. Each year we see a number of successful campaigns on social media...but how did brands find their pot of gold in 2016?
Here are our top 4 campaigns:
Tourism Ireland launched a 60 second film featuring Liam Neeson to encourage holidaymakers to visit the Island of Ireland this year. They called out any Irish lovers to celebrate the day by going green, along with using the hashtags #GlobalGreening and #GoGreen4PatricksDay. This idea not only created huge brand awareness but made people realise that Ireland has so much more to offer as a holiday destination. The campaign proved to be hugely popular, seeing more than 1,500 tweets use the hashtag #GoGreen4PatricksDay (based on 10 day lead up).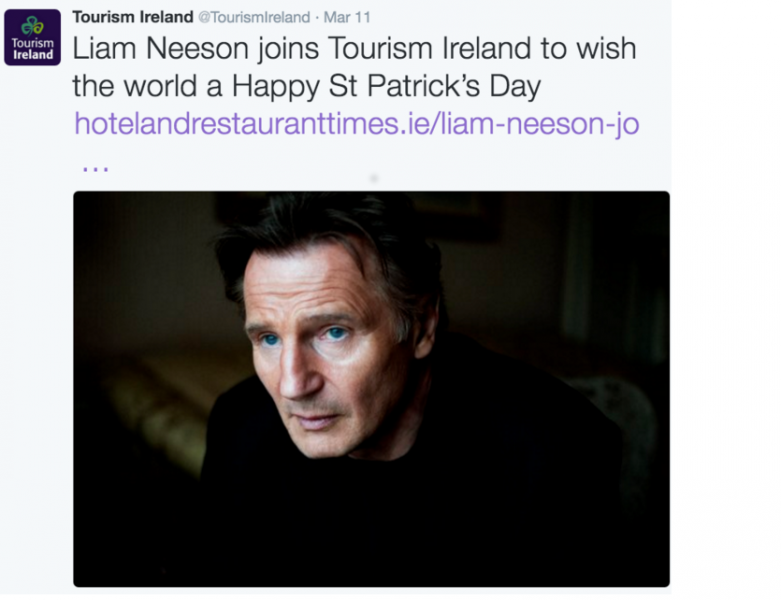 (Liam Neeson)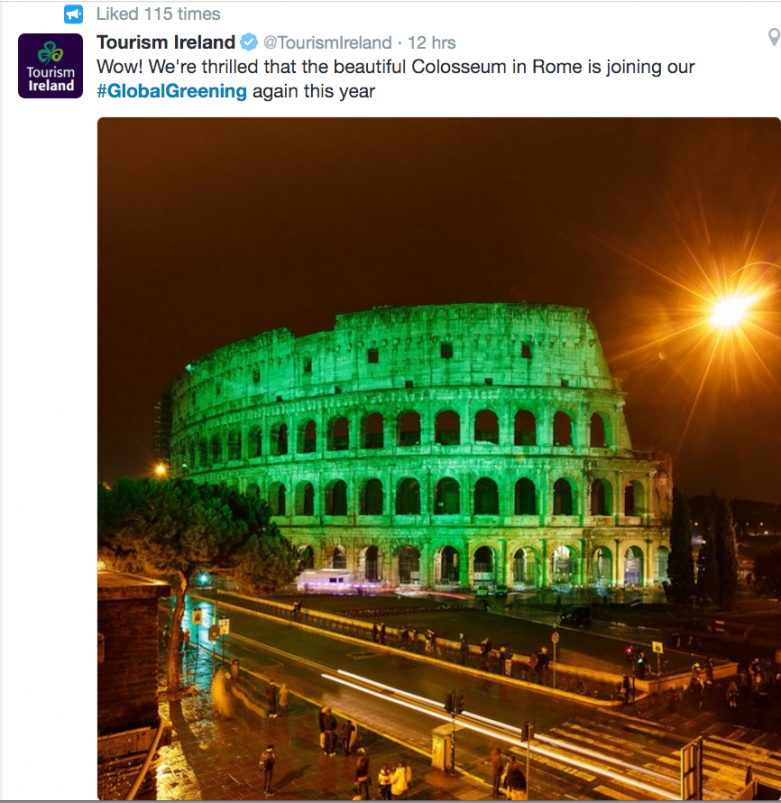 (Colosseum lit green - gaining 115 likes on Twitter)
There's no doubt that St Patrick's Day is known for excessive boozing, and major Irish brands such as Jameson, Baileys and Guinness certainly don't hold back with their marketing. Jameson's #BeOriginalCA campaign was particularly creative and demonstrated brilliantly not just Irish tradition but unique Irish characters and characteristics from all over the world.
Jameson ran a competition that asked followers to send in a picture explaining why their groups of mates were original, the winner won a trip for 4 to Dublin. The campaign saw more than 570 tweets use the hashtag #BeOriginal.
These were just a few responses: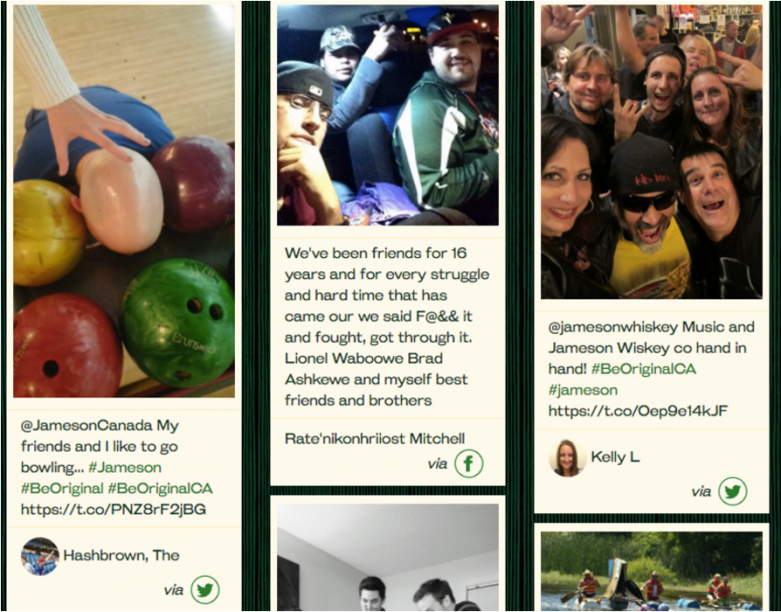 St Patrick's Day might seem like all fun and games but heavy alcohol consumption also has its dangers! An online campaign from America's National Highway Traffic Safety Administration made people aware that you can't always rely on the luck of the Irish. They encouraged people to not drink and drive by using the hashtag #BuzzedDriving. There were more than 257 original tweets used in this context.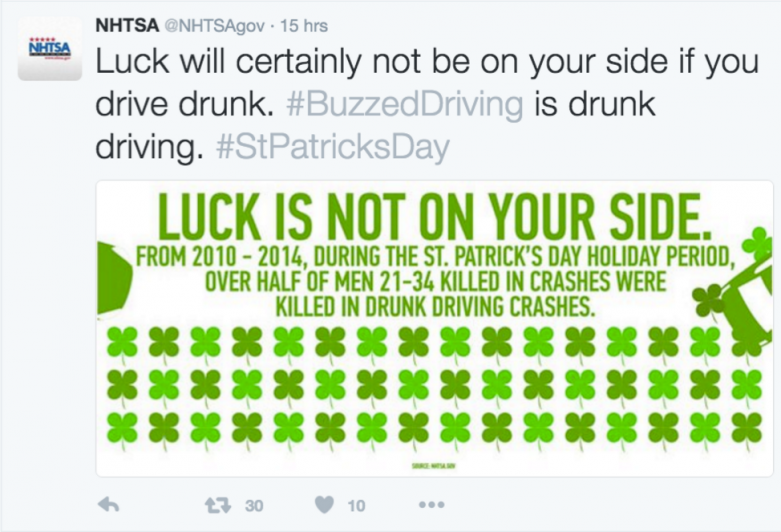 4. Seigel + Gale's Margaret Molloy
Ireland's renowned for it's guinness and greenness, but what about the country's fashion? Margaret Molloy, the global chief executive of a leading brand strategy firm called Seigel + Gale, used her marketing expertise to put a spotlight on Irish clothes designers. She encouraged people to post picture of themselves wearing anything Irish along with the hashtag "#WearingIrish", which became popular on all forms of social media, being used up to 655 times on Twitter.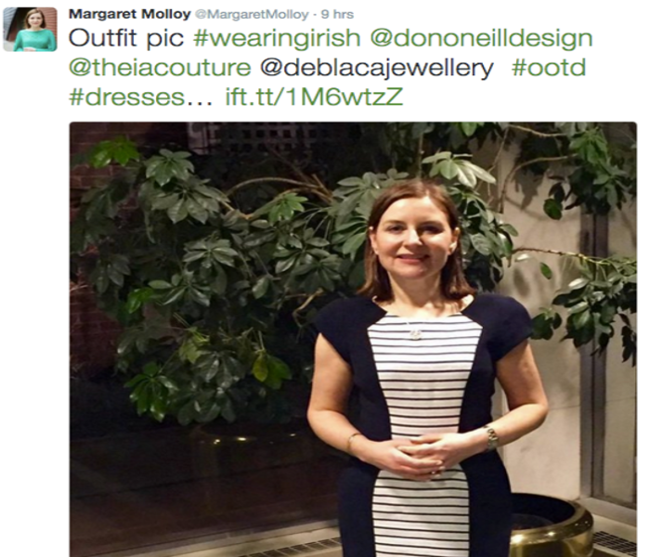 What can we expect from St Patrick's Day 2017?
It's safe to assume that St Patrick's Day 2017 will become an even bigger marketing tool. While many campaigns from 2016's St Patrick's Day are alcohol themed, we may begin to see a rise in potential safety related topics. Campaigns centred around the island itself are also likely to increase, as despite the worldwide celebrations, it's easy to forget what the country's natural beauty can offer.
If you need any help with your social media campaign planning, why not drop us a line? One of our marketing experts will be happy to help.
Or you can follow us over on Twitter to keep up to date with our latest news and views?