All good things must come to an end. Today we're talking about Umbraco 7, which will reach the end of life in September 2023. Whilst it's been in the security-only phase since July 2021, its end of life is fast approaching.

But what does end of life really mean, and how will it affect your organisation and its website?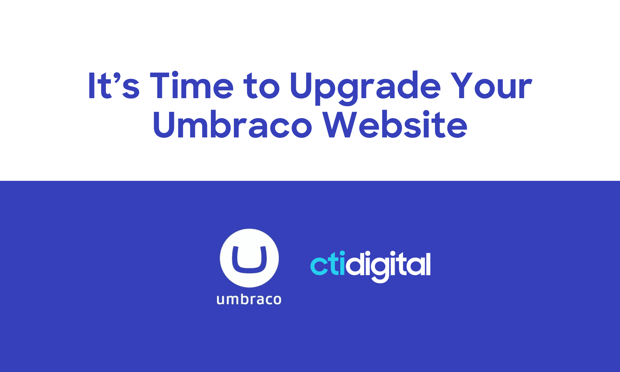 What does End of Life mean?
End of life is a commonly used term for content management systems (CMS) such as Umbraco.

Every website is built on a CMS platform and tends to be built on the most recent, stable version (unless a specific version is needed for business reasons). These are almost always numbered in chronological order.

End of life means that a certain major version, such as Umbraco 7, is no longer supported by the development team behind it. Every CMS has its own development roadmap for reaching the end-of-life of a major version.

Once a date has been set, there won't be any further minor releases or patches. This means that Umbraco 7 won't have any features updated or maintained, and fixes for bugs or security issues won't occur after September 2023.

Just before the end-of-life, a major version will enter a security-only phase where only fixes for security issues are provided. Features and non-security bugs are no longer worked on during this phase.
Our website uses Umbraco 7. What happens next?
Technically, you can continue to use Umbraco 7 after its end-of-life date. It isn't something that we, or Umbraco, recommend as it has several implications:
Security Issues
Once the security phase is over, there are no longer any fixes, even for security issues released. Your Umbraco website is then at increased risk of a cyber attack as your platform will no longer be patched.
Outdated features
As a major version of Umbraco travels down the product roadmap and starts to enter the support phase or security-only phase, you lose access and the ability to use new features that their development team are working on.
Third-party integrations
If you use any third-party integrations alongside your Umbraco website, the capability of that integration is likely to diminish over time as they focus on upgrading to match new features in the latest version.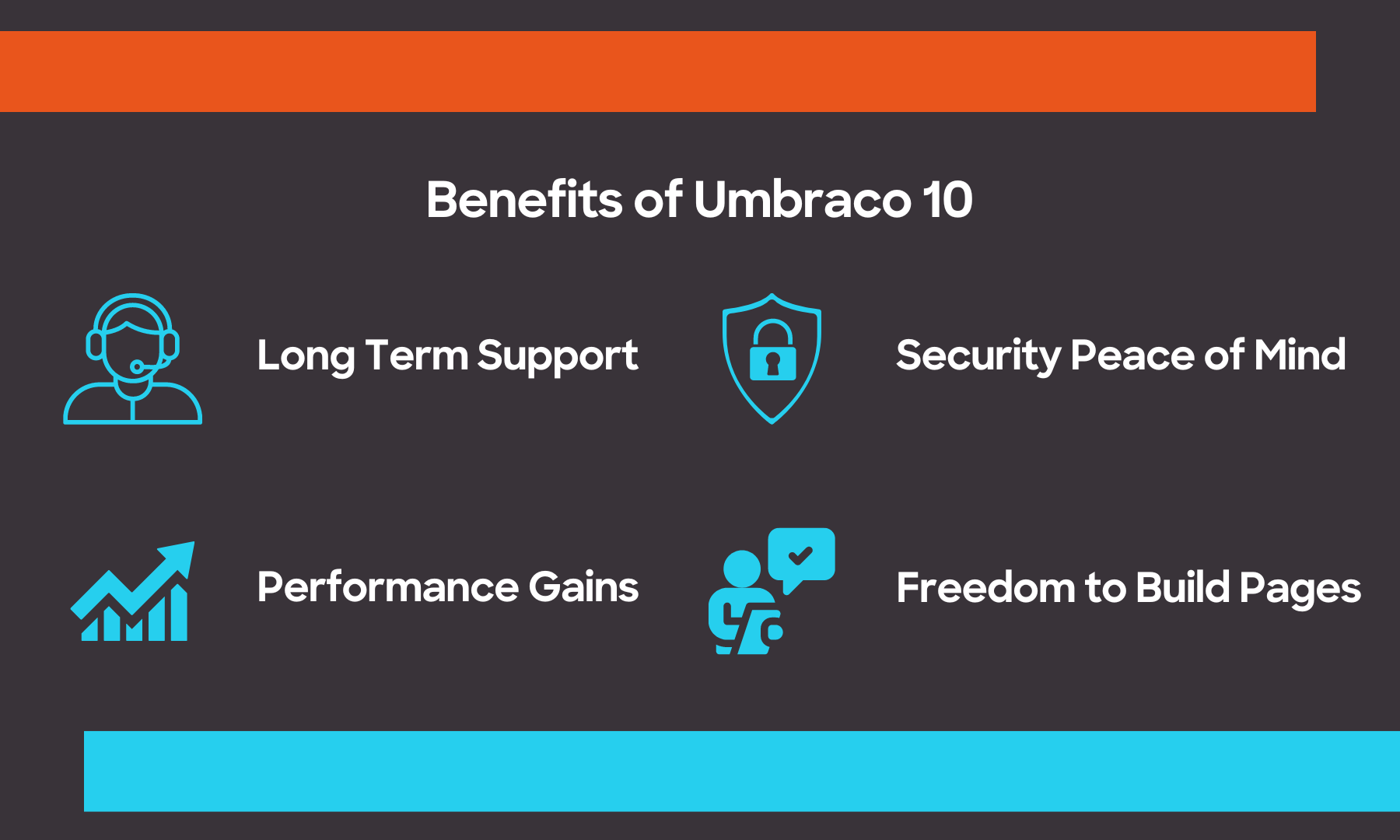 It's hard to deny that turning a blind eye to this upcoming date will do anything but put your website (and ultimately your organisation) at risk.

With positive user experience at the forefront of all website objectives, keeping up to date with the latest CMS version is key. It enables a full review of your current website's capability, where you can determine which areas you can improve and which are no longer necessary.
Umbraco 10
During the development of new, major versions of Umbraco, all deprecated code is removed from the codebase. While upgrading isn't a mean feat, we are recommending all organisations get to at least Umbraco 10 as soon as possible.
Long-Term Support
Umbraco releases have now been aligned with .Net's releases. .NET is the coding framework used to develop and build Umbraco. Umbraco 10 is what's known as a long-term support release, with support ending in 2025.

Whilst you might think that upgrading to Umbraco 11 would then give you even longer, this isn't quite true. Umbraco 10 will have far longer support and therefore give you longer assurance without needing to complete a major upgrade.

If, however, you are looking to exploit the latest features and performance and want to stay on the cutting edge, moving to 11 could be the best option; just note the support term for 11 & 12 will be shorter than 10.

Our experts can advise on the best course of action based on you and your company's objectives.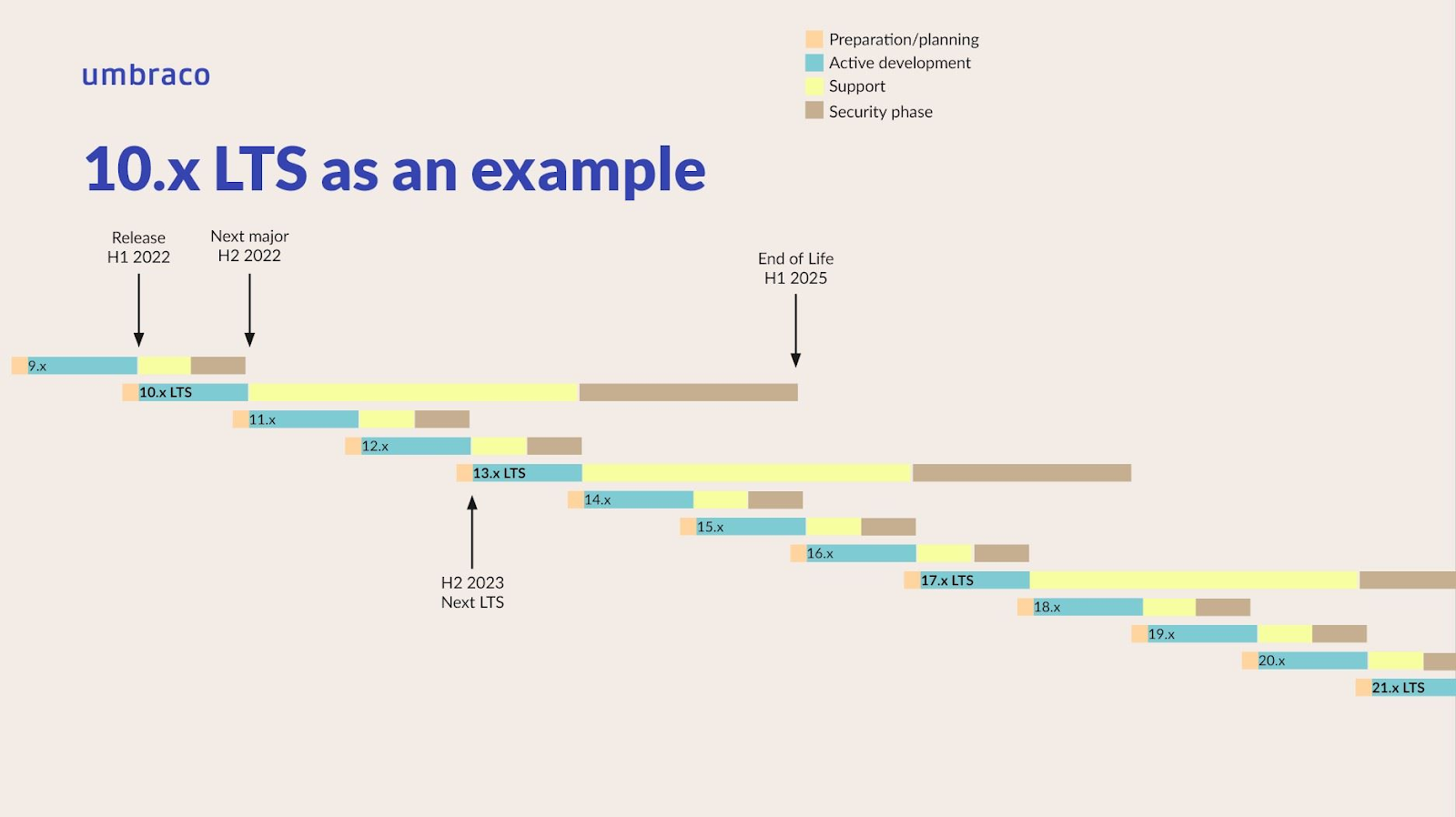 Performance Gains
There are multiple areas that have improved performance which adds features to simplify development and enhance productivity. One change is the support of web images, enabling smaller file sizes without loss of quality. Webp images are often highlighted by Google within their page speed audits as something to use in order to improve page load speeds.

A lot of effort has gone into improving the performance of Umbraco and .NET alike, meaning Umbraco has never been faster.
Security Peace of Mind
To avoid sleepless nights worrying about the security of your site and what impact that'll have on your business and your customers, upgrading becomes a no-brainer. It retains peace of mind around keeping your site as secure as possible through security releases and fixes of any widespread security issues identified.
More Control
Upgrading from Umbraco 7 to 10 will open up new ways of editing content using Blocklist Editor. This gives you, as a website manager or content editor, more freedom to build pages using a modular-based layout with less reliance on developer input or development work, such as building additional page templates.
Embrace the Future
As the saying goes, out with the old and in with the new. As we leave Umbraco 7 behind, we can embrace the future with their long-term support of Umbraco 10. It's more crucial now than ever to prioritise upgrading away from Umbraco 7 before September's deadline.

While it can be daunting, it's important to remember that an updated version of a CMS comes with many new benefits. CMS platforms are built for those that use it - from development teams to website managers, content editors and even end users. Their focus is on making their CMS better and easier for all.
Looking to upgrade your Umbraco website? As an Umbraco partner and member of the Umbraco community, we can help power up your website so you can start reaping the benefits of an upgraded CMS quicker. For more information and to discuss your next upgrade project, contact our team today.