Welcome to the first Drupal 10 Global Porting Day, organised by the Contribution Events Initiative! This 30-hour event will take place in all time zones across the world. The Global Porting Day is the first of its kind, where everyone involved will be focused on porting Drupal 9 projects. Join us in this rare opportunity; make history whilst we help to ensure that the release of Drupal 10 goes ahead smoothly.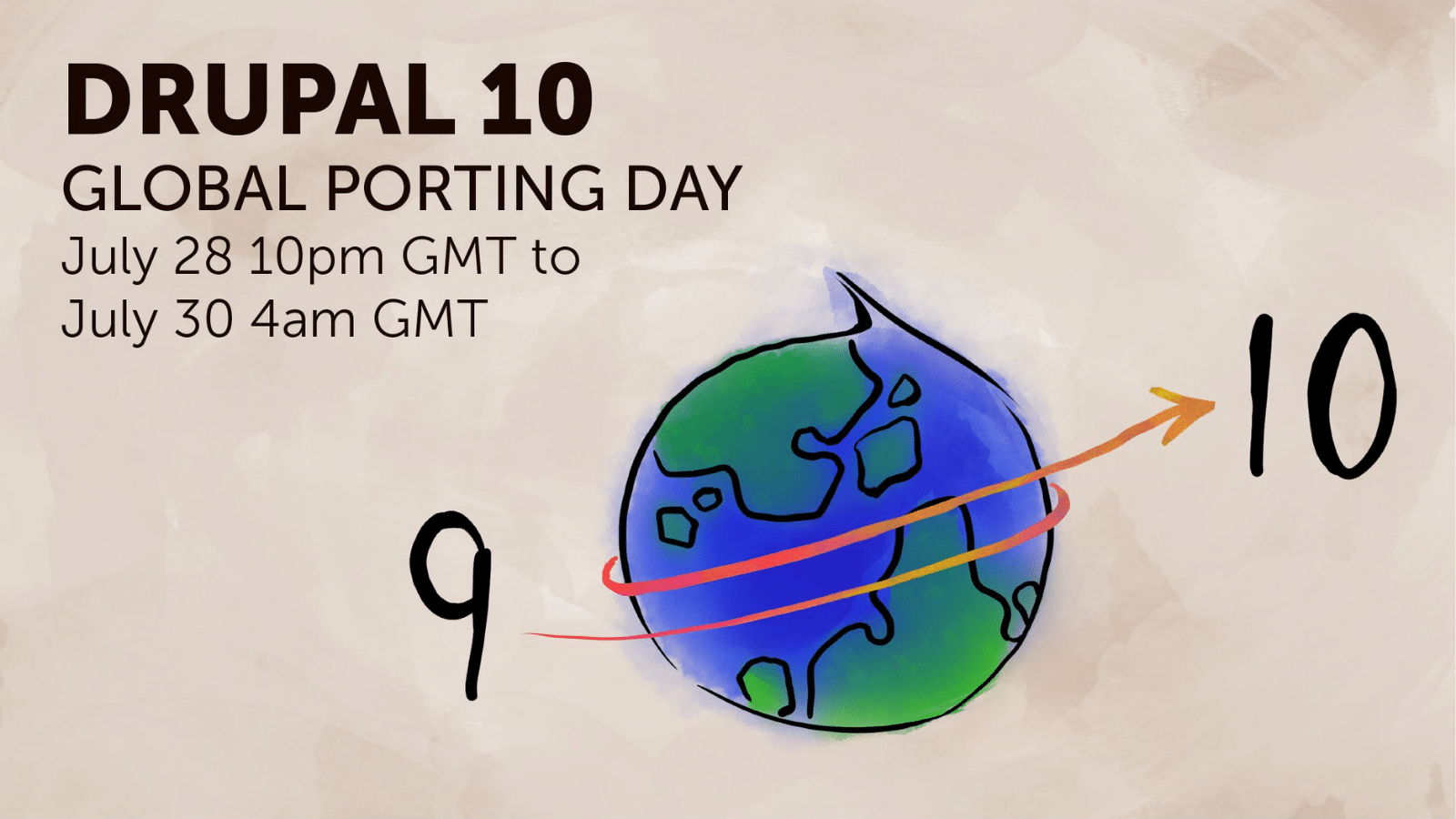 Drupal 10 Global Porting Day - credit to @aaroningots
When is the event taking place?
This online event is taking place from 10pm on Thursday 28th July 2022 - 4am on Saturday 30th July 2022.
The event will take place across multiple time zones, allowing people all over the world to collaborate and contribute together.
Follow our lead and join hundreds of other Drupal contributors working on the future of Drupal. Join us in taking part in the event!
Who you'll be working alongside
Drupal is looking for a multitude of people to join the event. These include:
Mentors
Promoters
Organisers
Participants (maintainers, programmers, testers and project managers)
It's important to note that you do not need any experience porting projects to contribute to this event! Anyone with experience creating modules and themes is welcome.
The Importance of A Global Porting Day
Drupal 10 is due for release in December 2022. With the release date just around the corner, Drupal developers across the globe are keen to make the transition as seamless as possible. The more compatible themes and modules that we prepare together, the easier the move between major versions will be.
This Porting Day follows the success observed in porting code between Drupal 8 and Drupal 9 by members of the Drupal community. Many thanks to Surabhi for organising the Porting Day, we are sure it will bring a greater focus to Drupal 10 and accelerate the transition process.
If you have any questions about Drupal 10 there will be dozens of community slack channels available for you to find answers. You can share knowledge from your own code breakthroughs and gain insights from an unrivalled number of Drupal enthusiasts, just like you!
We're especially excited as this event gives Drupal users the chance to meet various contributors from around the world. Unlike local Drupal sprints, held in single locations in a single afternoon, the Drupal 10 porting event is open to the global Drupal community! Hosted across the world, this multi-day event will bring together contributors and allow us to share diverse perspectives.
Find out more information about our Drupal work at CTI.
Why we're so excited to be involved in the Drupal Global Porting Event
We're proud to be a full-service agency, known for excellence within Drupal, and one of the largest Drupal agencies within Europe. We're so excited to be a part of Drupal's next evolution for many reasons:
We are helping the community to prepare for one of the biggest Drupal releases to date.
We will proudly be at the forefront of new technologies, gaining early insights into how Drupal 10 will work and how we can leverage the new benefits for our projects.
We can give back to the open source community, sharing our knowledge and experience from countless large-scale Drupal projects, to make everyone's projects better.
We will improve our skills and knowledge by learning from others within the worldwide Drupal community.
Our Drupal team is excited to get involved with the Drupal 10 porting event. Senior Drupal Developer Fathima Asmat is particularly excited about participating in the event:
"When it comes to open source contributions, many of us don't push ourselves forward and give our time and effort. However, we will always benefit from new releases and products. I think it's a social responsibility for anyone benefiting from Drupal's code and community to contribute when there is an opportunity to." - Fathima Asmat, Drupal Developer
We're delighted for this incredible opportunity to join the Drupal community in such a collaborative event.
Join us in taking part in this incredible event and contribute to the future of Drupal!