Why is being in Manchester a good idea if you have any interest in digital? Many industries end up with businesses congregating together and technology businesses are no different. The result: a thriving, collaborative digital community.
Coming from the land of Lenny Henry, Denise Lewis and Robert Plant (aka the West Midlands), I often get asked how I ended up working in Manchester. Well, that story is far too boring for a blog post so, instead, let's imagine that I knew then what I know now...
A quick search on Google Maps shows plenty of web development agencies, mostly in Manchester's Northern Quarter. This doesn't even take into account Digital Marketing agencies, other software development companies or any other search terms.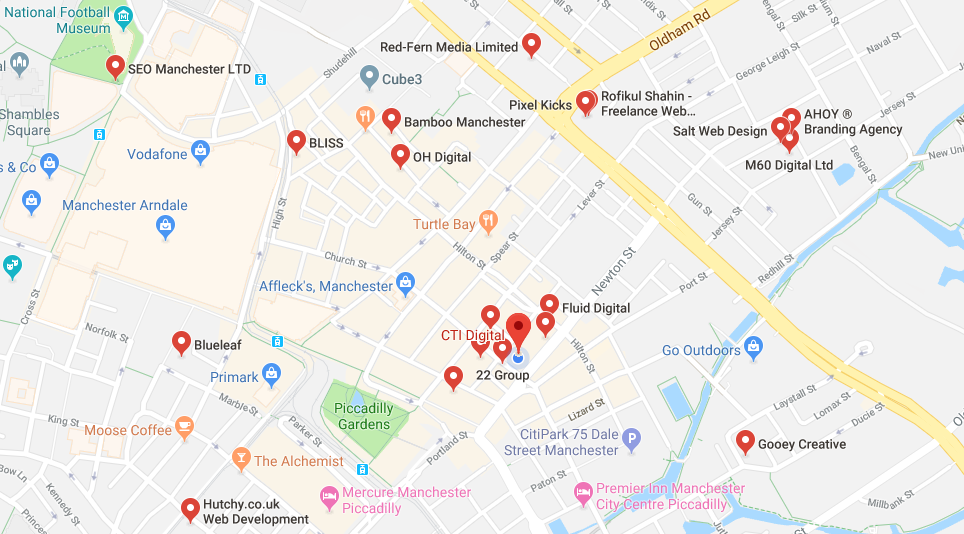 Clearly, if you're looking for a web-based career, moving to somewhere with lots of digital companies is a good idea. The range of options will provide a variety of agency sizes, a range of technologies and diversity in client industries, to find somewhere that's right for you.
The benefits of having so many companies nearby go even further. You might imagine that each company is in competition, constantly trying to outdo everyone else. The truth is that collaboration and cross-company meet ups are everywhere.
Here's a small selection of Manchester-based events that our team regularly attend:
Mage Titans is a biannual Magento conference, hosted in Manchester since 2014. Packing a series of short talks into a single day allows topics to cater for a wide range of frontend, backend, developer, and marketing topics. This unofficial Magento Developer conference champions the open source community close to home.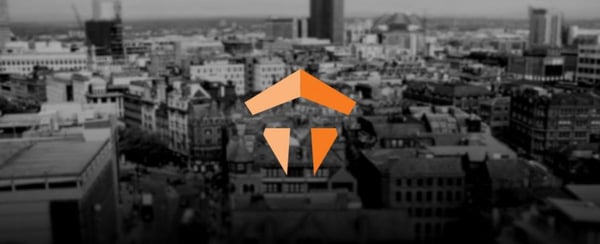 At previous events, Ian Cassidy and Suresh Balasubramanian from CTI have given talks about Magento 2 Theme Development; Paul Partington, one of our Lead Magento Developers, gave a talk on Cache Configuration; and Rick Steckles, our Technical Director, gave a lightning talk on the Separation of Code and State.
NWDUG is a monthly Drupal user group that meets in Manchester to discuss Drupal and related topics. Each month sees one or two headline talks before a round up of Drupal news and a more informal chat. There's nearly always somebody from CTI in attendance and you might see some familiar faces if you check the group's Youtube page.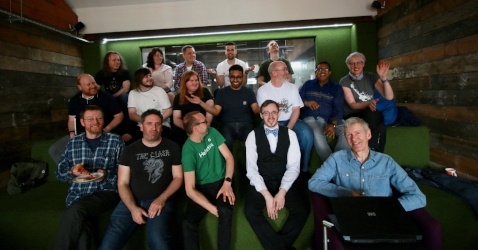 Happy Drupal Developers at an NWDUG Sprint, 2018
Accessible for all, NWDUG is an excellent opportunity for networking, as well as collaborating at local contribution sprints. A calendar highlight is the annual NWDUG Unconference: with no official speaker programme defined, the event welcomes everyone to contribute, present and to be inspired by Manchester's local Drupal community.
CTI are Silver Sponsors at the 2018 Unconference, so come along to get involved.
For the user interface and frontend focused amongst you, there's McrFRED (Manchester Front End Developers). Their calendar tends to include a more traditional schedule of lightning talks and full length presentations, social events and even workshop sessions. Each McrFRED meet up includes a talk from a web professional, time for discussion, and the chance for an informal chat afterwards.
I've not managed to make it myself, but I hear only good things from our front end developers.
"Oh, but what if I'm not a developer?" I hear you ask. Well, hypothetical reader, Manchester still has something for you. The North West Tester Gathering is yet another monthly meet up but one aimed at testing and quality assurance practitioners. Whether your focus is manual testing, automated testing, continuous integration, agile methodologies or anything else to do with assuring quality, there will be someone happy to discuss it with you at a meet up.
Like the more technology-specific events for Drupal and Magento, North West Tester Gathering host an informal forum for knowledge exchange and sharing experiences with likeminded individuals from many organisations based in and around Manchester.
For the marketers among you, MancSAS is a community for Search and Social experts and novices alike. Their meet ups cover the SEO, Analytics and Social side of our industry.
Hosting lightning talks and socials, MancSAS (formerly MancSEO) brings marketing industry professionals together, to share insights and to network over a casual drink. With a growing Digital Marketing team, CTI have even hosted MancSAS meet ups in our offices
With previous talks covering education resources, collaboration with developers, attribution modelling and more, MancSAS is one to watch.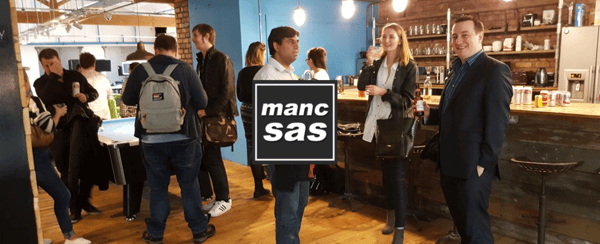 MancSAS networking event at CTI
Manchester Tech Nights is a cross-discipline meet up that allows people to step outside of their bubble and see what else is going on in the area. As you'd expect, the headline talks cover a wide range of digital insights, with previous examples including "Disregard rulebook, make videogames!", "Designing for displays that don't exist yet" and "Securing the Internet of Things".
Above all of these informal community meet ups, Manchester is (as the name suggests) home to Manchester Digital: the trade association for all digital organisations in Manchester and the North West. They represent over 500 businesses in the area and offer help with training, mentoring, recruitment and much more. They also host awards, like the Big Chip Awards, to celebrate the industry-leading digital projects that come from the North of England.
I think it's pretty clear that the tech community in Manchester is thriving. I'm sure other places have similar scenes but, on top of all that, Manchester has great food and drink, good transport links, sports hubs and a wide and varied music scene. Just don't make me listen to The Smiths!
---
If you're interested in joining the thriving digital community in Manchester, why not pop along to one of the group meet ups listed? Meet your peers and find out more about what's really going on in the Northern Powerhouse.
Or take a look at our career opportunities, as we're always on the lookout for fresh talent.