Magento 2.1.8
Today we saw Magento issue a new release (2.1.8) which is available for Magento Open Source (formally known as Community Edition) and Magento Commerce (formally known as Magento Enterprise).
The following article takes a closer look at this release, the improvements it provides before finishing up with instructions on how you can upgrade.
Key Highlights
It's been just over two months since we saw the release of Magento 2.1.7 which provided enhancements to security along with a patch for an image resize bug which we wrote about earlier in the year (fixing image resize issues after upgrading to 2.1.6)
The Magento 2.1.8 Patch contains over 100 fixes and enhances to the platform and is one of the larger releases we've seen since Magento 2 announced it's GA version back in November 2015.
The key highlights of this release include, but are not limited to:
- Enhancements to static content deployment and generation.
- Improvements to elastic search performance for large catalogues, tuning and url-rewrites.
- Memory usage optimisation and performance tuning for mass actions.
- Faster cloud deployments for multi-language websites.
The full release notes for 2.1.8 can be found on the Magento Dev Docs with respective links for Community Edition / Open Source and Enterprise Edition / Magento Commerce.
A Success for Community Engineering:
Taking a closer look at the release notes; the real highlight of the 2.1.8 release is just how many contributions have come from the community.
As a Digital Agency, we get to attend multiple Magento Events and Conferences throughout the course of the year and we've been involved in a number of conversations with developers, agencies and merchants that were concerned about the number of un-attended pull-requests on the Magento 2 GitHub repository.
Credit to Magento; these conversations did not go unnoticed, with Jason Woosley @jasonwoosley_mg (SVP of Product and Technology) announcing the 'GitHub Community Moderator Team' on the Magento Developer Blog back in February this year.
The announcement was closely followed by Max Yekaterynenko @maksek_ua transitioning into his new role as 'Director of Community Engineering' where he was tasked with building out a team of 'Community Moderators' to help facilitate the triaging, approval and merging of GitHub Issues and Pull Requests.
Ever since this announcement we've been keeping a close eye on Mage 2 Stats (published by Luke Rodgers @lukerodgers90) and we can clearly see the impact the community engineering team are having on the GitHub repository with a total of 547 merged pull requests taking place between February 2017 - July 2017.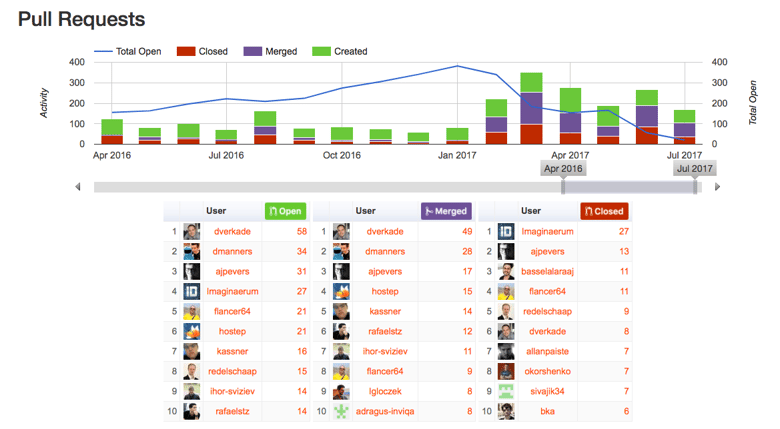 Image 1.0 - Diagram showing the trend of open pull requests taken from www.mage2stats.com

Upgrading to Magento 2.1.8:
The path for upgrading to Magento 2.1.8 can take many forms depending on how you have installed Magento (Composer, GitHub, File Download) and how your website is both hosted and managed.
General upgrade instructions can be obtained via the Magento Dev Docs page. However, if you the help of some expert professionals then simply contact our certified team of engineers.
Closing thoughts ...
With the initial release of Magento 2 back in 2015 not only did Magento introduce a complete overhaul of the platform but they also introduced a change in Magento's processes and ways of working.
Whilst moving the Magento codebase to GitHub was absolutely the right move for Magento, it came with its own set of new challenges for the company, as they looked to manage the signal to noise ratio across Github Issues and Pull Requests.
Managing and maintaining one of the worlds largest open-source e-commerce platforms on a collaborative coding tool was never going to be an easy feat; and when you couple that with a simultaneous re-architecture of the entire platform we can see the extent of what Magento has managed to achieve in a relatively short amount of time.
I think the 2.1.8 release can be considered not only a maturity of the Magento platform but also a maturity in Magento's processes, that sets a high level of expectation for the platform moving forward.

One thing that this release clearly shows is that the power of the community is not only far-reaching but it is also helping Magento to move quicker than ever before.