We are delighted to welcome our new Marketing Intern, Ella Sanderson, to the CTI group. Ella joins us on a 12-month marketing internship from the Manchester Metropolitan University.
Throughout the year, Ella will gain hands-on experience within our Performance Marketing department, where she will learn how to optimise and improve client marketing projects through our marketing services, including SEO, content writing and auditing, data and analytics and idea generation, amongst other relevant tasks.
Ella will also have dedicated time within our Agency Marketing team to assist and support our marketing efforts for the group, splitting her time between both departments, providing essential experience both in-house and the agency side of marketing.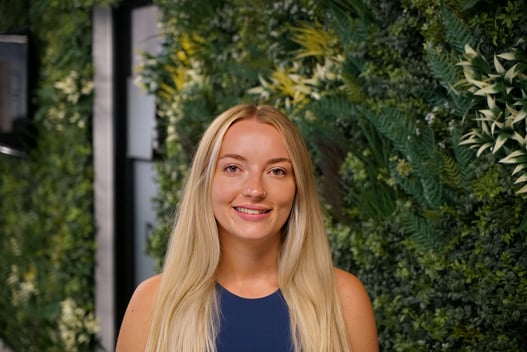 We sat down and asked Ella what she is looking forward to working at CTI:
Tell us a little bit about yourself, your degree and work experience so far?
Before my new role as an Intern at CTI, my previous work experience was all based in retail and customer service. When I started my Business and Marketing degree at Manchester Metropolitan University, I knew that I wanted some hands-on experience in the field, which brought me to my newest role as a Marketing Intern.
When I'm not working, I take the 'certified foodie' title. I appreciate that this is not a hobby for some, but I've loved all kinds of food since a very early age. My nan loves to tell the story of the shocked servers on holidays who couldn't understand why, as a child, I was ordering a Greek salad over chips. Therefore, my weekends are spent predominantly in the many amazing restaurants Manchester has to offer.
What attracted you to the Marketing Intern role at CTI?
Applying for a marketing placement was daunting, but when I saw the marketing intern position at CTI, it ticked all the boxes. In a nutshell, it offered all the experiences and opportunities that I had been looking for.
The fact that I would be able to work with both the in-house team and the client-based team was a massive draw as it means I would be able to make the most of my year at CTI, enabling me to go from a Marketing Intern with no experience to hopefully one with expertise across multiple areas of marketing.
The team and culture at CTI were also an added benefit of working for the company, as there appeared to be a sense of collaboration, friendliness and a supportive work environment.
What are you looking forward to most about working at CTI?
I'm looking forward to getting stuck in and working with the team, collaborating and forming ideas, which we then turn into reality. Creating social posts and email campaigns that contribute to the company will be a massive achievement.
I am also looking forward to having the opportunity to complete work for clients, as CTI already boasts an impressive client portfolio with famous names such as Little Greene, Marigold and my very own Manchester Metropolitan University.
What areas of marketing are you excited to learn and gain experience in?
I'm most excited to gain experience in the Performance Marketing team; I feel like I will face many challenges in this team as I begin to dive deep into the data and analytical side of marketing. There's only so much that studying can teach, so getting this first-hand experience and broadening my knowledge on this particular aspect of marketing will be massive for me.
List three items on your bucket list
1. Visit Australia
2. Go Sky-Diving
3. Visit the Egyptian Pyramids
Finally, if you could bring on any dream client, who would it be and why?
While it is hard to pick just one, a dream client would be the UK-based clothing brand called AYM Studio. They are a small business with a significant impact. They make clothing ethically, ensuring the best for the planet, their employees and their customers. Sustainable, slow fashion is essential, and businesses such as AYM Studio will shape the future of fashion. A partnership with CTI could be the perfect opportunity to expand their business so they can continue their amazing efforts.

If you would like to learn more about life working at cti digital, check out our Instagram page for a behind the scenes insight, or visit our careers page to view the latest vacancies.