Arts Council England are the national development agency for culture and creativity in England. They support artists, arts organisations, museums and libraries with funding and development to give everyone the opportunity to experience arts and culture in their lives.
Their website serves as a central hub for all of this work, from publishing research reports and providing funding application guidance to providing a space for job listings, blog posts and more.
With such an important role to play for culture in England, the Arts Council spent two years consulting on and developing a complex and thorough strategy for the next ten years: Let's Create.
As Arts Council's long term web development partner, we worked closely with their internal team, and chosen design agency, OPX, to bring 'Let's Create' to life online.
Watch The Arts Council England's Let's Create Campaign Video
Here's what the Arts Council England had to say about their strategy 'Let's Create':
"Communicating our new ten-year strategy, Let's Create, with clarity and purpose, was really important to us. We're setting out our stall for the 2020s, and how we'll support the incredibly talented, diverse and creative cultural sector that we serve. This strategy will be at the heart of everything we do for the next decade."
"So when it came to presenting this on our website, we knew we wanted to do something a bit different. We wanted what is essentially a printed book, in its offline form, to come to life for our digital audience. With environmental responsibility in mind, we knew that the digital audience for the strategy would be our largest by far."
"CTI did such a fantastic job of guiding us through the process. They worked incredibly well with the design agency who developed the strategy visuals, OPX Studio. They made sure that the creative vision behind the strategy was beautifully realised, in a way that is crystal clear and incredibly engaging for users across desktop, tablet and mobile."
"We are particularly thrilled with the emphasis we managed to place on all of the accessible formats of the strategy, including Braille, BSL, large print, audio and easy read."
Dan Smith, Marketing Communication Manager, Arts Council England
The technical bit… aka what did we actually do?
OPX had reimagined Arts Council England's strategy as a captivating, immersive experience that translated effectively from print to digital. They delivered the original digital design through Invision, featuring animation and a clear user experience journey.
The original brief had a tight and very set deadline. We worked closely with OPX to prioritise features in a way that would meet this tight development timeline while still championing the Arts Council's commitment to accessibility.
First, we chose to extend the Arts Council's Drupal 7 CMS for the project. In doing so, we gave site managers a consistent experience when maintaining a new section of the website.
The 'Let's Create' campaign included a brand new web template featuring less colour, new fonts, and distinct layouts. Therefore, we wanted to make the new features as cost and time-efficient for the Arts Council as possible. We built the new modules as components meaning content managers can use the new features time and time again for future updates and campaigns.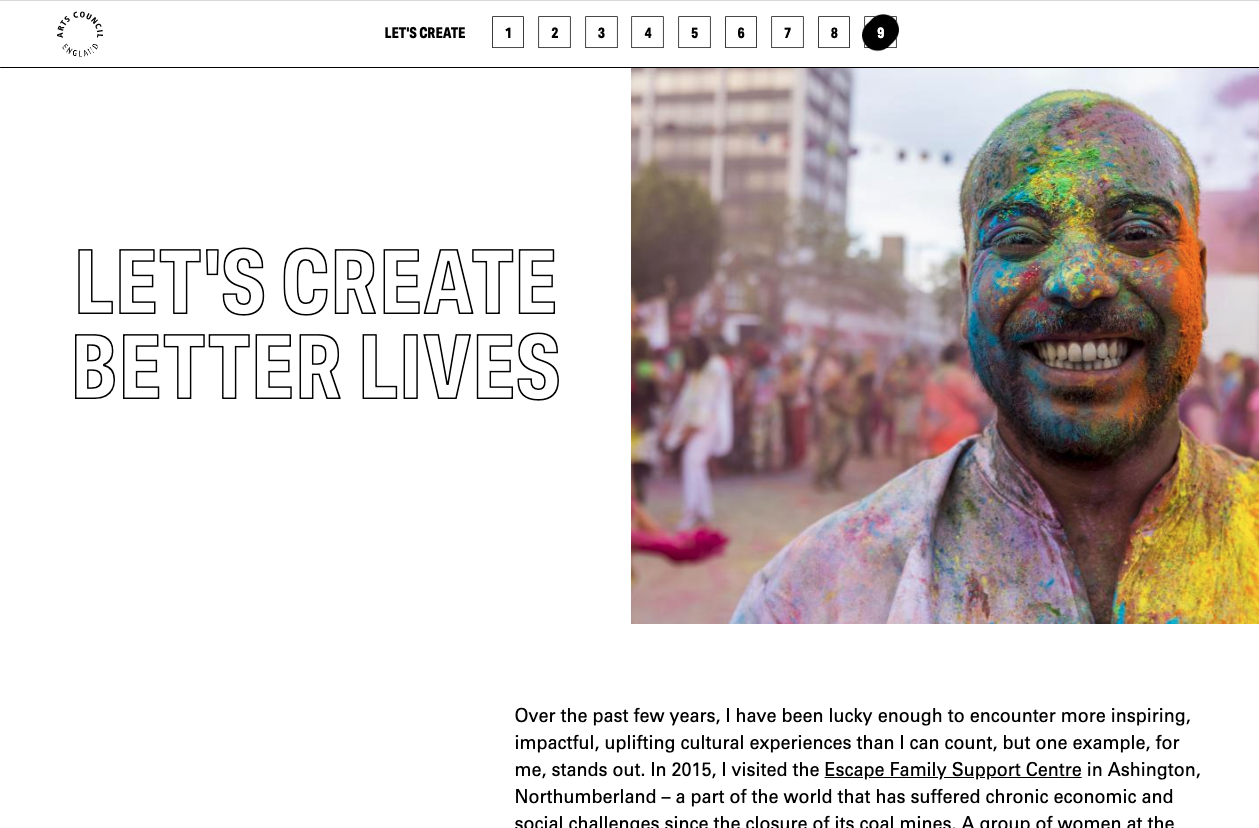 New navigation, title, image, and rich text components featuring the Let's Create' branding.
Accessibility requirements
Finally, we took a second look at the Web Content Accessibility Guideline 2.1 (WCAG) AA standard compliance of the designs. Arts Council England has a long standing commitment to accessible web design. As such, we augmented and built the campaign pages to be accessible for assistive technologies, colour blindness, the hearing impaired, and other common accessibility requirements.
Here are some of the accessibility challenges we faced:
The Challenge

The Solution

The outline-based font had a low readability score at small screen sizes and small font sizes.

We limited the outline font to larger font sizes. For areas where more clarity was needed, we used an inverted design where the negative space around the text is filled in with a contrasting colour.

Videos auto-played behind the outline text font which reduced text readability.

We only embedded videos in prominent positions where they help with storytelling.

Diagrams and some text were presented as unresponsive images. This made them harder to read on small screen sizes and impossible to access for screen-readers.

Together we revised diagrams to include less text at a larger font size.

Any text presented as an image is also included in the on-page text to ensure it's accessible to everyone.

The navigation had a transparent background meaning a contrast couldn't be detected.

We implemented a solid white background for a crisp, on brand finish.

A draggable navigation box required effort from the user to be able to read all text on page.

We developed this quirky and interactive tool. However the additional effort required from the user, due to its tendency to block text while scrolling, made it not accessible.

The Arts Council came up with a simple solution to the problem where we absorbed the navigation into the header. This change ensured the navigation still followed users but did not block any text or the readability of the page.

The structure of elements made navigating via keyboard challenging or not possible in some situations.

We structured elements to be easily keyboard accessible. We applied a marching-ants highlight from the current Arts Council website to the new theme to show which element was selected at any one time.
Discover the Arts Council Englands 'Let's Create' strategy for yourself by browsing their website or getting involved on twitter.
If you're looking for a digital agency to support your next campaign through technical, creative, or strategic collaboration we're here to help. Drop us a message here.
Hero image credit: Arts Council England Website