Fostering equality, diversity, and inclusion within the workplace is not just a matter of corporate social responsibility—it's essential to a thriving organisation.

By embracing and celebrating our differences, we create an environment that embraces a multitude of perspectives, experiences, and talents. Such an environment enables innovation, enhances employee well-being, and cultivates a harmonious culture.

This week, we've been doing exactly that.

In our quest to foster equality, diversity, and inclusion (EDI), we believe in going beyond mere words and taking concrete actions. That's why our EDI committee have worked hard to create a week of engaging activities designed to celebrate our diverse workforce and promote a culture of understanding, growth, and improvement.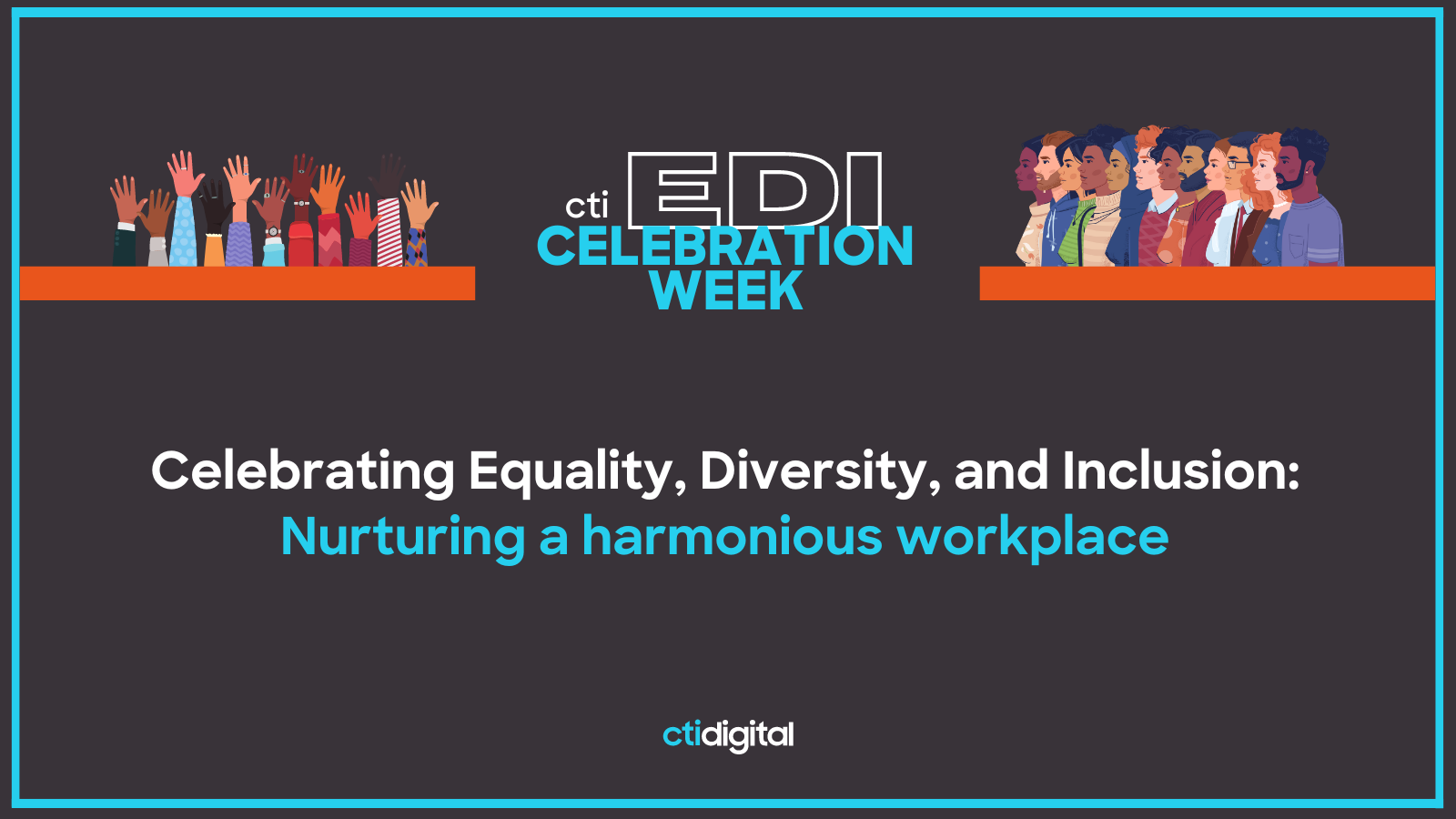 I spoke to Arron Lord, and Ashley Kirk, who led the organisation of the EDI celebration week and one of the committee members, on what EDI means to them and why we created a celebration week.

Here's what they had to say:
What does EDI mean to you?
Ashley: For me, EDI means everyone has fair treatment and opportunities in the workplace. It promotes the representation of people who have historically been underrepresented or discriminated against.

Arron: EDI means creating an environment where everyone can be their authentic selves.

Laura: EDI is recognising everyone's diversity in the workplace, and making the working environment safe, inclusive and welcoming for all. Giving everyone the same opportunities and representation, working hard to eliminate discrimination and inequality.
Why are we celebrating Equality, Diversity and Inclusion?
Ashley: Visibility and knowledge are powerful. We're celebrating EDI to shine a light on our diverse workforce. We want to encourage learning and awareness of equality, diversity and inclusion through lots of open conversation.

Arron: We all have different lived experiences, and showcasing this uniqueness not only boosts our enjoyment and sense of belonging at work but also makes us a stronger and more diverse company.

Laura: We are celebrating ED&I to educate and highlight diversity in the workplace. To empower employees to feel represented and to start conversations around subjects employees may not have been informed about in the past.
What does the committee have planned to celebrate EDI?
Ashley: What haven't we got planned might be an easier question... we've got an EDI quiz, a cultural food bring and share, a guest speaker, and an open forum on Friday with the launch of our new 'Awareness Library' as well as numerous conversation starters littered throughout the week.

Arron: Lots! We're a passionate bunch and we have tons of ideas on how we can celebrate EDI within the company.

Laura: We have a week packed full of activities and events around ED&I. We are very passionate about spreading awareness and starting conversations about important issues. We have an amazing guest speaker on Neurodiversity in the workplace, who I am really excited about.
What are we wanting to achieve throughout the EDI celebration week / what's the purpose?
Ashley: We want to celebrate the many differences between our teams and highlight areas where we can all learn and grow. We're also wanting to discover areas where we have knowledge gaps and work on how we can provide more guidance and information for the company and its employees.

Arron: I want everyone to learn at least one thing about the various topics under discussion.

Laura: I think the key is starting conversations, and like Arron said, if people discover something new - amazing. If topics covered this week have inspired individuals to go and research them, then we have achieved our goal.
Embracing our differences: a vibrant celebration of Equality, Diversity, and Inclusion in the Workplace
Throughout the week, our team are invited to participate in a range of activities, each offering a unique opportunity to embrace our differences and create an inclusive environment.

Each day we're asking pre-determined questions to highlight key areas for improvement and education across the organisation. It's an opportunity for the team to discuss their thoughts and perspectives together in a safe yet open environment.

Another exciting event is the cultural food sharing on Wednesday. Employees are encouraged to bring and share dishes that reflect their cultural backgrounds.

This not only celebrates the rich tapestry of our team but also provides a delicious platform for exchanging stories, traditions, and experiences. Through the universal language of food, we foster connections and create bridges that transcend cultural divides.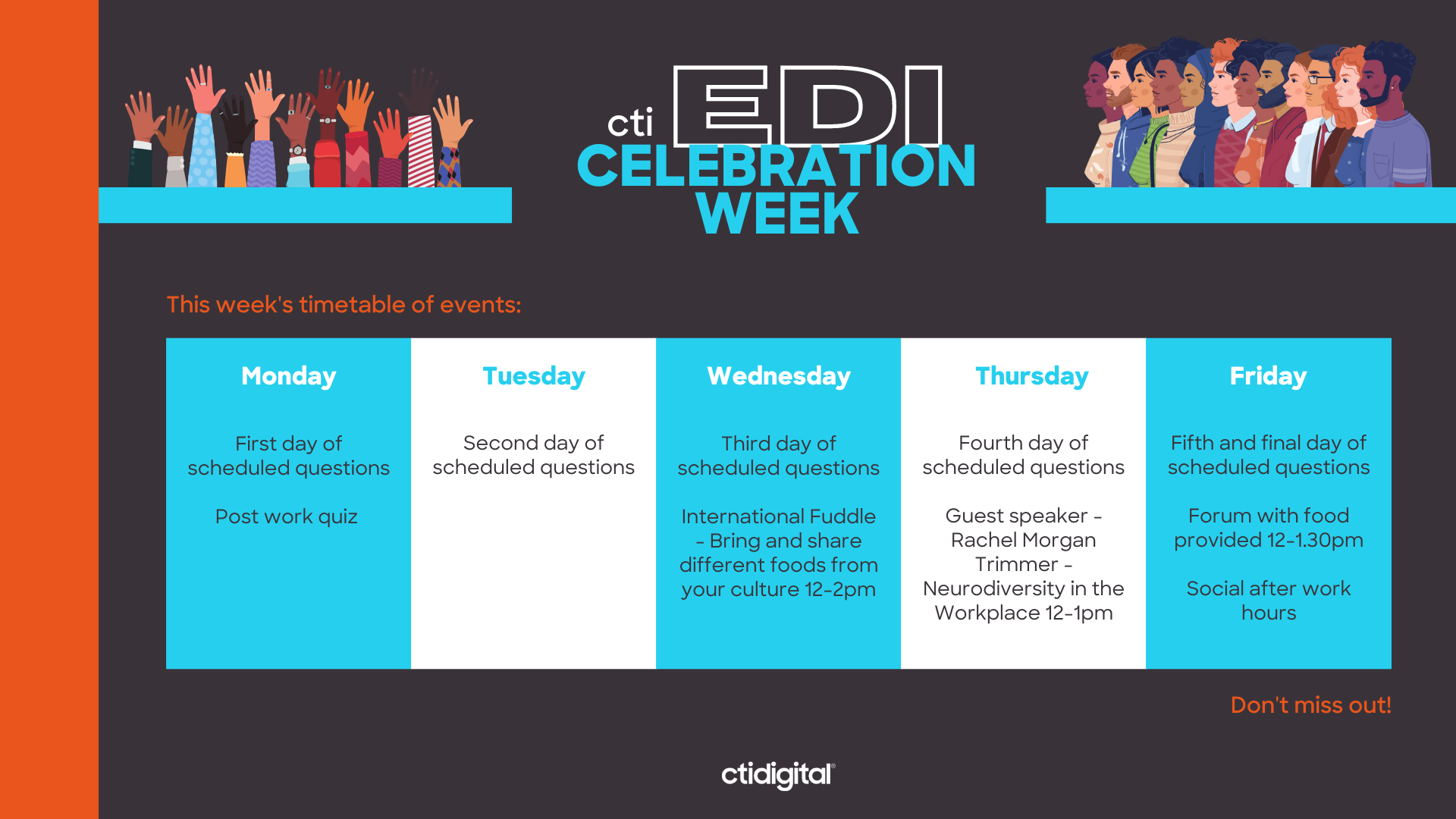 A guest speaker will also be featured. While this isn't a new initiative, we're inviting a speaker to talk about neurodiversity in the workplace. She'll bring her unique perspectives and expertise to inspire and educate our team. Sharing her personal journey, insights, and success stories, she'll serve as a role model and catalyst for positive change. Inviting diverse voices into our spaces opens doors to new possibilities and expands our understanding of the world.

Moreover, an open forum will provide a safe and inclusive space for employees to share their thoughts, concerns, and suggestions regarding EDI in the workplace. This open dialogue encourages open-mindedness, empathy, and active listening, enabling us to identify areas for growth and improvement. Through these discussions, we aim to foster an environment where everyone's voice is heard, valued, and respected.

By engaging in these activities, our EDI celebration week aims to highlight the richness and depth of our diverse workforce. We strive to nurture an environment where understanding and acceptance flourish and where the unique contributions of each individual are celebrated. Through these collective efforts, we aim to identify growth opportunities, address gaps in knowledge, and continually improve our commitment to equality, diversity, and inclusion.

Together, we are weaving a vibrant tapestry of celebrations, conversations, and learning experiences that will strengthen our organisation, empower our employees, and pave the way for a more inclusive and harmonious workplace.
Sound like a team you want to be a part of? Check out our current vacancies now.