We are pleased to bring you some exciting news about the future of CTI Digital. In May 2019 we acquired eCommerce specialist agency: Nublue!
We're delighted to welcome the team of quality experts Nublue have built in the North of England. Their strength, expertise, and creativity are attributes that strike a clear alignment with us at CTI Digital. We are excited for the accelerated impact we will make in the eCommerce space together.
"CTI has a superb reputation in the industry. Nublue is experiencing strong growth in the eCommerce space. Joining the CTI family at this time couldn't be more exciting and will significantly enhance the service we offer to our clients."

Tom Ashworth, Technical Director at Nublue

CTI Digital and Nublue: Supercharged eCommerce
Over the past few months, we have been working carefully with Nublue to ensure the acquisition is right for our staff, the future of our businesses, and most importantly for our clients.
Having Nublue onboard will help increase our capacity and availability to partner with pan-European clients and offer increasingly specialised services. We believe that by bringing our organisations together, we can create a more comprehensive and specialist service offering for all of our eCommerce clients.
We're only at the beginning of our journey together but here are some of the most exciting benefits the partnership will bring:
Industry expertise. Between the two agencies, we will have multiple clients within 20+ verticles in the retail industry. From manufacturing to fashion, our experts won't just have theoretical knowledge. They will have hands-on real-world knowledge of the respective market.
Expanded hosting and support services. CTI Digital and Nublue have developed support and hosting packages with their own merits. We'll be reflecting the strengths of each organisation in the others to create a stronger offering. Crucially by providing greater capacity for clients looking to grow faster and gain a strategic competitive advantage.
Technology stack expansion. We've built websites over the past 10 years in open source frameworks Magento and Drupal Commerce and SaaS platforms Shopify and BigCommerce. Nublue are known as Magento Certified experts but their multi-disciplinary developers have been keenly building their knowledge of alternative frameworks including Shopware. Together we will have the capability to be reactive to new frameworks and the ability to extensively evaluate their benefits for our clients.
Plus a whole lot more. Both of our agencies client services and project management will be bolstered, we'll have a whole new location to service clients from, the capacity to further invest in digital transformation. The list goes on!
What does this mean for existing clients?
As of May 2019, CTI Digital became the owners of NuBlue. Both organisations will continue business as usual and will operate as separate publicly-facing brands.
After the initial settling period of 3-6 months, some of the ways we operate may alter slightly. This will ultimately give us the opportunity to improve the service we deliver to you.
We are very excited for the new chapter between CTI Digital and Nublue. If you have any questions please do not hesitate to contact your account manager or primary contact.
Wondering what CTI Digital and Nublue could do for your business?
This is an exciting time to begin working with CTI Digital and Nublue. Between us, we have a wealth of expertise delivering eCommerce for B2B and B2C organisations.
A key point to note is the impending End of Life for Magento 1. CTI Digital and Nublue's combined expertise ensures we are the UK's leading experts on eCommerce migrations. So whether you're looking to migrate to Magento 2, or you aren't sure whether Magento is the right choice for you. We can help.
For organisations looking to work with both CTI Digital and Nublue, we'll be integrating over the next year. We want to not only get the partnership right, but deliver the best possible outcome for our existing, on-boarding, and future clients. Therefore we'll be integrating our services slowly over the next year after an in-depth discovery.
If you're interested in working with either of our organisations please get in touch straight away to find out how we can help your organisation utilise digital to its fullest. Or you can check out our existing clients here.
With Magento 1 end-of-life sitting one year away, we're delighted to be bolstering our capabilities further. The acquisition of Nublue means that we're able to react quicker to client requests whilst also providing a greater range of products and services to our clients."

Ian Cassidy, Commerce Director at CTI Digital
Will there be any changes for partners?
In summary, no. Our software and hosting partners are indispensable to the quality of service we offer our clients. We will continue to work with and build our relationships with our network of partners.
If you are a partner and interested in finding out more about opportunities the acquisition may bring, please get in touch with your primary contact at CTI Digital or Nublue. However, we will be conducting a discovery to integrate our organisations first, so there are no immediate changes to be aware of.
Are you hiring?
Yes! We're growing quickly at CTI Digital. Our acquisition with Nublue is just one of the brilliant projects we've been working on internally. We've had a host of exciting client wins and we're always investing to remain at the forefront of technical innovation. Therefore we're looking for more unique and passionate individuals to join the team in 2019.
Our company culture is evolving as we grow and we are proud to see how our team has become closer. We will continue to invest in training and team building to ensure our developers, marketers, creatives, strategists, testers and more are the best in the country. Welcoming Nublue to the CTI family is a huge part of this. Both of our organisations are advocates of a flat organisational structure and we will be taking actions to build meaningful and personal relationships across the company, at every level.
If you'd like to join the team at CTI Digital please get in touch with us on our careers portal. Or if you're a bit further North and Nublue's eCommerce speciality is more your style you can apply for a position here.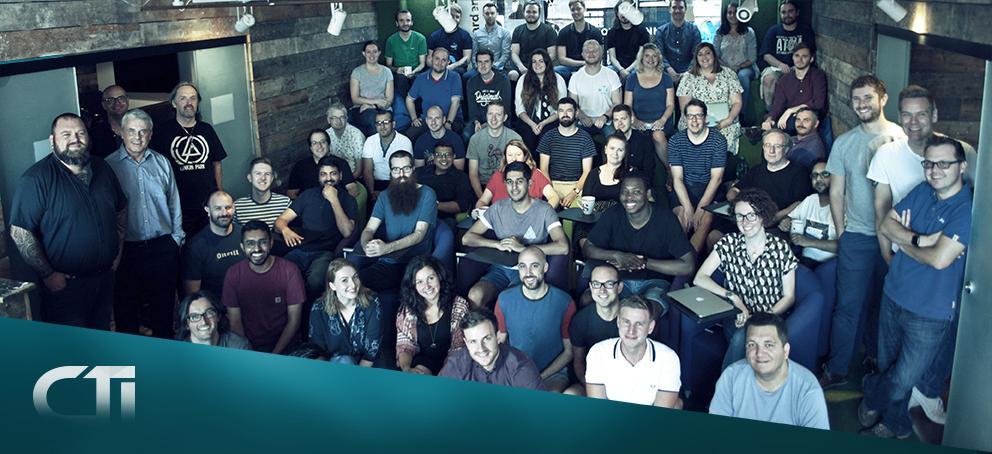 The Manchester CTI Digital Team
Final Thoughts
The team of experts Mike and Tom have built at Nublue are a credit to their knowledge and understanding of the eCommerce landscape. Collectively, we have a host of exciting projects ahead and this announcement is just the start. But for now, I'm extremely proud to welcome the Nublue team to the CTI family.
Let's do something brilliant, together.