E-Commerce Show North will take place at Event City, Manchester, from 6-7th November! As the largest gathering of e-commerce experts outside of London, we are excited to exhibit at the event, alongside partners like GMCC, Adyen, Brightpearl, Dotmailer, Klarna, Nosto and many more.
Proud of our Manchester roots, we welcome the opportunity to celebrate the thriving digital and e-commerce industry outside of London. We will hold a stand at E-Commerce Show North, amongst more than 120 selected companies, as well as delivering speeches as part of a lineup of industry leaders.
With a gathering of 3000 visitors seeking e-commerce insights, E-Commerce Show North provides the invaluable opportunity for retailers to soak up expert insights across all integrated e-commerce channels.
Discuss a range of E-Commerce Technologies
Arrange a meeting with our experts, or pop along to the CTI stand, to learn more about the opportunities available with the range of technologies we use: Magento, Drupal Commerce, Shopify and Umbraco. Whether you need technical support, a website migration or a full development, our experts will be on hand to discuss an array of options.
Catch our Industry Insight presentations
Our E-Commerce Director, Ian Cassidy, will be speaking at the Magento Theatre. With Magento 1 approaching End of Life in 2020, this is a pivotal moment for the platform, so be sure to catch the programme of expert speeches.
.@iancassidyweb - #eCommerce Director for @CTIDigitalUK - will be at this year's expo as one of our Experts.

> Platform Migrations
> Website Development & Intergration
> #Magento & #Shopify

See all Experts > https://t.co/FirdeRURHp pic.twitter.com/u4YzB8Xa9z

— eCommerce Show North (@eComShowNorth) 17 September 2018
Integrate with our Digital Marketing department
What's more, we understand how e-commerce sites rely on digital marketing. A website is only as successful as it is visible! As part of E-Commerce Show North, our Digital Marketing team will be available to discuss the capabilities of SEO, Paid Search Advertising, Content Marketing, Email and Affiliates. An integrated digital service provides the opportunity to marry together business-wide e-commerce aims.
Our in-house Creative team will also ensure that our development and marketing efforts are visually striking and, importantly, on-brand.
Join our Technology Partners
Several of our esteemed technology partners will also be at the event, providing the opportunity to integrate an e-commerce solution beyond our full service offering. Representatives from Nosto and Dotmailer will be at the event, to discuss their powerful personalisation and engagement tools, to maximise your customer's experience.
Alongside our payment partners, Klarna and Adyen, we have developed innovative websites for High Street TV and The Bear Grylls Adventure. Speak to us about these live, working examples of our successful partnerships.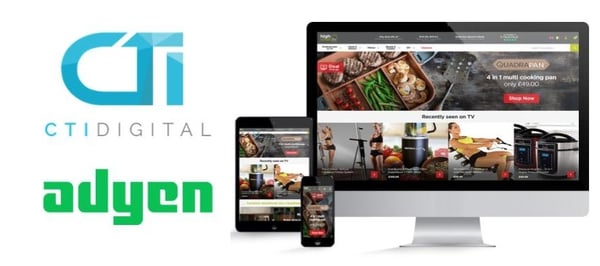 CTI & Adyen Partnership for High Street TV
See you there!
E-Commerce Show North represents an unrivaled opportunity to network with the e-commerce leaders in the North. Join us at the event to maximise your e-commerce business amongst the increasingly competitive and ever-evolving marketplace.
Get in touch to book an informal meeting, or catch one of our on-stand Quick Talks, before chatting with an expert.