Today Magento have officially announced the end of life date for Magento 1. After over a decade's worth of development, the Magento 1 platform will reach 'End of Life' in June 2020.
We are committed to our #Magento 1 merchants through June 2020, ensuring their sites are secure and compliant. Learn how https://t.co/FLauq1sQ09 pic.twitter.com/bdJNpLFHvO

— Magento (@magento) 6 September 2018
The following article explains the changes that will be made to support existing Magento 1 merchants.
---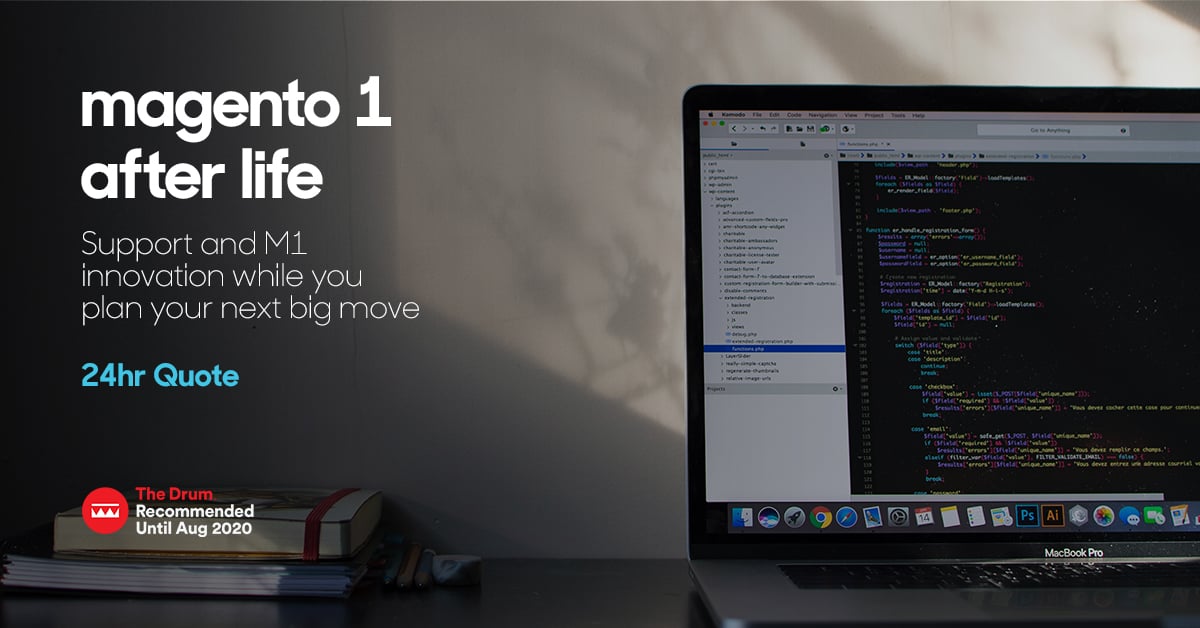 Click here to request support or a migration for your Magento 1 website.
---
Magento 1 End of Life
The announcement comes as Magento wants to ensure that its consumers have enough time to make a considered, secure decision about the next steps for upgrading their digital platform.

In our experience, platform upgrades can be a time for innovation and positive digital transformation in organisations, which provide a period of reflection as to what features are working well and what features need to be improved upon moving forward.
The news from Magento is split into three areas:

---
Read about our support expertise for Magento 1 and 2, and find out how we can help your business.
---
What to expect in the year ahead
Magento Commerce/ Enterprise Edition:
It'll come as a relief to know Magento will continue to support all versions of Magento Commerce, from 1.9 to 1.14, until June 2020.
This range covers six Magento Commerce versions, originally released between 2010-2014.
The latest of these Magento Commerce versions (1.13 and 1.14) will be fully supported, with security patches and quality fixes, until June 2020.
Slightly older versions (1.9, 1.10, 1.11 and 1.12) will benefit from software security patches until June 2020; with the sole intention for these versions to remain secure and compliant during phase-out, there will be no quality fixes supplied.
| | | | | |
| --- | --- | --- | --- | --- |
| Version | Support Level | Security Updates | Quality Fixes | End of Life Date |
| 1.9 | Minor | Y | N | June 2020 |
| 1.10 | Minor | Y | N | June 2020 |
| 1.11 | Minor | Y | N | June 2020 |
| 1.12 | Minor | Y | N | June 2020 |
| 1.13 | Full | Y | Y | June 2020 |
| 1.14 | Full | Y | Y | June 2020 |
Magento Commerce Support Breakdown
Magento Open Source/ Community Edition:
For those e-commerce retailers operating using Magento Open Source 1 (formerly known as Community Edition), versions 1.5-1.9, Magento will continue to provide security patches until June 2020. These security patches are a critical requirement, and will not be accompanied by any further quality fixes.
The intention here is to maintain compliance, rather than to invest in the development or improvement of soon-to-be obsolete platforms.
| | | | | |
| --- | --- | --- | --- | --- |
| Version | Support Level | Security Updates | Quality Fixes | End of Life Date |
| 1.5 | Minor | Y | N | June 2020 |
| 1.6 | Minor | Y | N | June 2020 |
| 1.7 | Minor | Y | N | June 2020 |
| 1.8 | Minor | Y | N | June 2020 |
| 1.9 | Minor | Y | N | June 2020 |
Magento Open Source Support Breakdown
PHP 5.6 End of Life:
The Magento 1 platform is written on PHP, which is a server side scripting language.
As of 6th September 2018 Magento 1 supports PHP versions up to PHP 5.6. However, this version of PHP will be deprecated at the close of this year (December 31st 2018).
As support for PHP 5.6 will become come to pass before the end of life date for the Magento 1 platform, Magento will be issuing a security patch which will allow merchants to move to the latest version of PHP 7.2 which is supported up to 30th November 2020.
This patch will be made available before December 2018 and will be accessed via the Magento website.
Third-Party Code & Modules
A large proportion of merchants operating on the Magento 1 platform will be leveraging the use of third-party extensions or code, which has been developed bespoke to the merchant's individual needs.
The support period defined for the Magento 1 platform and PHP 7.2 patches will cover the core Magento platform only.
Merchants will be responsible for ensuring any additional developments to the platform, whether added via a third-party extension or written bespoke, are also updated to reflect the platform updates.
Should you require any support, we provide a hassle-free health check process which will give you a detailed summary of the next steps your business needs to take to remain secure.
How this affects your business
Determining your Magento Version
For merchants looking to check which current version of the Magento platform their site operates on, you can check by logging into your Magento admin panel and looking in the footer.

The Magento Admin Panel Footer details which version you use.

Planning a Migration
If your e-commerce site operates on Magento 1, this news should mark an opportunity to consider options for the future of your online business. Whilst support will be available for the next two years, we advise you to invest effort in the migration to a newer platform, sooner rather than later.
The countdown to 2020 can be seen as an exciting chance to explore the comprehensive set of new features, performance improvements and security enhancements provided by the Magento 2 platform.
Newly built e-commerce sites are being developed using Magento 2, marking an important benchmark for competitive edge. Whilst long-standing Magento clients will continue to benefit from support and, some Commerce platforms will continue to see quality fixes, Magento's latest announcement defines a new era for the e-commerce platform.
Our award-winning work providing a large-scale Magento 2 migration for High Street TV exemplifies the possibilities that this shift brings.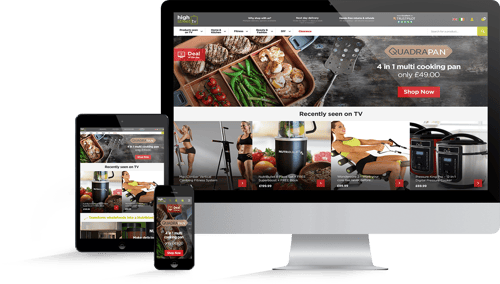 An award-winning Magento migration for High Street TV
We have experience with of a wide-range of up-to-date technologies, helping us to solidify the future of your business come 2020. Experts in Magento, Shopify and Drupal Commerce, you can rest assured that we can match you with the platform which is right for your business. We're also working with the Magento experts at supercharged commerce to provide the full Magento lifecycle.
Get in touch for a consultation of your e-commerce options, to help your website thrive beyond Magento 1.