Today the release of Drupal 8.6.0 was announced by the Drupal Association! This release is set to be one of the biggest updates in the history of Drupal, signalling a shift towards a more comprehensive, marketing-centred stack. See the full statement at the end of this post.

With 12% year-on-year growth in adoption, across multiple industries, Drupal 8 is fast becoming a key component at the centre of the digital roadmap for some of the world's largest organisations. At CTI, just some of our notable clients who utilise the powerful Drupal 8 platform include: Chatham House, BASF, Wildlife Trusts and British Council.
The update will see significant user interface updates to create a better experience for both developers and content users. Some of the most popular modular design features of Drupal will be bolstered with new content editing features, including improved video embed, media libraries, and enhanced workflow moderation.
Drupal 8.6 is a significant upgrade because of its emphasis on ease of use. This version levels up the customer experience, making it easier and less expensive to migrate from older versions, easier to install, as well as easier for marketing teams to deliver impact, faster. With a highly engaged community focused on delivering features that make customers shine, I'm excited about this release and what is on the horizon for Drupal.

Megan Sanicki, Executive Director of the Drupal Association
Which Drupal 8.6.0 features are we most excited for?
Multilingual migrations
Drupal's multilingual capabilities are imperative to the global adoption of the platform. Without strong language features, international organisations are actively discouraged from adopting Drupal 8.
Our clients, BASF, will be at Drupal Europe discussing some of the language capabilities they have helped to drive for the Drupal Platform, stressing the vital importance of this in the onboarding of global organisations.
Umami Demo Environment
Along similar lines, the release of the Umami environment will have sales departments everywhere celebrating. The unique demo profile and theme showcases the capabilities of Drupal in the form of an online cooking magazine. Umami will quickly exhibit multiple functions live for potential clients, including: data modelling, listing and page composition, and page moderation, to name a few.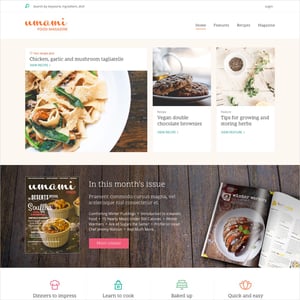 Umami Demo
The Experimental Workspace Module
Drupal is all about making content work for you. The new experimental workspaces module throws out the laborious one-by-one review process. It gives managers the ability to review, edit and approve packages of content all at once, providing flexibility and efficient control functions to marketers. This update will transform the way marketers edit and deploy content, giving them back more time in their day for other important projects.
And that's just the start...
The Drupal Association has released an official statement and review of the features to be included in Drupal 8.6.0. Please read on to find out about more features, including the updated UI and Layout Builder.
---

Interested in upgrading to Drupal 8.6.0? Get in touch for a free consultation on your digital roadmap.