Drupal Camp London is a 3-day event celebrating the users, designers, developers and advocates of Drupal and its community! Attracting 500 people from across Europe, after Drupalcon, it's one of the biggest events in the Drupal Calendar.
CxO day, on Friday 1st March, is dedicated to businesses using Drupal, encouraging them to lead development and innovation of the Drupal platform.
The weekend (2nd & 3rd March) then packs in over 40 sessions covering seminars, Birds of a feather talks, Sprints and much more. Over the weekend there are also 3 Keynotes addressing the biggest upcoming changes to the technical platform, its place in the market, and the wider Drupal community.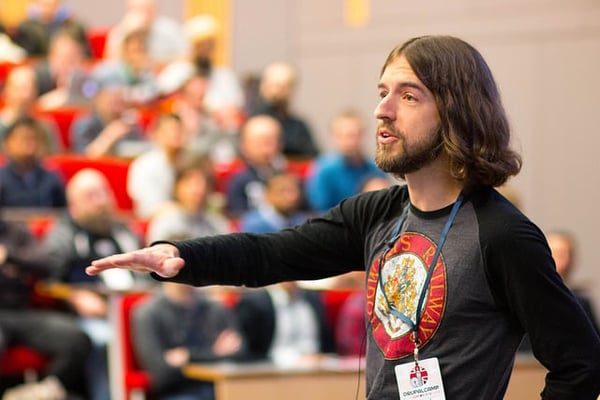 Ryan Szrama delivering a session at Drupal Camp 2018, Photo Cred: @pdjohnson
Our Weekend Sessions
Our Drupal Director, Paul Johnson, will be focussing on contributions to Drupal, but not as you know them. The session will be diving into a whole host of ways to contribute to Drupal that don't require code. From content writing to photography, this session includes something for everyone and is guaranteed to spark some inspiration for new Drupal community initiatives.
Our UX specialist, James Genchi, will also be speaking at Drupal Camp London about UX and accessibility. With a background in development and a passion for user experience, James' understanding of accessibility within design and development is vast. Following a substantial redesign for the University of West London, James will be sharing the unique design considerations he applied to achieve global accessibility within the website. In particular, he will be highlighting how accessible design is not just for people with a permanent disability, but also for those with a temporary and situational disability.
Be sure to follow us on twitter @CTIDigitalUK so you don't miss either of these sessions!
Why should you attend Drupal Camp?
Exchange knowledge
Discover the latest in UX, design, development, business and more. There's no limit to the types of topics that could come up...as long as they relate to Drupal that is!
Network
From C-Level and Site managers to developers and designers, over 500 people attended last year. Meet the best and brightest in the industry at talks and breakouts.
Recruit and be recruited
A wide variety of business and developers attend Drupal Camp, make the most of it by creating connections to further your own career or grow your agency team.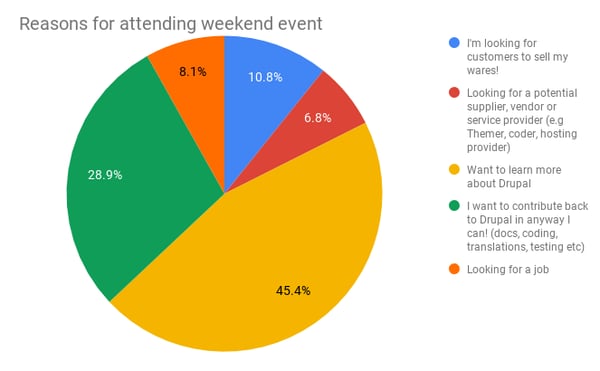 Img Cred: Drupal Camp
We hope to see you there! Grab your ticket while you still can on the Drupal Camp website.
And be sure to follow us on your social platform of choice to find out when our sessions are!