This article is a preface to the white paper, Education 4.0. Access the white paper here.
Industry 4.0 is the result of the latest industrial revolution; first there was mechanisation, followed by mass production, computerisation, and now automation. It is the convergence of digital, biological and physical worlds into Cyber-Physical Systems resulting in the rise of automation.
Industry 4.0 brings new technology, futuristic everyday habits, and a dramatic realignment of the global workforce. Automation has taken over workplaces, replacing mid-level job roles and dramatically reshaping the demand for certain skills.
Changes to employability on this scale demand a response from educational institutions. Higher education plays a vital role in this new landscape, tasked with preparing the next generation to enter the industrial world. But how should universities fulfil the needs of students and employers when change is the new norm?
An Era of Competition and Uncertainty
The current state of political and economic uncertainty in the UK has filtered into all industries. This is particularly true of the higher education (HE) sector, which is uniquely positioned to be affected profoundly by a range of internal and external factors.
With tuition fees in flux and an impending decline in European funding, universities are increasingly desperate to recruit students. Indeed, in 2019, 38% of 18-year-old applicants in the UK received at least one unconditional offer. We must ask: are HE institutions seeking quantity over quality, as they aim to attract an increasingly skeptical cohort of prospective students? How can they adjust their approach when addressing a generation of digital natives?
The Role of Higher Education in Industry 4.0
Education is at the centre of the skills supply. Yet, too often, HE stakeholders are reluctant to accept that now is the time to embrace innovation and craft a digital solution that will change the face of education. Universities can thrive in this new industrial landscape, but only if they have the vision to reimagine their approach to digital.
As each industrial revolution comes sooner after the last, we cannot afford to sink any further into a legacy of digital debt. Should outdated processes continue to hinder progress, universities face obsolescence in the face of an impending fifth industrial revolution.
How Can Universities Respond to Industry 4.0?
We have spoken to real university staff, technical estate owners, students, alumni and chancellors, to understand the breadth and depth of the challenges facing higher education institutions. Distilling 200+ hrs of research, we have shaped a clear view of the current educational environment. The result: our advice on how higher education can thrive in the face of uncertainty.
It's time for universities to embrace change and to participate in the revolution. Here's how:
Plan on people, technology and processes all evolving together.
Remember that isolation is the enemy of progress.
Make sure your processes and systems are connected and consistent.
When it comes to redefining digital estates, ask yourself:
Whose problem are you aiming to solve?
What should your platform accomplish, rather than what it might look like?
Don't be afraid to define your needs in abstract before tying yourself to a rigid solution. Only by responding to shifting requirements can your digital estate weather the storm of industrial changes at increasing frequency.
For more detailed advice and insights into the digital solution for universities, download the full white paper:
Praise for Educations 4.0: The Impact of the 4th Industrial Revolution on Higher Education's Role in Society:
Education has been somewhat insulated from the dramatic, technology-driven changes that have transformed many sectors in the last decade. With customer expectations and competition growing ever fiercer, that seems certain to change in this next decade. For organisations that feel daunted or overwhelmed – this is an excellent overview of the issues."

Iain Harper, Saïd Business School, University of Oxford
Written and curated by:
Paul Johnson, Higher Education Specialist and Director at CTI Digital
Sacha Crowther, Content Executive at CTI Digital
Rach Garry, Designer at CTI Digital
For more information please contact Kirstie Buchanan, Sales and Marketing Director at CTI Digital, on 0161 826 4875.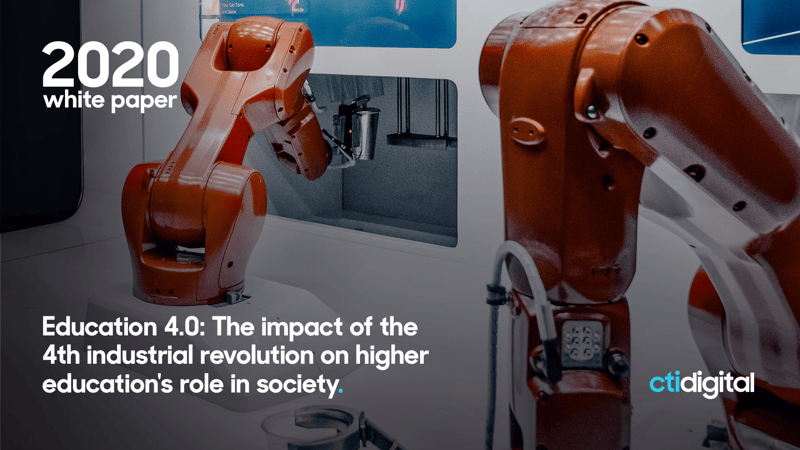 Education 4.0 white paper download