As the Black Friday and Christmas shopping season quickly approaches, ensure your commerce store is ready for the peak season rush.
Our commerce experts have put together a comprehensive list of front-end add-ons and extensions that you can use to enhance your online store and remove frustrations at keytouch points.
Checkout enhancements: make it easier for your customers to make a purchase
Apple Pay: one-click purchasing made easy
One of the world's most popular devices, give your customers a way to pay that they know and trust. The current digital climate has led to users having an ever-increasing online presence which in turn has led to an expectation of an optimised user experience across all devices. This can easily be achieved by using one device for multiple actions.
Benefits
One-click purchasing gives users the ability to buy products straight from their mobile device
Remove customer buying frustrations by allowing customers to use services like Apple Pay for easy purchase

Postcode Lookup Feature
Customers don't want to spend hours filling out lengthy forms at checkout, especially if they are a repeat customer.
Integrating a Postcode Lookup Feature onto your store will:
Allow for a fully responsive and auto-completion form

Give you access to a comprehensive database to pull global addressed from
Discover our Drupal Address Module here or the ClickToAddress integrations below.


Buy Now, Pay Later With Klarna
As the biggest payment gateway provider in Europe, Klarna offers direct payments, pay after delivery options and instalment plans in a smooth one-click purchase experience that lets consumers pay when and how they prefer to.
Benefits
The Buy Now and Pay Later options makes it easier for your customers to buy online, spreading the monthly costs of their larger basket size and drive your conversions.
Increase conversions: simple yet invaluable add-ons
Pop-ups for exclusive deals
Pop-ups are a quick way to ensure your customers defiantly see a piece of information. Collecting data this way is a quick and easy solution to building your marketing database so you can nurture your leads and repeat customers into converting time and time again
Uses
Build email lists with a newsletter registration

Provide discount codes after certain actions to increase sales

Drive awareness of certain products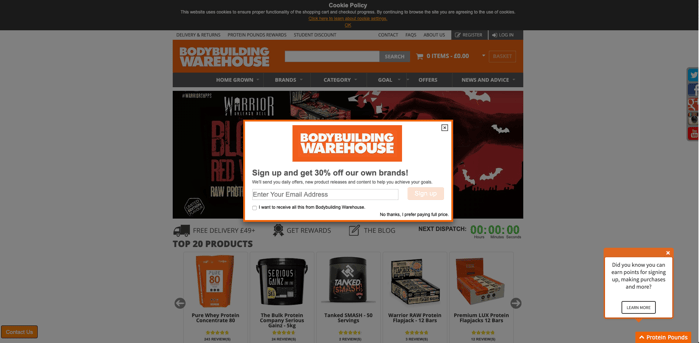 BodyBuilding Warehouse using pop-ups for exclusive deals
Personalisation; a unique User Experience
Make your customers shopping experience more enjoyable by providing them with personalised recommendations and abandon basket messages. Nosto uses advanced AI technology to analyse a users omni-channel retail journey to empower retailers to deliver 1:1 personalised shopping experiences across every customer touchpoint.

Benefits
Product recommendations
Omni-channel experiences
Cross-category recommendations
Customers feel understood by your brand
Product Reviews; build brand loyalty
Product Reviews give your brand reliability and trustworthiness in the increasing competitive commerce market.
Benefits
Build trust and engagement with your brand that your customers can truly believe in

Not only will your brand appear more trustworthy to your customers you will be able to make informed adaptations to customers' experiences which will improve SEO, increase traffic and boost sales.
Check out CTI and Nublue's commerce partners below for Product Review options.
Chatbots for instant support
Your customers are now not only shopping on the move, but they are also shopping 24/7. Having the ability to respond to customer queries whatever the time or day is becoming an expectation of the modern online shopper.
Benefits
Online chatbots allow you to be present for customer's problems whenever they arise, providing seamless support

Not only used for support, chatbots can also be used to qualify leads while your sales reps are offline, routing them to and booking demos on their behalf.
Site-Wide Optimisation: data is your new best friend
HotJar
Hotjar is a behaviour analytics and user feedback service that helps you understand the behaviour of your users on your website. It has the ability to record customer interactions on your site and show surveys to your users to help find out what they need from your site.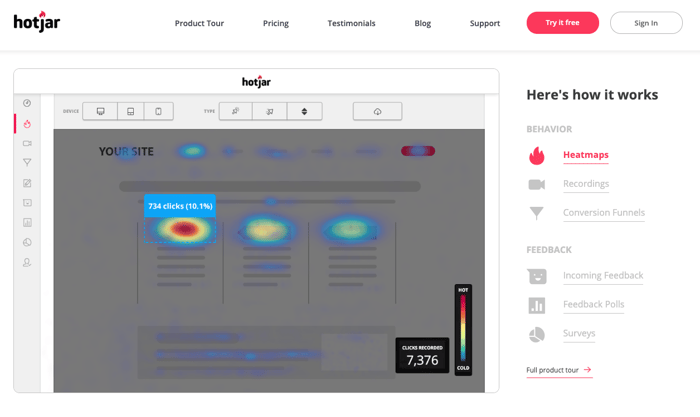 Hotjar heatmaps of user behaviour
Google Optimize
Easily run free tests on your website to test new features or ideas that may benefit your customers and your business.
Create A/B tests for various features on your website, from the CTA buttons to the colours of the hero elements

Customise your website experience to suit each type of target audience and increase conversions.
Bonus Feature: Google Tag Manager
Not explicitly an add-on, Google Tag Manager allows you easily many and implement some of the add-ons discussed above. Take the hassle out of implementing these features and other code fragments, also known as tags, to your website. Google Tag Manager can also be used inline with other Google tracking and optimisation services like Google Ads and Google Analytics.
Interested in integrating some of the features on this list? We work closely with our clients to ensure they are always aware of the latest tech. Get in touch with our commerce experts to discuss how we can improve your conversion rates.