The UK is facing a digital skills gap. This makes it more important than ever to ensure that your digital marketing team continually improves their skills, to keep up your business's productivity. Learning should be a continuous process for your staff. However, with our modern busy lives, it's often hard to find the time to learn these new skills.
But don't worry! Here at CTI Digital, we've created a list of ways you can upskill your digital marketing team efficiently, so your staff and business are always ahead of the curve.
So, let's dive into it:
1. Invest in Online Training Courses
Pros: Learn new skills anytime, anywhere. Industry is growing rapidly, giving you more choice.
Cons: It can be difficult to set aside the time to complete the training with your full attention. Finding up-to date training can be challenging.
The online learning industry is booming, expecting to grow to £272 Billion by 2025. It's easy to see why! Online courses offer a flexible visual approach to learning that can encourage your staff to add to their personal development, with a wide array of topics right at their fingertips. And most of all, many of these courses are incredibly affordable, sometimes even free!
Take the Google Skillshop, for example. Google has a variety of courses for training on their platforms, such as Google Analytics and Google Ads. Plus, you can gain industry-recognised accreditations through their exams!
Another excellent source for online courses is through eLearning resources such as Lynda (LinkedIn Learning). Lynda offers a wide variety of digital training courses, from the basic stuff to advanced technical aspects of digital marketing. There's plenty of material for your team to learn from online.
So, if you're looking for an accessible way of upskilling your team, online courses are a great option!
Here's a list of other great online training resources:
2. Read and Watch Industry Expert Blogs/Vlogs
Pros: Access reactive, up-to-date information
Cons: Blogs include opinion-based information that often isn't peer reviewed
There are a huge variety of industry blogs to read that can help your team stay up to date with any essential changes in their respective fields. These blogs can span from quick 5-minute rundowns, to long-form articles and even videos. And best of all, you can learn directly from some of the industry's leading experts, all for free!
When it comes to digital marketing blogs, there is a huge variety out there. Take Backlinko: for those working in the field of SEO (Search Engine Optimisation), Brian Dean's articles are fantastic for gaining quick, relevant, and easily digestible information. These articles feature personal examples and industry data that paint a clear picture of the topic, helping you upskill in specific areas with ease.
Similarly, Moz & SEMRush have dedicated publications with a variety of topics to learn. Whether it's 'how to's or comprehensive walkthroughs, there's plenty of material for your team to learn from!
For those in your team who prefer visual learning, YouTube is full of innovative vloggers. Neil Patel, for example, often uploads concise videos on a variety of digital marketing topics! Whether you need help curating content marketing plans, or advice on how to optimise your PPC campaigns, there's plenty of material to learn from.
Granted, watching videos and reading articles may take up some of your team's time. However, experts' online content libraries are excellent sources of information that are sure to help your team gain essential skills!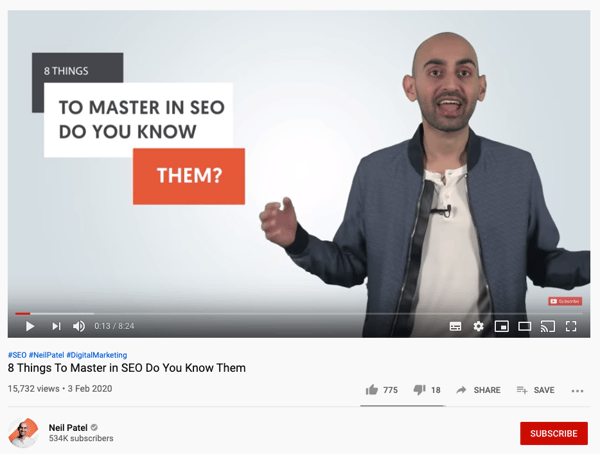 Neil Patel's short form video series on YouTube
3. Attend Conferences & Events
Pros: Learn about a wide variety of sub-topics at an industry specific event.
Cons: Information available can be quite entry-level or sales-focused.
If an industry expert or group organises a seminar on a topic you want your team to learn about, get them booked in! Industry events are a fantastic opportunity for your employees to meet industry players and learn a wide range of information from different talks. Plus, events are a prime opportunity to network and learn from peers!
If networking events sound good for your team, Eventbrite is the best place to see what events are coming up!
4. Offer Internal Cross-Training via 'Lunch & Learns'
Pros: Internal training offers an accessible and quick way to upskill junior staff.
Cons: 'Lunch & Learns' are limited by your in-house knowledge.
Another effective way to upskill your digital team is to dedicate some time to learning within the office, through 'Lunch & Learns'.
'Lunch & Learns' are informal, but they can provide a powerful, efficient way to upskill your team. A lunchtime training session on a specific topic, over a complimentary meal (of course!) can offer a relaxed environment for your team to collaborate internally and learn from one another.
Those who are more knowledgeable in a particular area can offer their skills to other members of the team, nurturing a collaborative learning environment. Also, many colleagues prefer to learn from one another rather than troubling management for the answers. So, if you have some experts in your group, use them!
5. Attend Professional Digital Marketing Training Days
Pros: Gain up-to-date, relevant information with hands-on learning.
Cons: Dedicated training days can be an intense, information-heavy way to learn.
For those seeking a more comprehensive approach to learning, professional training days are a perfect way to mix hands-on activities with up-to-date information.
If you're near Manchester, our digital marketing team host training courses. We offer training at beginner and intermediate levels, to enable as much hands-on learning as possible. Check out our events page for training days on SEO, PPC, and Google Analytics!
Direct training from professionals is a very effective way of acquiring a comprehensive understanding of a certain skill. Through interactive training sessions, your team can ask questions as they learn, view case studies that your relate to your business and, most importantly, get hands-on experience.
Our experts are also available to conduct in-house training at your office for teams of 5 or more, so you don't even have to travel!
If you think a training session sounds perfect for your team and you would like to learn more, visit our training day page!
Learn more about our training days
At the end of the day, any training is better than no training...
You can't upskill your team overnight. But personal development plans that utilise a variety of learning resources are a great way to ensure that your team is productive and also happy to work for you!
As you can see, there are a variety of ways to improve your skills. But, if you want to get the best out of your efforts and investment, you need to learn the way that works best for your team. You can, of course, combine more than one way of training your staff.
By using the right experts, tools, and methods, you can improve your team's productivity, transform your digital marketing strategy, and maximise the return on your investments!