May 4th saw a new core update for the Google Search Algorithm. This is Google's second confirmed update of 2020 so far, with the first one launching back in January. industry research into the May 2020 Core Update has highlighted that its purpose is to deliver search results that better-match users' queries.
However, that broad statement has opened lots of questions for both experienced and new marketers which I've answered here. I'll cover the specific impacts further down this article.
What is the Google search algorithm?
Google's search algorithm is a piece of programming code which assesses various weighted factors (up to 500 separate factors in the case of Google) to decide when and where to present your website in the search results.
Why is it important?
Google's search index holds over 130 trillion pages, so finding what you need would be nearly impossible without some help sorting through it. Google designs its ranking systems to do just that: sort through hundreds of billions of webpages to find the most relevant, useful results in a fraction of a second, and present them in a way that helps you find what you're looking for.
These ranking systems make up not one, but a whole series of algorithms. Search algorithms look at as many as 500 individual factors, including the words of your query, relevance, location and usability of pages, the expertise of sources, plus your location and settings, to give you the most useful information.
The weighting applied to each of these individual factors will vary depending on the nature of your query. For example, the freshness of the content plays a more significant role in answering questions about current news topics such as "COVID -19 and furloughing" than it does about dictionary definitions.
What is a core Google algorithm update?
Google makes hundreds of search algorithm changes per year. Some may be put in place to resolve technical issues, to improve search query results for specific industries or to improve functionality in other areas. A core update is a tweak or change to the main search algorithm itself, and this impacts on all searches from all countries and all languages.
In these challenging times of 2020 where online has become even more important what does this core update mean?
What's the Impact?
Sites will inevitably notice drops or gains in search rankings whenever a core algorithm update is rolled out. Changes in search rankings are generally a reflection of the relevancy and authority of the published content.
If content has gained or lost relevance and authority (i.e. more links and more mentions) since the last update, that content will be moved higher up or lower down in the rankings.
Then there's newly published content that didn't exist at the time of the last update. Google will reassess that content against previously existing content.
The graph below highlights how volatile the Google Search Engine Ranking Positions (SERPs) have been over the last 30 days.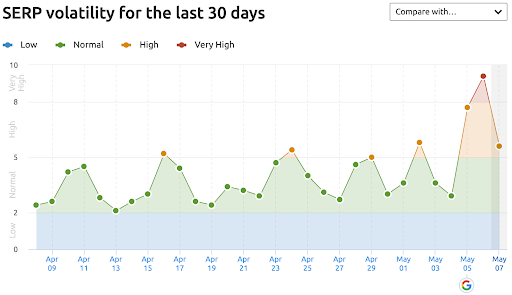 COVID-19 and the Update
So what was the impact of the algorithm update and has COVID-19 also impacted organic search rankings?
COVID-19 has had an enormous impact on UK businesses. A quarter of all companies are in shutdown, and this has had a dramatic effect online as well. Certain sectors have seen dramatic sales growth, such as home and garden, while others are seeing substantial traffic drops such as arts and entertainment.
The Google algorithm update is designed to improve search results based on new content and to some extent the current popularity of web sites, based mainly on search traffic. COVID-19 has meant that many sites in the arts and entertainment industry have seen dramatic drops in search traffic which has, in turn, led to Google's algorithm dropping them in the search rankings.
Winners and Losers
Inevitably as with any Google algorithm update, there will be some winners and losers in terms of search rankings. I used the SEMrush Sensor Tool to see which industry categories have benefited from May's Core Update and which have lost out.
The top 3 Winners
News

Business & Industries

Games
The top 3 Losers
Arts & Entertainment

Online Communities

Business & Industries
It's clear that some industries have seen a marked increase in visibility in the search engine ranking much more than others.
The graph below highlights those industries that have benefited from the May update.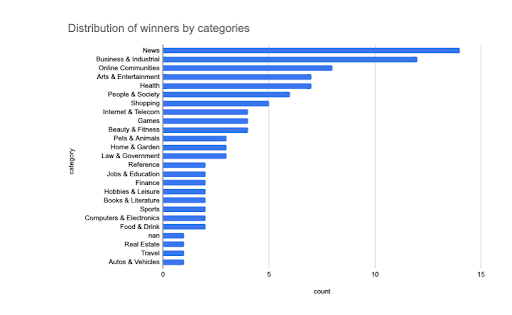 And here you can see are the main losers.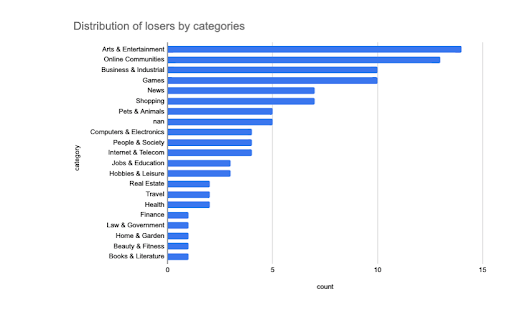 So how did they win?
Well, there are several reasons why some sites have been more successful than others following this update. These include:
Add new content and refreshing existing content. According to an

article

by Neil Patel, 187 out of 641 tracked sites who refreshed their content regularly enjoyed traffic increases of 10% or more. Comparatively, just 38 saw theirs decrease by the same percentage.

Make sure your site is correctly search optimised. Sites that have regular technical SEO audits and keep on top of those key SEO recommendations have not been impacted as severely. Key activities include rewriting search optimised titles and meta descriptions, addressing duplicate content issues and ensuring that there are no issues with Google being able to crawl and index (copy) web pages.
COVID-19 has led to a dramatic drop in traffic for many businesses and coupled with Google's May algorithm update (which may now assess sites based on current traffic levels) we've seen a drop in rankings for these sites. For example, Eventbrite, a ticket and event booking site, appears to have seen a large drop in rankings since the May update (see image below)

In Conclusion
May's Google algorithm update shows It's important not to have all your eggs in one basket. Just relying on performing well in the search rankings is not the ideal strategy. COVID-19 and Google's core algorithm update has highlighted this - with many sites in specific industries now struggling.
Organic search should always be part of a bigger strategy of identifying where your visitors "live" online and engaging with them, building trust and authority so that they will always be around regardless of what happens.
If you've seen a drop in traffic to your website, a drop in your search rankings or want to protect yourself from future updates, as Google Certified Partners, we can help. View our SEO Services, or get in touch on our contact page.
Helpful links:
Search Engine Journal May Update Release
SEMRush Google May 2020 Core Update