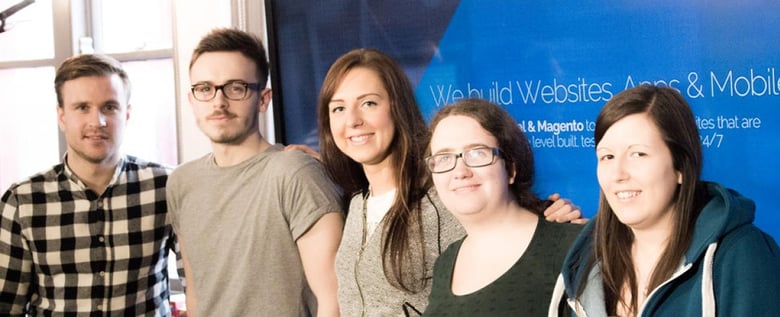 Over the past few weeks we've had loads of new members of staff permanently join our team in areas throughout the whole company. These fresh faces are here to bolster our team and support our continued growth, whilst providing you with new, exciting prospects for your online presence.
Our new Head of Magento, Ian Cassidy, has brought a fresh outlook to our rapidly expanding Magento team. His three years of experience, helping to support the biggest digital transformation in Phones4U history, offers our team a new and exciting approach. We intend to continue to improve on our 5 years of Magento experience in creating high quality, reliable and visually pleasing eCommerce sites.
The addition of Sigita Rimkeviciute, as PPC (Pay Per Click) Account Manager, allows us to offer high quality PPC advertising which is already generating great results for many clients, as well as our own account.
The expansion of our Quality Assurance (QA) testing team offers great support to our website development. They will make sure your website is fully tested from start to finish, helping to ensure we meet our website creation and design deadlines. We can now offer you 24/7 support allowing you to get exactly what you want: an incredible end product.
In addition to our expansion in the Marketing and Magento teams, we've also brought in fresh faces to our Drupal development team. As one of the largest Drupal agencies in Europe, it is very important for us to continually focus on growing our team to ensure we can continually be at the forefront of Drupal development.
In 2015, we're looking forward to taking on new and exciting projects. We hope to emulate the success of last year, when we were proud to get nominated for several prestigious industry awards. We were ranked 3rd in Drum Digital Census 2014 and are RAR Recommended until April 2015. This is down to our complete focus, highly adaptable teams and the strong connection between developers, testers and marketers to create stunning, easy to use sites.
We're incredibly excited about the future and our growing team is just another example of how we plan to continue to be at the forefront of digital innovation!