The arrival of Black Friday and the winter sales is soon upon us, which means online stores' products need to be ready in time.
It's not only the listings on your own store that should be ready though, with successful ecommerce campaigns for channels like Google Shopping and Facebook needing preparation in these weeks approaching the holiday period.
It's hard to ignore the selling power of this fourth quarter of the year, with its combination of Halloween, Black Friday/Cyber Monday and Christmas. The months of October through to December – the 'holiday period' – are consistently growing year-and-year for online retail.
According to Statista, UK ecommerce revenues in November and December 2019 spiked 50% higher than that of September just two months before.
"Consumers are opting out of the physical hustle and bustle and moving more toward what's easier: shopping on a couch."
Linda Bustos, Workarea
So, today we'll be sharing a few tips for making sure your product listings are in peak condition to not only attract but reach even more shoppers and convert them into paying customers.
Before we dive in...
As the Statista graph above shows, UK ecommerce sales in 2020 have increased at an unprecedented rate to reach a high of 2.34 billion in June. It would therefore be remiss not to start this off by talking about the Covid-19 pandemic and acknowledging the effect it has had, and will undoubtedly continue having throughout the Q4 sales.
Of course, predictions have been flying backwards and forwards about the impact it will have on holiday sales, and whether the ecommerce industry as a whole will be positively impacted.
Until now, Black Friday has mainly been associated with non-essentials, predominantly apparel, accessories and electronics.
The impact of the Covid-19 pandemic presents an opportunity for new product categories to have a Black Friday eCommerce presence such as DIY, household appliances and fitness equipment.
With the experience of COVID-19 in their back pockets, these types of businesses may well have the ammunition to reach their highest ever Black Friday eCommerce sales. And for brands and distributors that are sitting on inventory, Black Friday could represent a huge stock clearance opportunity.
So, on to the tips to make your seasonal sales a success!
How to prepare your product listings for seasonal sales
1. Concentrate on improving product images
The human brain is hard-wired to look for the image first. Around 90% of information transmitted to the brain is visual and we process it 60 000 times faster than text.
When it comes to social ads for ecommerce, the average person spends 1.7 seconds before deciding if your ad image deserves their attention.
That's why high-quality visual content can have a major impact on your conversion funnel. Visual content is processed differently than text and is able to communicate more information, more effectively.
When shoppers are browsing thousands of items online during the Holiday Sales, it's the visuals surrounding your product images which is going to make you stand out - see examples above, and below (source: Adspresso).
Graphic design courses can give insights into how to craft ad images that convert, and you can also consider automating the process by utilising an image transformation tool. These allow you to create eye-catching designs, branding, logos and seasonal promotional text, which can be saved as templates and applied to ad images in bulk.
But don't go over the top
There's a limit of how much information your audience can receive in those precious seconds that they are viewing your ad.
For that reason, don't go over the top in the branding, promotional text and logos you are adding to product images.
It will not only retract from the product itself, but will overload the audience and not communicate your key messaging. Facebook recommends (but no longer enforces) a maximum of 20% text overlay to get your point across - see image below for text-heavy examples to avoid (source: Open Space Advertising).
Adding too much extra text, brand messaging and design to social ads can actually have a detrimental effect, reducing impressions and meaning it doesn't reach our intended audience.
Improve images with your customers in mind
It goes without saying that every change you make to your product listings should always have specific personas in mind.
When it comes to improving your images for marketing campaigns, this is also the time to apply the knowledge of your audience into your images. If you are looking to attract a new type of customer - identify and build that customer profile displaying specific product image styles:
If your persona is price sensitive, make sure to inform them about a campaign you are running.
If your persona is eco-conscious, inform them about your product specifications and provenience of your product (i.e. locally made). Other ideas could include shipping information, specific materials or technologies used.
Segment your product catalogue
Apply different strategies to different categories of your products. For example:
If you are selling products in a bundle, include this information on your images.
If you added a new category of products, add this information to your product image etc.
Test and test again
During the build up to this busy period, use analytics to constantly challenge the results you get. There is no "best practice" for your product images that can't be improved.
Industries, sales channels, markets and customers are reacting differently and you should embrace a data-driven approach to image transformation and constantly experiment to stay ahead.

2. Enrich your listings with missing product information
When it comes to the holiday period, the competition is so high that it isn't enough to just send out product feeds which simply meet the requirements of each channel.
The vast majority of sales and marketing channels, from Google Shopping to Facebook, will not only list their required fields for your product feed, but optional fields which you can also include. Check out the full product data feed list from Google to get an idea.
Don't think of this as an irritating extra task to be added to the growing checklist though…
The more information you can provide at this stage, the more likely you are to convince your audience to make that crucial purchase decision. If all your listings just contains a bare minimum, unoptimized version of the product, with: title, image and the stock description for that product, your visitors might be left asking a lot of questions:
What size is the product?
Is it for men or women?
Does it come in different colors & materials?
Are there other images?
Adding all this extra info into a product feed makes you stand out above competitors and is worth it in the long run.
3. Optimise your titles and descriptions
As well as providing all the required fields for each of your sales channels, you will also want to focus on the copy of your ads.
This text is crucial to determining the success of your eCommerce sales and, as we'll see below, should be bolstered with relevant attributes like the brand, color, size, and year variations when applicable.
It's vital to optimise your product titles and descriptions for two reasons:
You will gain greater impressions and relevant traffic from search-based comparison sites and channels.
Just like adding the missing fields to your feed, it helps to give a clearer picture of your products, leaving your audience better-informed and willing to commit to purchasing.
In cases where you may have a relatively short product title, consider expanding by adding a search term alongside the usual specifications for your product.
In this study, it was found that adding several more keywords to the search term dramatically increased the number of impressions (source: Crealytics).
Don't take it too far though!
Take care not to go over the top though. A few years back, it might have impressed some channel algorithms when you had loads of extra info in your titles and descriptions, but in 2020 many channels are getting wise to keyword stuffing and have laid down strict rules that can lead to product listings getting rejected if they try to trick the algorithm.
Remember, the most important factor is that people have to read, understand and take value from your product listings.
Take a look at this example from Amazon. If you were a shopper, unless you were already pretty committed to purchasing, it's unlikely that this listing would attract your interest and encourage you to add it to your basket!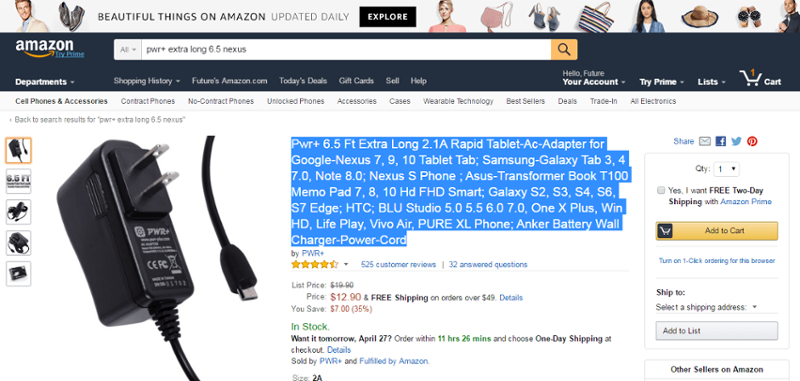 Source: sellerrepublic.com
Collecting relevant, high-performing keywords and adding to your product copy will help your customers find what they are searching for.
Remember that the best sales copy doesn't promote your product. Instead, it provides a detailed and engaging overview of what it does. Again, different channels will have different rules on the length and layout of your text. Approach your copy from this angle first, and then begin to optimize it.
The best plan is to plan ahead - and automate!
It's in all of our DNA to go after a bargain.Words we associate with Black Friday hint at some kind of exclusivity: 'sale', 'deal', 'x% off' are trigger points to take a closer look.
It pays to be ready on time. October can be a time of getting your products in order, so that your campaigns are 100% ready when it comes to the holiday sales.
What's more, your shoppers won't wait until the last minute - by December the 3rd , 2019, 50% of the season's revenue was spent and this year they may shop even earlier as they try to manage their budgets more carefully.
How do you actually implement better product advertising?
The process of having to manually delete, edit and add products to your catalog in time for each new ecommerce season is a time-consuming and error-prone process, one that can cost hours of time and frustrate your team.
Preparing product listings can be simplified with the help of a feed marketing tool. These automate the whole process for product managers and digital marketers, across any sales channel they are selling on.
These tools automate all these processes across all your products in bulk: creating new feeds, adding missing data, improving product images and optimising ad copy. They also make it easier to include certain products in specific channel catalogs only for the time of the sale, creating limited-time product groupings.
A feed marketing tool like WakeupData can liberate marketing teams so they can set their creativity free. It takes the manual tasks off their plates, allowing them more time to craft compelling campaigns which help stir emotion and build trust in your potential buyers.
If you need a strategic digital partner to set this up for you, chat to our advertising and development experts via our chatbot or on our contact page.