Yesterday, Shopify hosted their third annual 'Shopify Unite', a conference in which Shopify release their biggest and best software and product updates for the year. The conference was held in Toronto, Ontario and live-streamed around the world, for partners and developers everywhere.
This year Shopify focussed on three main areas:
Simple business management, for retailers of all sizes

Helping small and large retailers to expand their reach

Accelerating time to value
Here's a rundown of the new updates announced for the year ahead:
Simple business management, for retailers of all sizes
Automation for the everyday retailer
Shopify Flow is Shopify's answer to workflows and automation for the modern-day retailer. Flow uses what Shopify refer to as 'connectors', to easily integrate apps and technologies. This means that your external systems, such as warehouse management, can be synced with your storefront and POS, speeding up everyday management.
Benefits: You can now link apps that you previously couldn't, thus reducing friction in your business. Also, the simple interface allows you to experiment with automation, without the need for development resource. Finally, it helps you to get the most out of your apps, improving return on investment
Location Optimisation
To reduce friction around the management of multiple inventory stores, Shopify has introduced location-aware intelligence. This gives retailers the ability to optimise fulfilment decisions. Retailers will be able to check and manage multiple fulfilment and inventory centres, directly within the Shopify app. This allows retailers to gain a centralised overview of their inventory, which will ultimately promote faster, smarter decision making.
Benefits: Real-time monitoring of stock means that a lack of inventory will never risk missing out on a sale. Location optimisation can be integrated with back-end fulfilment services, creating a seamless experience for the retailer.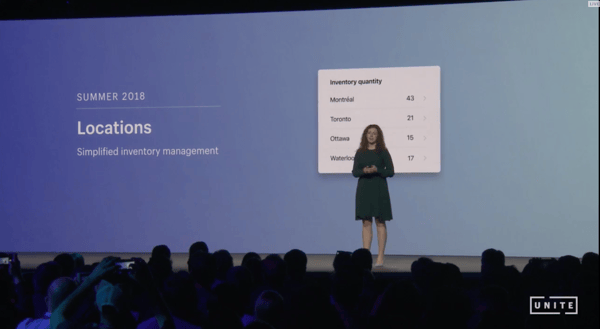 Simplified Inventory Management will be available in Summer 2018
Fraud Protection
Fraudulent chargebacks cost business owners time, money and, occasionally, their sanity. 'Fraud Protect' from Shopify uses technology to automatically flag and protect sellers from fraudulent payments.
Benefits: There's no need to manually review orders, which saves you time. Retailers can expand into new markets with confidence that they won't fall for fraudulent payments; this allows for total focus on growth, knowing that security is taken care of.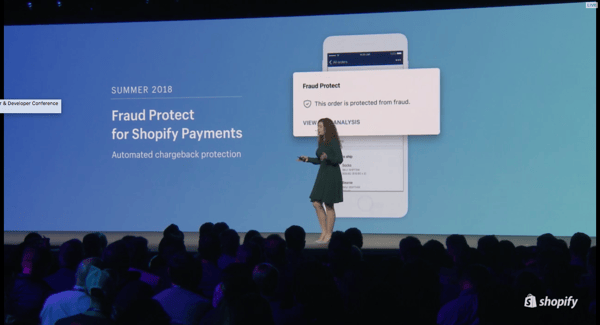 Fraud Protect Updates will be released in the Summer
Marketing Integration
This year Shopify has been focused on streamlining business activities, and they have revealed in-app marketing to promote this mentality further. Shopify has produced capabilities that allow retailers to create marketing campaigns (including email, social media, and paid ads) within Shopify itself, to help busy retailers to run campaigns on the go.
Benefits: You can save time and get great reports and actions, without logging in and out of multiple reporting and automation apps.
Helping small and large retailers to expand their reach
Global Currencies
The internet brings everyone closer together, but it can also create friction across cultural borders.
When shopping, users conduct quick mental arithmetic to weigh up price of a product against its reviews, photos, and description. But this mental assessment isn't easy for users viewing prices in an unfamiliar currency. Shopify's Payment System will now include automatic multi-currency adjustments, rounding the price to the nearest whole number to the user's currency settings or geographical location. This will update automatically, on both the shop front and payment pathway, creating a seamless experience for users.
On top of the personalised currency, Shopify will now also be able to update the payment methods automatically, based on the most popular payment methods within that geographical area. For example, Sofort within Germany, or Alipay and WeChat for China.
Benefits: No development is needed and this can all be set up, in-app, with just a few clicks. Shopify has reduced the barriers to market for retailers looking to globally expand.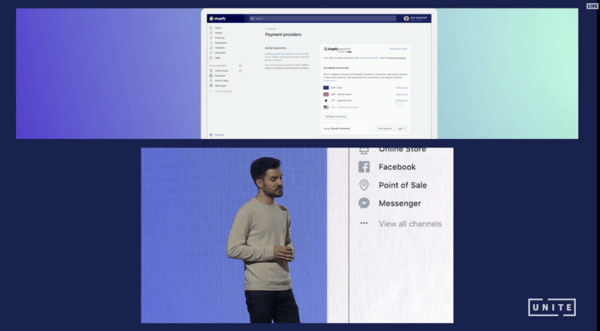 Newly integrated payment providers will help companies trade globally
Multi-Channel Retail
The lines between the physical and online world are blurring. Shopify is releasing their own beautifully designed POS system, to integrate processes for retailers between online and offline sales.
Shopify's chip and pin reader is a contactless, handheld device that provides a seamless and secure experience, synced with your online inventory. Keeping in mind the realities of the offline world, the POS despite being a minimal design will have a tipping functionality to reward your on the ground staff for great service. Finally, the POS will make returns and exchanges seamless, for online and in-person purchases, regardless of where the product was originally bought.
Benefits: Shopify have produced an easy, stylish, offline experience that integrates seamlessly with online apps and technology.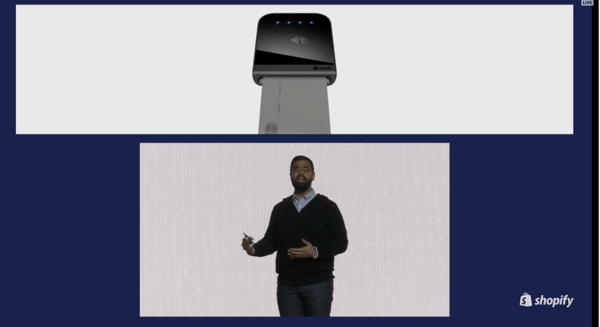 Shopify have created a new handheld card machine
Accelerating time to value
Drive conversions
Discounts are a great way to increase the average order value, but they can be tricky to get right. Shopify is removing the guesswork by introducing 'Shopify Scripts'. Shopify Scripts uses big data to recommend discounts to retailers based on what each user is likely to want to purchase, without the need for any discount codes.
The script can be set to recommend similar products, or multi-purchases, for a discount. Discounts can come in multiple forms, with options of a % discount, a set monetary discount, or a free added product or service.
Benefits: This update will reduce time spent experimenting with confusing discount codes and irrelevant offers. Instead, Shopify will deliver quick discounts that delight users rather than confusing them.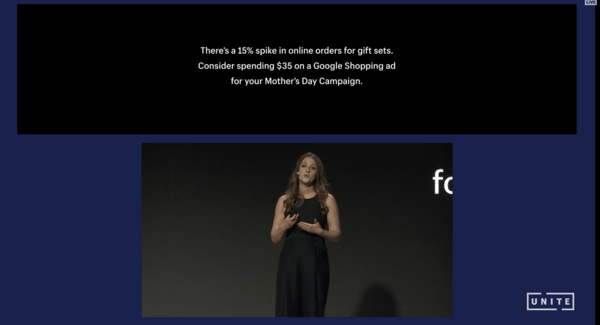 Discounts are an important commerce tool to master
Dynamic checkout
"Checkout in just 8 seconds" - that's the claim made by Shopify for their new dynamic checkout.
Cynthia Savard Saucier, Director of Design at Shopify, asked retailers what they wanted from their checkouts; she was expecting to be asked about colours and button sizes, but instead received a clear demand for speed. Shopify has rolled out a number of UX updates and improved checkout flow, to optimise the traditional checkout for online users.
Also, Shopify stores can now take advantage of the dynamic checkout, bypassing the traditional checkout by employing apps that users already have on their phones. Apple, Android, and a handful of other payment apps, have been integrated into Shopify to allow for one-click purchasing directly from the store-front.
Benefits: With no distractions for users, they are now able to see their payment options straight away, helping them to make a quick decision. Offering personalisation for the user, the system looks at which options the user prefers and suggests those first, so Apple users won't be confronted by Android bulking up their screen and vise versa.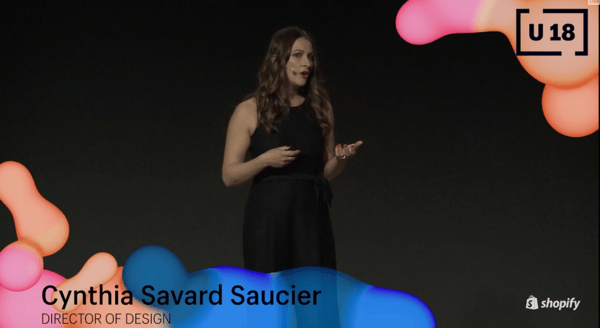 Some big names at Shopify gave presentations at Unite
Shopify Plus is growing bigger and better each year and our experts are always at the forefront of the latest updates. If you're interested in support, or looking to build an e-commerce store, speak to our experts and we'll help you to find the best technology solution for you.