Supercharged Commerce was a half-day seminar, teaching retailers how to attract, convert and retain more customers than ever before. We've put together the top 5 biggest takeaways from the day. You can also watch most of the talks on Youtube. Subscribe to our email updates to find out about future events.
1. The 4 Cs for Success with Personalisation:
Capture - Grow your email list and capture data. so you can provide intelligent personalisation. Using this data, you can welcome customers to your store, offering specific offers and incentives for them. Delight customers by displaying your pop-ups based on location, brand affinity, pages browsed or even their cart size. Not only does this provide incentives for customers to stay, but it also helps them to feel understood by the brand.
Curate - Curate recommendations on your home page, for every type of customer. For new visitors promote your best-selling products, to show them what you're all about. Greet returning customers with products they've already shown an interest in, to quickly steer them to the checkout page.
Communicate - Get personal with email and beyond. Personalised emails deliver 6x higher transaction rates, so they are important to consider. Emails can provide customers with your best sellers, personalised recommendations, or even their browsing history from your site.
Convert - Finally, convert your visitors into customers, by combining all of these techniques to turn clicks into conversions
Watch Nosto's full talk here
Filmed by CTI Digital at Supercharged Commerce.
2. Hitting the mark with email marketing:
Dotmailer's annual benchmarking report evaluates the email marketing campaigns of 100 online retailers. In 2017, they found that a massive 86% of brands have adopted basic marketing automation, but 60% are still missing out on revenue opportunities offered by new automation advanced tools.
Here are their 'Must Do's for any brand:
Create a 'welcome to the brand' email that builds a relationship with the customers; then follow with emails that nurtures that relationship. It's not always about the immediate sale.

Use automation to create emails that benefit customers.

Post-purchase emails follow up with past customers, to cross and up-sell other products they may be interested in. Offers can also be provided to these loyal customers.

The second vital automated email is an abandoned basket email. Remind customers of what they have left behind, but don't always rely on offers straight away, use your relationship first.
Overall, Dotmailer wanted to remind brands to be considerate of the quantity and quality of their emails. A few amazing emails are better than 100 broadcasts.
This tip is from Dotmailer's talk at supercharged commerce on hitting the mark with email.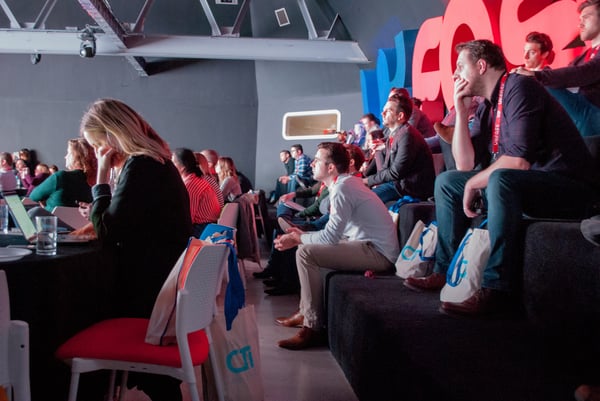 Photo Cred: CTI Digital. Video Unavailable.
3. Capture User-Generated Content:
User-Generated Content is a great tool for new brands with small budgets. Reviews are cheap to gather and can raise trust exponentially. But it's not all about the 4 or 5 star reviews; if the content isn't good, the stars lose value. Encouraging customers to be descriptive and to write authentic reviews can provide you with long-lasting content to promote across your channels.
In Yotpo's benchmarking research, they found that the most common words in reviews are:
Quality

Service

Product

Fit

Delivery
So be sure to keep an eye out for these terms, as customers clearly value them.
This tip is from Yotpo's talk at Supercharged Commerce on what your customers hate about you.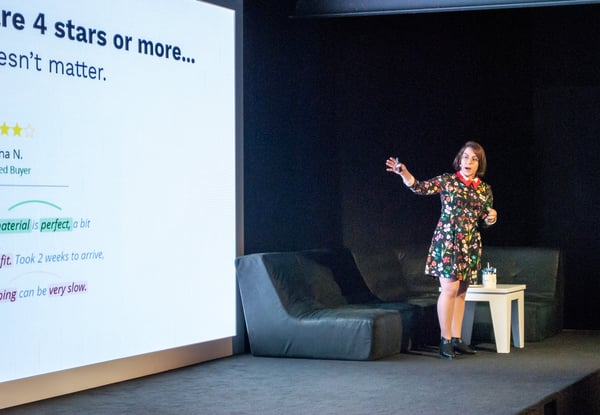 Talia from Yotpo delivering her speech. Photo Cred: CTI Digital. Video Unavailable.
4. Modern day e-commerce search
'Smart Search' solutions are fairly mainstream amongst mid-level and enterprise-level retailers in the modern day market. Search is often used as the primary navigation and often results in a higher conversion rate.
Fierce competition in the search space is driving technology forward. Features like personalisation and category navigation are now expected by customers, as they search for smarter queries, like feature-specific and device-compatible questions.
To not be left behind here are Klevus quick wins for site search:
If you're able to process complex queries, let customers know! Encourage users to be more detailed when searching, to arrive at better results faster.

Improve the handling of error queries. Optimise 0-result queries, to provide other items and options they might be interested in.

Contextualise results for different types of queries, to provide better results when customers are searching for specific attributes
Watch Klevu's full talk at Supercharged Commerce here
Filmed by CTI Digital at Supercharged Commerce.
5. Optimise your Google Shopping ads for user intention:
The customer journey is changing: users now conduct searches by asking much more conversational and specific queries. For example, users often ask 'what is near me?', or 'how much money do I need?'. They also ask questions that might have previously been asked to knowledgeable friends or family, and even questions we normally ask ourselves. For example, 'is school open?', 'what do I do with chicken?' and 'how much is my car worth?'.
Assistants like Siri or Cortana are providing tailored suggestions to users, bringing down the number of very generic searches and relying increasingly on long-tail keywords. Therefore, users expectations from search results are changing. June, our advertising manager, suggests that, to adapt your adverts to users' new behaviours, you must pick a focus:

Optimising ad titles and descriptions, and removing errors to ensure you're seen in feeds, is standard practice. The stand out adverts must focus on the user's intention. To find out how to do this, watch June's talk below.
Filmed by CTI Digital at Supercharged Commerce.
These tips are just a taster of what went on, on the 17th February at Supercharged Commerce. For more advice on supercharging your e-commerce store, get in touch with us below or email hello@ctidigital.com.