The age parameters of 'Generation Z' vary by source, but they are widely considered to be born between 1995 and 2012. This points to anyone aged between 6 and 23, accounting for the majority of current university starters. Whilst many universities are still catering to Millennials, it's time to update marketing tactics to target the most relevant demographic.
In order for universities to aim their digital presence at the next generation, here are our top wins, to help you stand out.
Optimisation for browsing behaviours
Just like their predecessors, Gen Zs use their mobile for everything: most importantly it is their primary method of surfing the web. Ensuring your website is mobile-friendly is the first hurdle to getting your message seen.
Social Media sites Snapchat and Instagram are the choice of Gen Zs, as well as video platforms, like Youtube, IGTV, and Twitch. Beyond a mobile-optimised site, it is also vital to have an active presence on these social platforms. Ctrl+C, Ctrl+V of content across platforms won't cut it for Gen Z. Ensure that your content is designed to be relevant for each specific profile, platform and audience.

University of Salford use Facebook for live streams and sharing news highlights, and Twitter for direct interaction with students.
Tap into their peer groups on social
It is likely that you have over 10,000 advocates at your university at anyone time; develop your social strategy to tap into their potential. Producing your own content on social media is a great way to control and amplify your message particularly amongst a generation of active social media users. Yet user-generated content can be even better, as it is resource-efficient and provides genuine social proof. Use quizzes, competitions and platform-relevant interaction to encourage existing students to promote the university through their own networks. Encouraging course members to promote their work online is also effective, whether that's sharing critiques of literature on a blog, or live-streaming computer and VR games they have developed on Twitch.
Personalisation
Choosing a university is an intimidating decision that involves high-level cognitive processing. To make a decision, users will gather as much information as possible, including multiple visits to a university's website. Therefore personalisation can be an essential tool to make returning visitors feel valued and understood by the university. Bucknell University use a more direct form allowing users to choose the features they would like to be greeted by upon return visits. Alternatively, behavioural personalisation is more subtle and commonly used by all types of brands to recommend previously-viewed courses directly from the homepage, reducing clicks needed to reach their destination.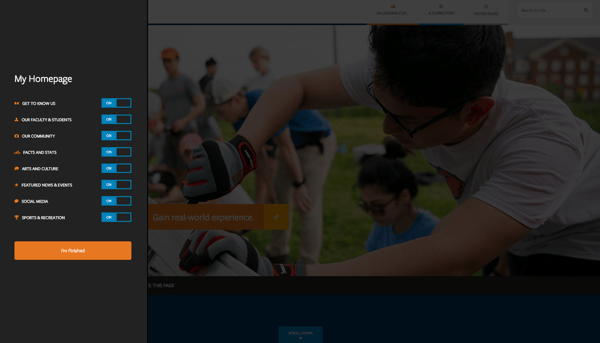 Bucknell's home page personalisation feature
Delivering the right content
On course listing pages, different users require different information. Where Millenials desired shorter, directly relevant content, Gen Z users expect more information. They require instant gratification as they are used to being offered the information they want first; but are also likely to go on to conduct more extensive research into both the pros and cons of a decision.
Breakdown your users and discover what they want to know about their course, and in what priority order. Creating user profiles with their likes, dislikes, frustrations and motivations can provide great clarity. This clarity is essential to build trust with applicants, particularly in a time of vulnerability when moving away from home for the first time.
Homophily and familiarity
'Your vibe attracts your tribe' first coined in 2015, is a hashtag used over 200,000 times on Instagram. In a world of options, Gen Z respond effectively to homophily. Using a tone of voice and imagery that spikes familiarity with users will ensure that they feel connected to the university. Refer back to those user profiles and optimise images and content to reflect their own personalities.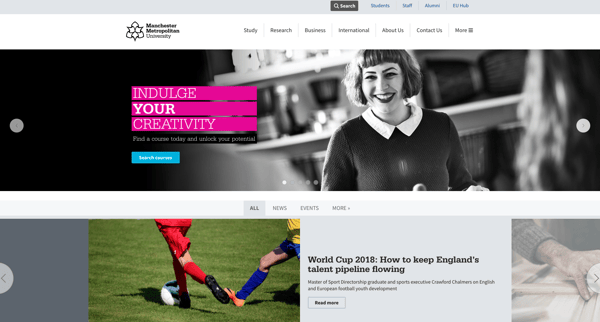 Manchester Metropolitan University's Home Page welcomes users with photography that reflects their peers, and relevant articles on social topics.
Interested in upgrading your academic organisations website? Get in touch for a free consultation.