As the marketing landscape continues to evolve, it is essential to continue to grow and develop with it.

Breaking down Dotdigital's global benchmark report, we dive into the latest recommendations to improve and optimise your marketing strategy. This latest report focuses on customer data, emails, SMS and abandoned carts.

By mastering these strategies and tools, you can give yourself the best chance of engaging effectively with your customers and increasing conversions.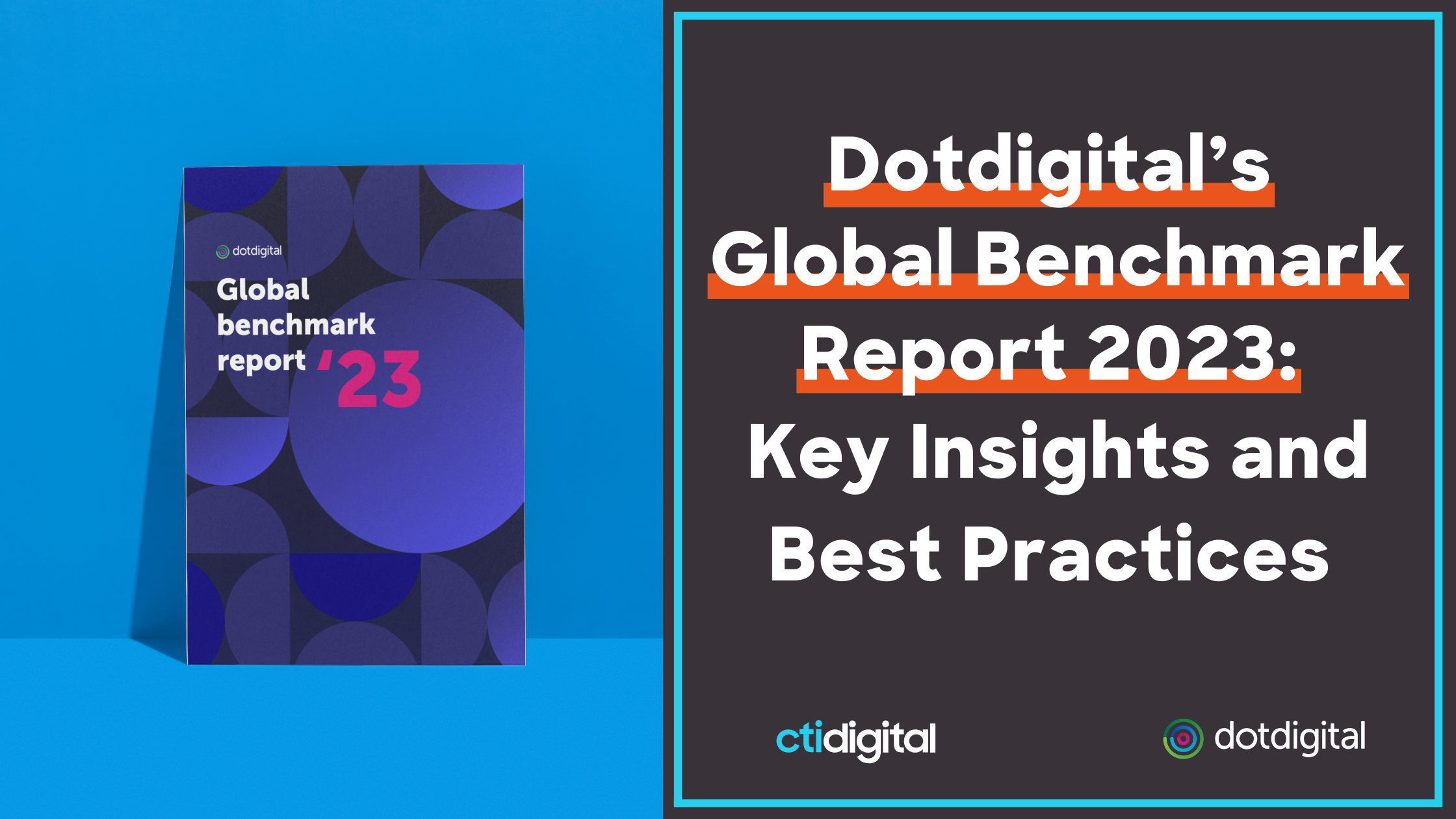 Customer data is your friend
Consistency has been a struggle. In 2022, we saw economic uncertainty and moving forward from that; it has been a challenge to predict the ever-changing spending patterns of consumers.

According to Dotdigital's research, whilst in some months there was monumental year-on-year growth, in others, numbers dropped dramatically below prediction. Despite this, the market experts foresee a 9.7% increase in ecommerce sales.

We can see just how unpredictable the market is as during the pandemic, there was healthy growth in the ecommerce sector, especially over the Black Friday period.

Fast-forward to this year, and expectations have not been met regarding growth. This could be due to several external factors, including the cost-of-living crisis, customers shopping earlier or Dotdigital point to 'Black Friday fatigue'.

Whatever the reason, new strategies must be formed to overcome these barriers and achieve growth targets.

Focusing on customer data is a must in your strategy. Using this data, you can personalise the experience of your customers to build their trust in your brand.
Dotdigital's recommended practices
Using the power of Artificial Intelligence (AI)
AI can aid in creating product recommendation modules tailored to a customer's needs by showing them products or services that would suit them based on the data they've provided you through their actions.

Examples of recommended blocks include 'people also bought', 'trending' or 'lookalike'.

Segment your audience
Customer segments can be created using an eRFM framework, meaning engagement, recency, frequency and monetary value.
To use this framework effectively, you need to ensure you have collected the correct data using said metrics: engagement, recency, frequency and monetary value.
You want to connect with buyers at every stage of their journey and seize every opportunity to capitalise on your efforts.
Don't just rely on one channel
While it makes sense to focus attention on email and other channels, such as SMS, your website should not be ignored.
Dotdigital provides an example of adding product recommendations to landing pages to dramatically improve your average order value (AOV), especially if it's a page that supports retargeting ads.
Perfecting email subject lines
64% of email recipients decide whether to open emails based on the subject line. As your customer's first line of sight, it's vital to devote some time to perfecting your subject lines.

Through their research, Dotdigital has found that customers are increasingly put off by false urgency.

This could be subject lines that include words such as 'ends', 'save', 'last' and 'exclusive'.

Therefore, to protect your brand integrity and keep your customer's trust, it's best to avoid these phrases and try to inspire and engage them through words like 'reasons', 'introducing', 'recent' and 'discover'.

Moving forward, the aim is to sell your product or service to the customer rather than push it on them.
Dotdigital's recommended practices
Create value exchange
Customers expect an exchange of value when providing information to subscribe to your brand's email marketing. For example, you could provide value by offering them an exclusive deal, a discount or early access to your newest launch.

Dotdigital's subject line evaluation showed that the best-performing words were transactional, for example, words such as 'delivery', 'shipping' and 'update'.

Using this insight, you can improve your transactional emails by including more personalisation and recommendations.
Use customer data responsibly
Using your customer data responsibly is key to creating trust with your brand. Data should be used to implement subject headlines that capture the attention of your audience rather than just collecting data for no particular reason.

By protecting your customers' sensitive data and putting it to good use, you form a strong foundation of trust for your online presence, leaving your customers feeling secure in the knowledge that you will safeguard their data.
Optimise the key stages of the customer journey
We've already seen and discussed the popularity of transactional words. Dotdigital's research highlighted the popularity of emails throughout certain stages of the customer journey.

Stages which rank higher for engagement include post-purchase, shown by utilising popular keywords, such as 'tell', 'experience' and 'thanks'.

The research also pointed to the word 'welcome' as a popular word, showing that welcome programs can be well-loved and engaging. By continuously optimising these stages of the customer's journey, you increase your chances of improving conversions.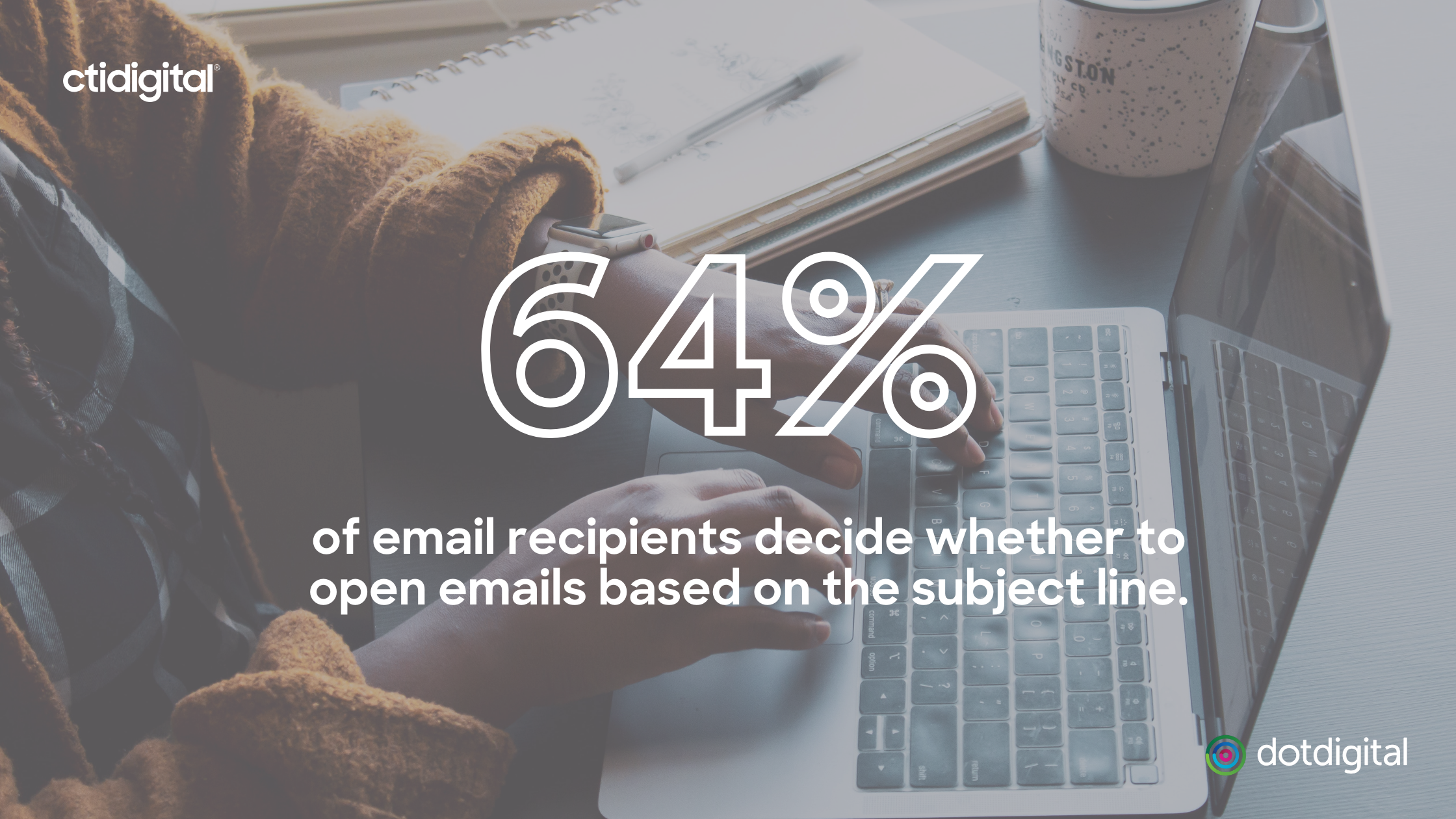 Don't forget about your email bounce rate
Email marketing has proven prevalent for consumers and marketers alike, with global email sends increasing by 21%.

During the pandemic, engagement and conversions increased, leading to marketers setting higher targets. When things took a turn, economic uncertainty set in, engagement levels paid the price, and marketers began to bombard consumers with vast amounts of emails to reach their targets.

However, there may be better ways to target your consumers. Sending out multiple emails will only lead to an increased bounce rate. Keeping an eye on your bounce rate is important.

The general benchmark for this sits at around 2%; however, individual industries have their own benchmarks. MailerLite lists industry-specific bounce rates, including the email bounce rate for retail, which sits at 0.24%; health and fitness, averaging at 0.31%; and business and finance, at 0.34%.

A high bounce rate can lead to negative associations with your brand, and ISPs can even block emails if they have a high bounce rate.
Dotdigital's recommended practices
Target specific segments
Ensure your campaigns are well-thought-out and have a specific goal for the right segment.

Brand loyalists could be sent anniversary emails and a relevant discount code, for example, 'It's been one year since your first purchase; here's 10% off your next order'.

While this campaign works for brand loyalists, it would not suit your unengaged audience. Your unengaged audience may instead prefer content that re-introduces them to your product or service, reigniting their interest in your brand and offerings.
Maintain list hygiene
Maintaining list hygiene is critical to keep your bounce rate low.

By collecting zero-party and first-party data, you can ensure you have the information you need to keep your audience engaged. This continuous process requires you to maintain information on your customer's preferences to keep your marketing list clean.

First-party data will become essential for collecting information on your audience, with the phasing out of third-party cookies due to privacy concerns, updated regulations and the increased awareness of consumers. Collecting first-party data can help you to gain information on your customer's preferences, online behaviour and engagement.
Set automation programs accordingly
Sending your customers too many emails can be flagged as spam. Therefore, it's essential to set automation programs that avoid this.

For example, if your customer has already been sent an email that day, it would be in your best interest to set up an automation that ensures they do not receive any more emails for the rest of the day.

Rely less on email open statistics
Although global email open rates have increased by 89%, this statistic and others related to email open rates must be taken with a pinch of salt. Email open rates can't accurately represent the success of emails.

This is because, in September 2021, Apple launched their mail privacy protection software (MMP), which is essentially a bot that opens all emails sent to a recipient as soon as the email lands in that person's inbox.

Another feature of Apple's software is that it masks the user's IP address, meaning it's impossible to know that person's location or to link that person to their other online activity.

It has been established that these bots open over 60% of emails sent. Therefore, it's essential that you look at other metrics, such as click-through rates (CTR) and click-to-open rates (CTOR), to determine engagement levels and the success of your email campaigns.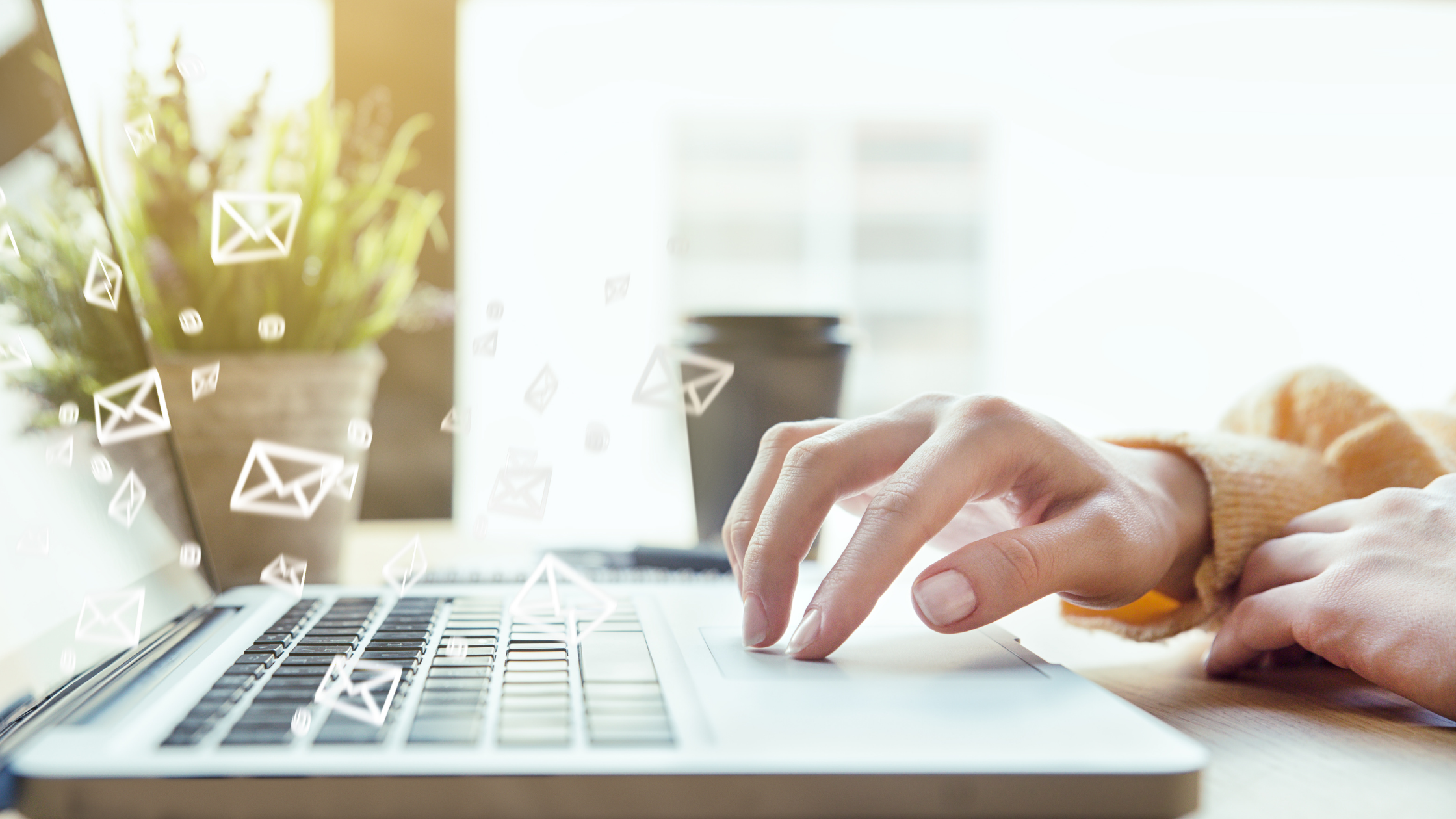 Rely more on email clicks
The repercussions of Apple's MPP launch continue to affect other email statistics. There has been a significant decrease in CTR (15% decrease) and CTOR (46% decrease) since the introduction of MPP. With increased email sends and opens, you would expect to see an increase in CTOR.
Dotdigital suggests that businesses still use open rates to segment consumers for their campaigns in the same way as they did pre-MPP, meaning that the amount of engaged consumers a company thinks they have differs from reality.
Rather than focusing on open rates, you should focus on clicks to determine your engaged customers to target them with your content.
Dotdigital's recommended practices
Personalisation
As we've discussed, personalisation is critical to building brand trust and confidence.

Delivering personalisation at scale can be achieved with content blocks. These blocks can include product recommendations and be tailored to each stage of the customer journey.
Test and optimise
When implementing these new personalisation features, it's essential to monitor their performance and adjust accordingly to suit your customer's needs.
Above-the-fold (Call to action) CTA's
An above-the-fold CTA is critical for generating clicks.

This is a CTA that is visible to the consumer without scrolling through your content. Other factors like button size and colour can be tweaked based on your customers' preferences.

CTAs are an essential part of your strategy to drive conversion rates. You can further improve your CTA's performance by implementing an effective conversion rate optimisation (CRO) strategy, which you can expect to boost your conversion rates two-fold.
Don't forget about SMS
SMS sends have increased by 56%, and since 2019, the number of SMS being sent has soared by 640%. Therefore, the evidence clearly shows the increase in the popularity of SMS as a marketing tool.

Like any other tactic, SMS needs to be thoroughly planned out with clear goals and objectives for any chance of success.

A pivotal point to consider is that Dotdigital found that SMS tends to drop off during December. This could be due to the worry of overspending during the busy Christmas period. However, Dotdigital suggests that a drop-off in communication can be damaging to your relationship with your consumer.

Different sectors can utilise SMS in different ways. Primarily, you would associate SMS with retailers using it to promote sales and discount codes. However, other sectors, such as non-profits, charities, sports and leisure, can also use SMS.

The sports and leisure sector saw an 82% increase in SMS messaging; this significant increase could be partially because of the return to business after COVID-19 when gyms and stadiums were allowed to reopen. In this sector and others like it, SMS is used more as a tool for mobilisation, for example, relaying information to volunteers and helping fans get to stadiums.

Other ways of using SMS include a localised strategy, which helps customers relate to your brand and can help them feel as though they are supporting their local community, with SMS messages containing information on local events or deals in the area. If consumers feel more connected, then they are more likely to take some form of action.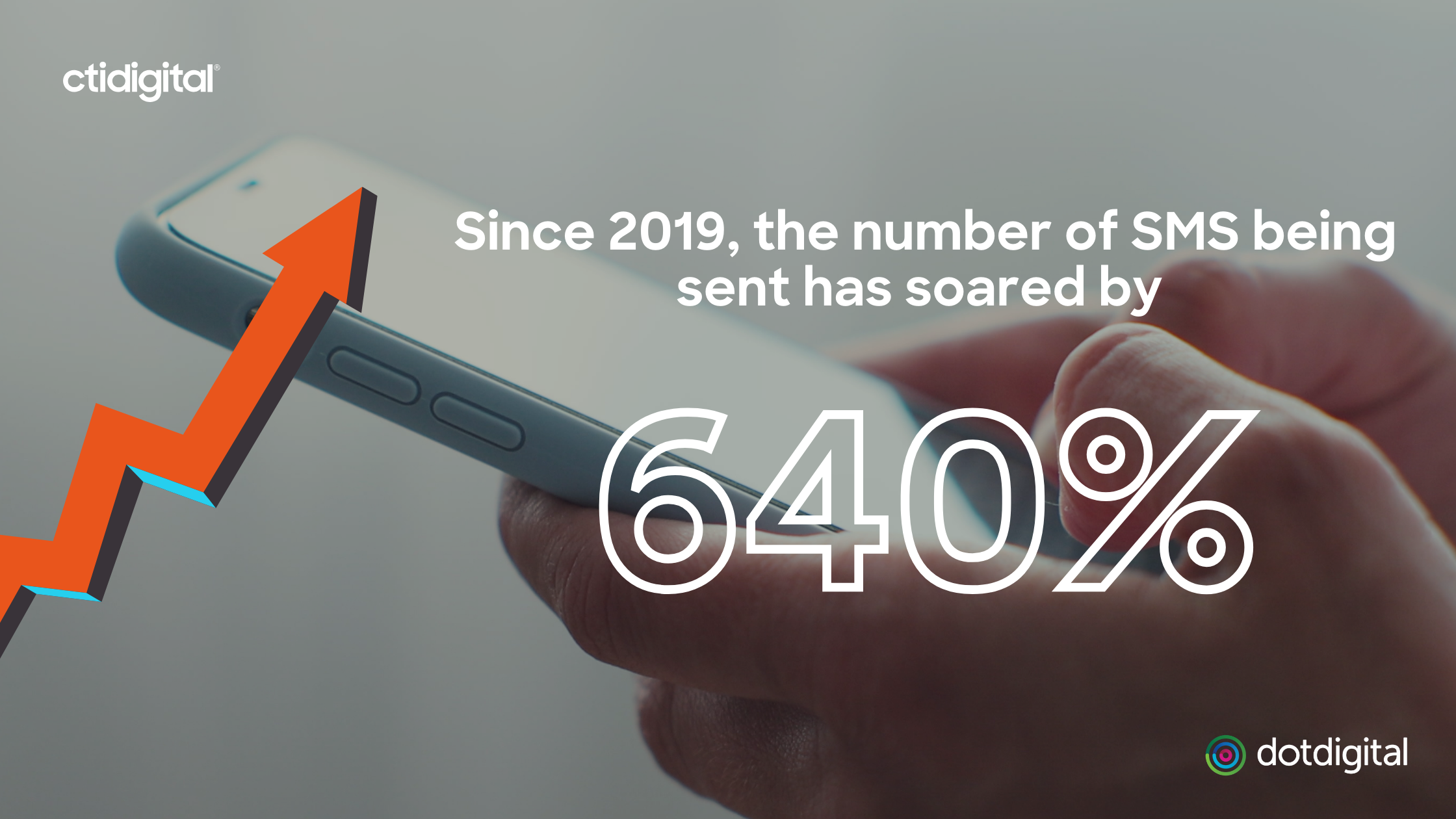 Avoid Abandoned Carts
Once your customer has gone through the buyer's journey and come to purchase, on average, 70% of them abandon their shopping cart.

To avoid this happening, it is best to put an abandoned cart strategy in place, which recovers, on average, 55% of lost revenue, according to Dotdigital.

Timing is everything for a successful abandoned cart strategy. Recovery emails are best sent initially between the 24 and 27-hour mark, and another is advised between 45 and 50 hours after the initial abandoned cart.
Dotdigital's recommended practices
Target your top segment
An RFM modelling tool, standing for recency, frequency and monetary value of a customer, can help you segment your customers.

Using this tool to source your top segments and then target specific individuals increases your chances of conversions.
Reach customers on-the-go
We've highlighted the uses of both email and SMS in your marketing strategies. In this case, SMS can be used for those customers who are on the move to encourage them to convert.
Showcase similar products
Sometimes, the customer might need clarification on whether the product is right for them, ultimately causing them to abandon their cart. In this scenario, using product recommendations to show similar products that may be more suitable can help convert said customer.
Retarget and remind
There are other options, as well as an abandoned cart campaign. Retargeting ads can help keep you at the forefront of customer's minds. Paired with SMS, this can increase conversions by creating a sense of missing out.
The dynamic world of email marketing demands that brands constantly adapt to shifting behaviours and metrics. Apple's Mail Privacy Protection has shown us that it's time to reconsider the benchmarks we use to measure campaign success. Clicks and conversion rates are far more reliable indicators of customer engagement than open rates, as they reflect a user's genuine interest in your content.

A note from Lauren Clements, Partner Marketing Manager at Dotdigital
Summary
Using Dotdigital's global benchmark report, we've highlighted the importance of using your customer data effectively, a recurring theme throughout this blog. Whether this is to personalise your customers' experience in some manner or segment them, collecting and using data effectively can help improve the customer's trust in your brand.

Initially, looking at email as a communication channel, it is important to try and perfect your subject line. This is the first encounter the customer has and is the decider of whether that email is worthy of an open. Your customer expects some form of value exchange when providing information and viewing your emails.
Keep your email bounce rate in mind and keep it low by targeting specific segments, maintaining your list hygiene and setting your automation processes not to spam.

When evaluating the success of your emails, it's best to rely more on your CTR and CTOR than your email open rate, which is not the most accurate since the introduction of Apple's MPP. To generate more clicks, continue to include personalisation and above-the-fold CTA's.

SMS is another channel that you could be utilising for success. Whether using it to promote sales and discount codes, as a tool for mobilisation, or even using it in a localised strategy, remember to keep a continuous flow of messages as the sudden drop-off can disgruntle customers.

You could also consider the benefits of introducing an abandoned cart strategy, which can recover a vast amount of otherwise lost revenue. For this strategy, you can use your email or SMS; just remember to target your top segment and showcase similar products. You can also choose to retarget your customers instead of an abandoned cart strategy to keep your brand in the minds of your customers.
If you're looking to improve your email marketing strategy but don't know where to start, visit our email marketing service page, where you can learn more about email marketing and how we can help you get the best out of your strategy.