Update: Pre-registration for 2019 is now open. Signup here.
I attended the SEO and PPC training event at CTI digital. As a relative novice, I was eased into understanding the technical aspects, which underlie everyday tasks, that we take for granted. I was delighted to come away from the day having experienced several lightbulb moments.
Promising to cover SEO, content marketing, Youtube optimisation, paid advertising, and everything in between, this event offered a broad scope. The CTI marketing team drew together a range of topics, overlapping appropriately and sensically, in order to suggest different combinations of available options, tailored to suit each specific business need.
The event provided a vast selection of in-depth information to absorb and learn from, as well as a wealth of experience in the room to answer any questions. A summary of the day's events reads as follows:
SEO
The day began with an introduction to how search engines function. From this, we were able to get to grips with what happens "behind the scenes", before attempting to manipulate and optimise it.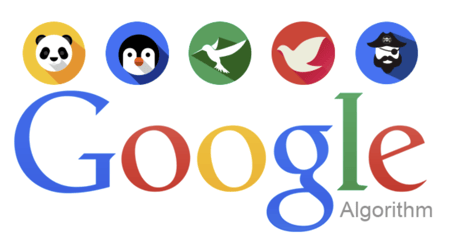 The SEO training balanced the focus between content-led SEO and optimising the technical, "unseen" aspects of a site. Alongside the value of keyword content, the presentation amplified the importance of technical SEO, as all online strength stems from a solid architecture and technical foundation. The opportunities for optimising sites, without bombarding audiences with content, are numerous: highlighting essential microdata, forming logical, valuable links and providing xml sitemaps are just a few ways to enhance your site's visibility. The team also recommend regular audits, to check that everything is where it should be and to prioritise SEO aims and plans going forward.
The major takeaways from this section were all forward-looking, identifying future developments and planning towards them. For example, as Google is shifting its algorithms to champion mobile-first, speed is vital. Google is also introducing the AMP system, allowing news articles to jump higher up the results page; this could be worth exploring, if a company has any specific content they would like to boost.
Above and beyond explaining how and why these approaches work, the team walked us through a variety of different systems and programmes that can be used to achieve an optimised end result. Focusing on free tools, such as Google Trends, Search Console and Answer the Public, this was an impartial introduction to how each technical theory could be put in place, in a realistic, day-to-day environment.
Importantly, the presentation directly addressed and dispelled any myths about SEO. We were trained in what to do, but, perhaps more importantly, what not to waste time and resources on.
Stepping into more familiar territory than some of the technically-focused training, a segment on content marketing detailed tips for the creation of content and how to make sure it is viewed. Adopting a focus on inbound marketing, we were offered tips to ensure that content is available and attractive for when the consumer chooses to see it.
As expected, the discussion recommended producing snappy written content, formed of short paragraphs, avoiding jargon and generally being considerate of your reader. However, it was quite a surprise to learn that Google are now favouring much longer content, averaging around 2400 words. As with all pursuits, content production involves an element of balance: making sure it can reaches the right people, but ultimately focused on creating a positive reader experience and an aesthetically pleasing end product.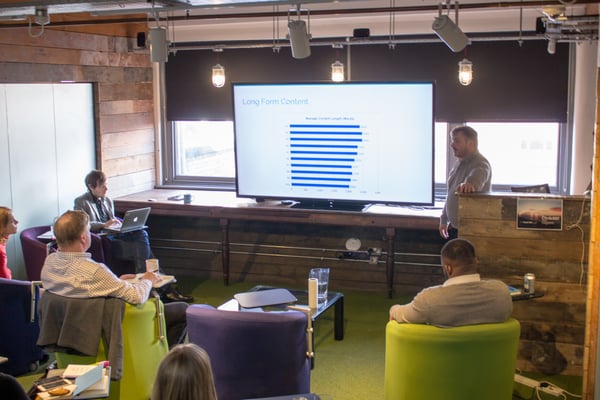 As such, the content marketing training offered visual ideas for the distribution of content, reiterated the importance of solid, consistent unseen/indexable content and advised the creation of personas to inhabit the mind of the end user. Practising what they preach, the team targeted this presentation to its audience, including screenshots and examples pertaining to the key clients present.
Youtube
Championing visual content, from Flickr image databases to eye-catching and clickable videos, the presentation shifted focus to Youtube. As the UK's second largest search engine, with viewers logging extensive time on the site, Youtube offers enormous potential, by combining the fruitful platforms of social and search. A strong Youtube presence can introduce your brand to an extensive potential audience. Also, by utilising a multitude of personalisation options, you can guide these watchers to further action: remember, the user journey is never over!
Advertising
Shifting into a new strain of lead-generating marketing, the afternoon offered extensive training in paid advertising opportunities. These included PPC campaigns and the use of Adwords, Bing and social media platforms. We were offered an in-depth introduction to metrics and advertising terminology, paving the way for the rest of the presentation to be thorough and well-informed.
Owing to the modern overload of information available, we are no longer able to target a simplistic or strictly linear consumer journey. But, new developments and convolutions offer new opportunities for using different channels strategically, at different points of the decision journey.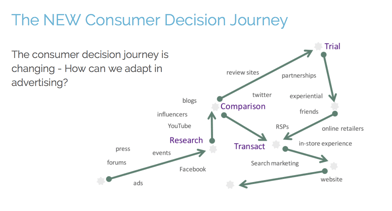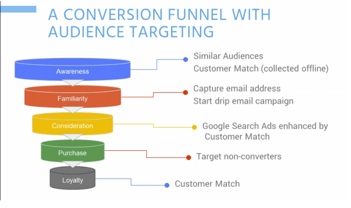 Careful consideration of the merits and potential possibilities of each available system resulted in a detailed and unbiased presentation of a range of options. Usefully, we learnt how Adwords, Bing, Youtube, LinkedIn and Facebook can be personalised, to optimise marketing efforts. Monitoring demographics and interests, and even sequencing adverts, to build and nurture a relationship over time, were all explained as powerful tools.
Each system discussed offers powerful targeting options, collecting vast quantities of data and creating ways to utilise this information. Across each of the day's topics, the importance of targeting a specific audience was made paramount. Not only ensuring that you reach the right potential users, but also adapting your tone of voice accordingly, for each targeted setting and audience. In the context of paid advertising, this funnelled approach gains yet further importance, in order to conserve and maximise budget.
Overall
Whilst each portion of the presentation was delivered by an expert in their own field, all of the topics came together to form a well-rounded marketing strategy for any business. As such, there were key threads present throughout the discussion:
The importance of continuous development was made irrefutably clear. Neither SEO nor PPC can succeed as a single isolated event. Ongoing optimisation is essential to any online strategy. The journey doesn't end once you click 'publish'; it's vital to monitor your success and adapt accordingly.
Ultimately, the overarching focus of the day was to place us in control. If we are in control of what fills each empty field, then we can master all that the respective platforms are capable of. Taking control over automatically generated answers places a company's voice and intention at the centre of their online presence.
The training event offered an expert view on the technical aspects that underlie marketing endeavours. However, the explanations maintained an easily understood, approachable perspective, accessible for a non-developer. As such, we, as an audience, were placed exactly where we needed to be: sandwiched between the key technical details and the user end result. By understanding both sides, we were equipped to manipulate and utilise each accordingly.
The setting and organisers at CTI provided a relaxed and friendly environment, welcoming questions and offering a personalised response. This was all charmingly bolstered by the chance to grab a drink and mingle at the end of the day.
Missed out? 2019 registration open now.