As 2021 is drawing to a close, we wanted to reflect on the highlights we've enjoyed along the way. This year, we've made several acquisitions, bringing Mosquito Digital and Worship into our family of brands - joining Ixis, Stardotstar Nublue & supercharged commerce.
We hit our 18th birthday milestone, grew our client portfolio by an impressive 20%, and increased the size of our CTI family by welcoming 47 new faces into the fold.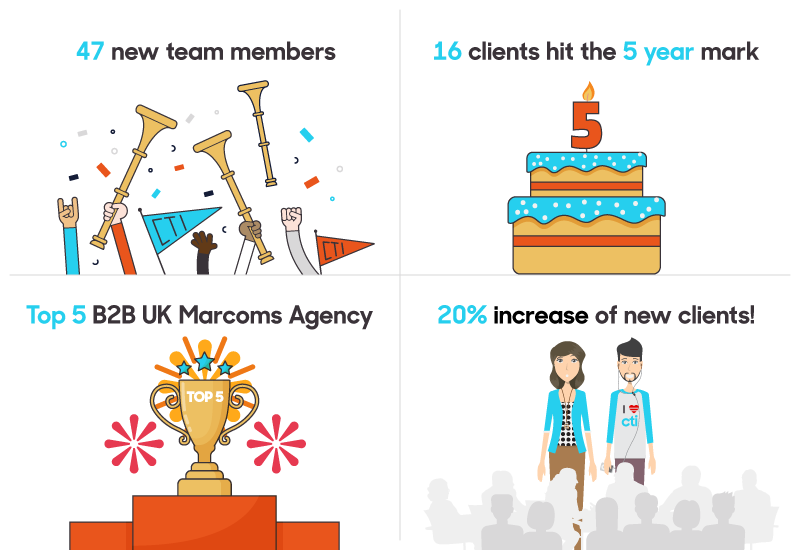 Growing up and out
Back in Jan, we announced that MQ had joined the CTI family! By March, we welcomed the award-winning CRO team at Worship to the group. With two new agencies on the guestlist, our recent Christmas party was a bigger celebration than ever!
This year, we also welcomed 47 new specialists to the team at CTI Digital across development, account management, project management, UX, strategy, and marketing. If you fancy joining us too, check out our vacancies here.
It's been a fantastic year for the Group and I am so proud of what we have achieved as a company. For me, personally, I am particularly pleased that People & Culture has truly been placed at the forefront - we have grown in every department, we've introduced a whole range of new benefits for our employees, we've been able to have team socials (safely), and we have a great company culture.

The icing on the cake for me was seeing everyone's hard work pay off in the form of our award wins - I was very lucky to be at the Prolific North Tech Awards at the Museum of Science & Industry where Nublue took home Tech Team of the Year award and Supercharged won eCommerce Company of the Year and I look forward to working with every single person across the company to build on our growth and success in 2022.

Sam Wilkinson, Head of People of Culture
Finally, our CEO Nick Rhind hinted at future expansion plans in an interview with Prolific North in July this year. Speaking exclusively to Prolific North, Nick revealed plans to unveil a new group brand name and strategy - so keep your eyes peeled for this news in the early New Year! (If you have had the chance to visit our Manchester HQ, you may have seen a few teasers already.)
Despite working on large-scale digital transformation, marketing, creative, and quote-based projects, CTI is often still viewed as a company that primarily focuses on tech. We're seeking to change this perception in 2022.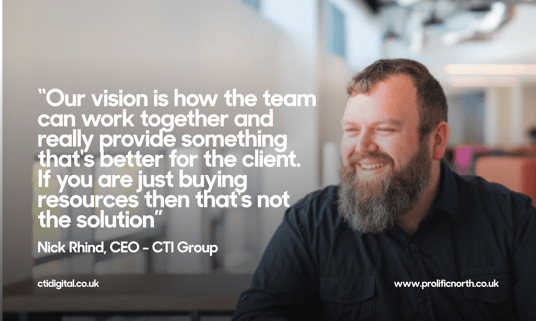 "It's hard to change something you're known for. So, for us, it is very much about bringing in complementary businesses into the group," he added.
This year we have been delighted to welcome a list of both ambitious brands and influential organisations into our portfolio including Visit Britain, Department of Health and Social Care, and Drinkaware.
Continual improvement
This year we added some more shiny badges to our collection. We maintained our position as Crown Commercial Service suppliers to G-Cloud 12 and Digital Outcomes & Specialists 5 frameworks. We also added a new framework: Technology Services 3, all whilst maintaining our ISO 9001 certification for quality processes.
In the more glamorous world of league tables, we ranked as a top 10 agency in the B2B Marcomms Report commissioned by B2B Magazine. They also highlighted our group as 'One to Watch' in their "fastest-growing agencies of note" category. We rose 8 places in the Prolific North's 'Top 50 Digital Agencies' to number 10, and kept hold of our Recommended Agency Accreditation until the next review point in July 2022.
We had to reinforce our awards shelves in the office to hold up the bumper crop of trophies we won, regionally, nationally and internationally! These awards recognise our work across multiple specialisms, from UX to Development, and for our values like Creativity and Effectiveness.
Our wins span clients new and old, including McGraw Hill Education, Manchester Metropolitan University, London Transport Museum, Bodybuilding Warehouse and International Animal Rescue to name but a few.
Creating a Digital Centre of Excellence
With many agencies shifting to remote working, we are more dedicated than ever to creating a place for rich and fulfilling in-person meetings.
We've developed a unique centre of excellence in our 14,000 sqft studio in Ancoats, Manchester. This space enables our clients and partners to access first-class business facilities and cutting-edge technologies.
Ecommerce shop - We've installed an immersive retail experience for commerce clients to demo their products and to go beyond the buy button.. Unique to our award-winning commerce brand, supercharged commerce, we can showcase merchants' offerings in real-time within the fully connected retail experience - clicks to mortar with our global tech and marketing partners.
UX Lab - Our home-style lab and adjacent workshop rooms allows clients to see first-hand how customers engage with their site or app. Combining eye tracking technology and screen recordings, we welcome users into an environment that closely mimics their home, whilst allowing us unrivalled access to their responses.
Photography/Green room studio - From product brochures to in-depth brand launch creative, our photography studio allows our growing branding and design teams to bring clients' products to life in the digital sphere.
Professional podcast studio - This year we put the finishing touches on our podcast studio, ready for clients and staff to plug in and go!
Event arena - Our auditorium is a popular spot to host events for up to 60 people. We've worked with popular brands in the NW to host meetups and training events, welcoming the likes of Klarna, Yopto, Trustpilot, Brightpearl, Federation of Small Business, Growth Company.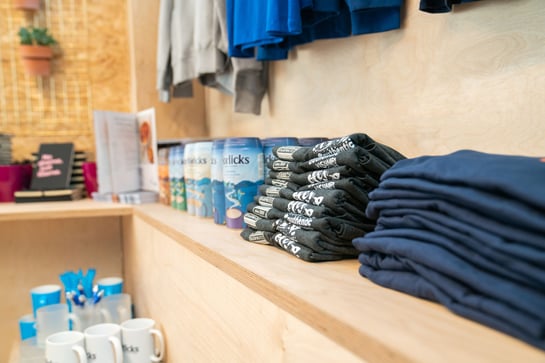 A packed events calendar(ish)
Sharing knowledge is a key value for us at CTI. In 2021, we adapted our approach to the virtual world. But, as the year progressed, we were allowed out and about to mingle with partners and clients at IRX in Birmingham, to present our thoughts on 'the perfect brief' at Digital City Festival and hosted a range of workshops and usability testing sessions — both remotely (thanks to Miro!) and in our purpose-built workshop rooms and UX lab.
We are also delighted that members of our team are individually offering insight and support with seats on Advisory Boards to help grow digital at grass-roots level. Working directly with both faculties and students at SODA (School of Digital Arts, Manchester) and the University of Salford Students Union (USSU), we're proud to become integral to several new initiatives (with BIMA) on enhancing sustainability into the workplace.
Celebrating new and old relationships
Finally, we wanted to say a quick thanks to our clients. We've welcomed some exciting brands in 2021 including Eliptic, Vervant Audio, Crestbridge, Manx Telecom, Maxwellia and Hays Recruitment. This year, we are delighted that 17 clients have hit their 5th birthday with us. This club is well-attended, including clients like Little Greene, McGraw Hill Education, The Wildlife Trust, Churchill China, British Council and Relate to name but a few. We even have a few clients who are edging towards their 10th year working with CTI - a milestone that we're very proud of and excited to reach.
We have also grown our partnership portfolio welcoming the likes of DAM providers Bynder, with whom we share mutual clients like Greater London Authority and The British Council. Fact-Finder, the Product Discovery Specialists, have also joined our network and are supporting several of our retail clients in the outdoor clothing & accessories sector.
Earlier this year, our Client Marketing Director - James Wilkinson - translated our long-term relationship with SEMRush to the silver screen! Working closely with the SEMRush team, on both sides of the Atlantic, we filmed a video case study on location at our Manchester HQ. This video represented an opportunity to celebrate our shared successes: with the support of SEMRush, we have tripled revenue for our SEO retainers. Using SEMRush to quantify the value of content creation, we've also encouraged more clients than ever to explore our wider creative service offering.
The video centres on the huge successes that we've helped Little Greene to achieve, but also marks a software partnership that has helped us to increase our client portfolio two-fold for our digital marketing services.
Thanks to our partners, clients, team, and friends for contributing to a great year. Merry Christmas and have a happy New Year from all of us at CTI Digital!